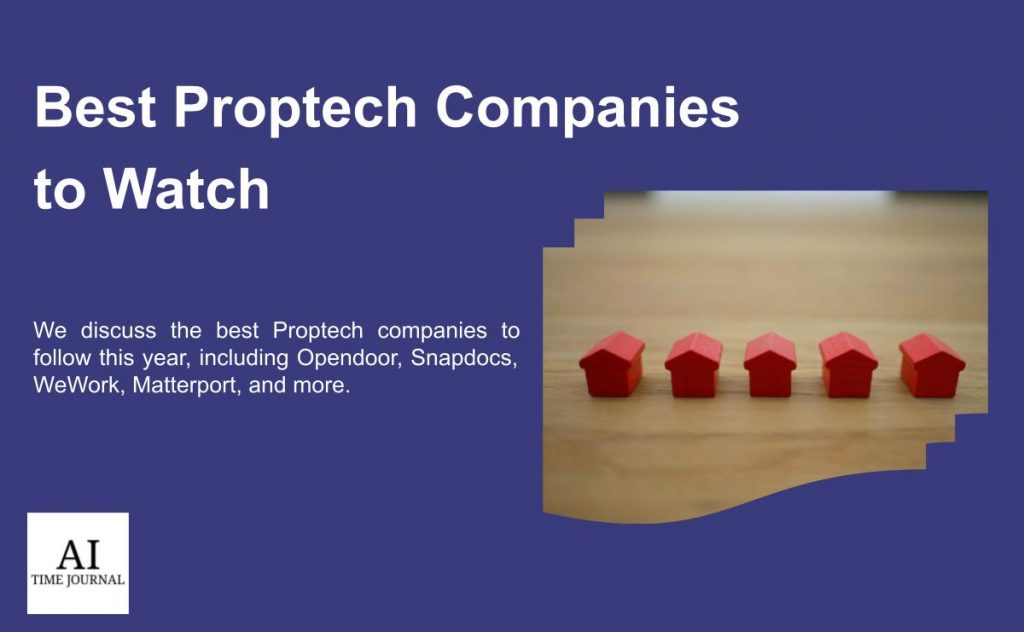 It can be challenging when it comes to managing properties and home searching. To any new homeowners, the daunting task of searching for a new house, closing on a deal, and eventually selling your property requires much assistance and learning. Additionally, for individuals or large businesses, inhabiting a space is of the utmost importance. 
Property technology companies strive to make these challenging processes easier for everyone. The number of technology companies catering to real estate and property-owning has grown, with around 2,234 companies in the United States alone. This list details some of the most influential Proptech companies to grace the industry, from property searching to closing on mortgages.
For more about home technology, check out these AITJ articles: What are the most and least important features in home security cameras? and Best Home Security Cameras with Face Recognition. 
Here are some of the top proptech companies to watch in 2023:
Whether you are looking for a new house or plan to sell your current one, Opendoor is the perfect platform for you. Founded in 2014, Opendoor is an online program that buys and sells residential real estate, all in a simple format to make transactions easy for buyers and homeowners. 
Opendoor emphasizes how quickly the buying and selling process is on its site. They allow users to get offers on their property in a matter of minutes, taking out the struggles of the real estate process. Additionally, the platform presents instant cash offers to sellers and chooses when they want to close. With over one million offers requested on the site, it's no surprise that this unique company ended up on this list.
Being the most visited real estate website in the United States, Zillow is a go-to platform for looking for your next home or apartment. Providing simplicity and transparency to the real estate process is what Zillow aims to do, implementing all aspects like buying, selling, renting, and resources for home loans. 
Zillow also does not shy away from using technology like AI and Machine Learning to improve their site experience. Recently, Zillow's research has developed a way for models to detect things such as windows and doors in panoramas. All you have to do to find your next property is to enter a zip code and browse through various options, which makes Zillow a company to keep an eye on. 
Closing on home mortgages can be a confusing and stressful process, especially for new homeowners. However, Snapdocs strives to change that narrative with easy-to-use solutions to simplify closing. Some of Snapdocs' solutions include:
A digital mortgage closing platform for lenders
Scheduling for title companies
Notary network access for signing services
Signing agent software
In addition, Snapdocs gives access to over 140,000 notary signing agents and attorneys, accelerating the signing process for homebuyers. Considered the number one eClosing for mortgages, Snapdocs should be on your radar. 
Browse through various properties to find your next dream home by using Redfin. Redfin is an online real estate company aiming to help potential buyers find what they want while saving them more money than a typical real estate deal. 
Redfin gives access to local agents that will assist you when buying your new home. Saving money has never been easier as you only have to pay a 1% listing fee and get a buyer refund. On average, customers save around $84,000. Download the Redfin app to see the newest homes on the market and plan to buy your new residence. 
Owning and managing multiple properties can be daunting and require strong organization. Luckily, Guesty provides all the tools necessary to keep up with rental properties, from serviced apartments to guest rentals. With Guesty, users can take advantage of the many online travel agencies they implement, such as Airbnb and Tripadvisor. 
Some of the features Guesty provides include: 
Analytics to evaluate performance
A multi-calendar to keep up with reservations
Automation tools to handle communication and pricing
24/7 guest communication services
Considering the many implementations on the site, plus a mobile management app to handle business on the go, Guesty is the perfect place to manage all your rental tasks. 
Ohmyhome is a revolutionary service to aid the buying, selling, and renting process for those looking for a new property. Based out of Singapore, Ohmyhome has satisfied over 8,000 users with the property of their dreams.
Not only does Ohmyhome assist in buying and selling properties, but one unique feature about this company is that they also provide renovation packages to enhance any living space. Additionally, Ohmyhome will send home matches to a user's Whatsapp so they can skip the searching process and let the company do the work for them. Rated a 4.9 out of 5 on Google, it's safe to say that Ohmyhome has earned its spot on this list.
Imagine going on holiday to a luxurious second home. With Pacaso, your imagination can become a reality. Pacaso is an online platform that lists luxury homes for homebuyers, but what makes this site unique is that you can own your beautiful new second home for only ⅛ of the price.
With Pacaso, users can tour their potential residences in over 40 world-class destinations. If they decide to purchase a property, Pacaso agents make it much simpler by walking through the process step by step. All properties listed are fully furnished and professionally designed. And if buyers want to sell their new property or expand their ownership, they can do so easily. If you are looking for an excellent second property, Pacaso can deliver quality results.
Finding working spaces for your company can be a simple process with the help of WeWork. WeWork provides office spaces flexibly from any location worldwide and in any sized room to all business types. WeWork lists a variety of office spaces, from a one-person desk to a whole floor office space designed to fit over 100 employees.
With WeWork on demand, users can pay as they go, booking office spaces and meeting rooms by the hour with no monthly commitment. Additionally, with the help of WeWork's space management mobile app, managing these spaces is easy. Big companies like Microsoft, Samsung, and Pfizer use WeWork, so it is definitely a proptech platform to check out.
Porch Group is versatile in the industry, providing software to all aspects of property management and real estate. Porch Group has grown in popularity over the years, now reaching over 65% of U.S. homeowners and over 11,000 companies.
Porch Group assists in the following:
Pre-moving (Booking inspections, repair estimates)
Moving (Supplies movers and utility setup)
Maintenance (Supplies handyman and cleaning services)
Home improvement (Painters and Electricians)
Recently, Porch Group acquired Homeowners Of America, a well-known insurance policy company for homeowners. With the ever-growing expansion of Porch Group, it's apparent that this company is a tremendous force within property technology.
Viewing a property is not the easiest when you're not viewing it in person. However, Matterport is a software company that aims to render 3D models of properties for homeowners and businesses. 
Matterport's digital twin technology can completely capture any property with extreme realism. Matterport provides 3D capturing software to consumers starting at only $79. Additionally, if you need help scanning your property to a 3D model, Matterport provides Capture services to companies to do the work for you in a 24-48 hour turnaround. If you wish to show off your business in the most immersive and efficient way, Matterport can grant that to you.