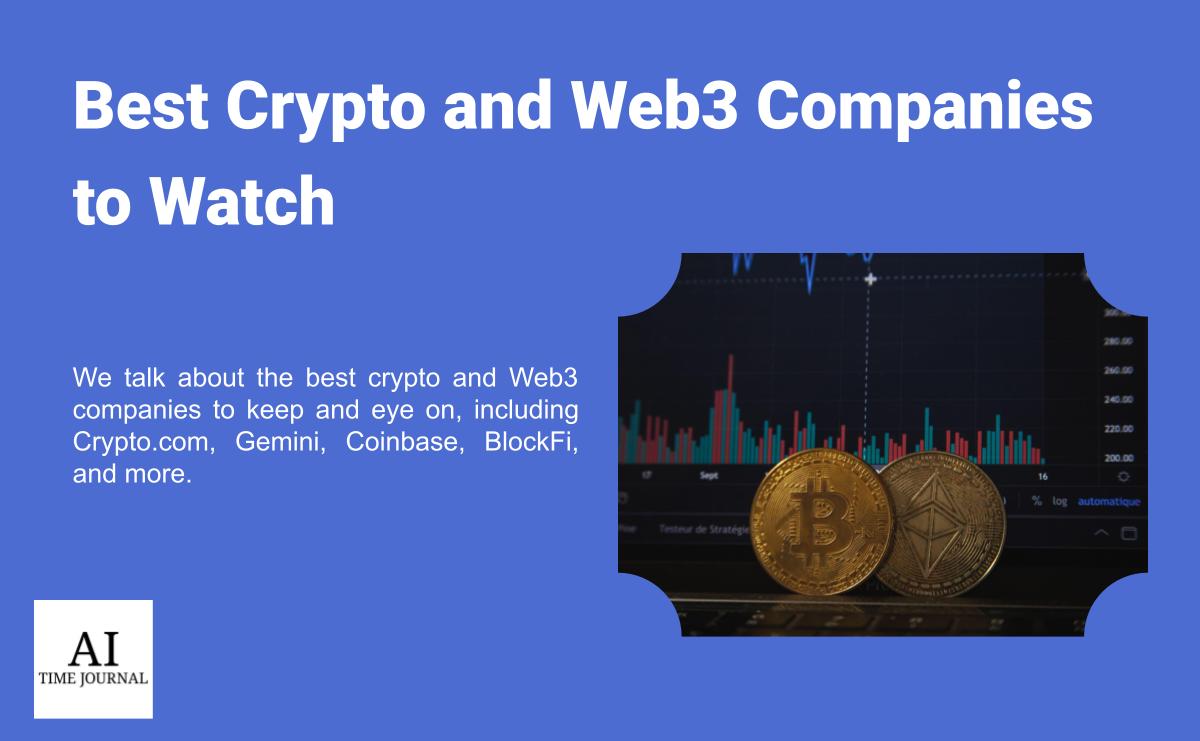 Blockchain, cryptocurrency, and Web 3.0 are some of the most discussed topics in the technological world. The potential of this industry attracts more and more people. The number of crypto companies has been rapidly growing. It is no wonder as experts predict the blockchain market size to reach $67.4 billion by 2026.
This technology is powerful not only because it can revolutionize many spheres of people's lives like finance, insurance, or data privacy but also because it enters every industry. Blockchain solutions are already used in banking, cybersecurity, payment operations, and digital identities; who knows what will come next?
In this article, we present the best companies to keep an eye on. However, if you want to expand your knowledge in blockchain, you should read these articles: Best Blockchain and Cryptocurrency Courses and How Cryptocurrencies Can Be Improved.
Crypto.com presents itself as the world's fastest crypto app. The app specializes in cryptocurrency exchange and has over 50 million users and nearly 4000 employees. The app owner is a company called Foris DAX Asia Pte. Ltd, which is based in Singapore.
The head of the company believes that Web3 will be more fair and equitable. Moreover, they support the idea that it is people's fundamental right to be in control of their money, identity, and personal data.
Also, Crypto.com allows users to buy, sell and showcase NFTs, present top NFT collections and creators, and post the latest news in this growing industry. In addition to all the mentioned functions, the company provides beginners guides, arranges various events, publishes product news, and shares market updates. 
With its headquarters in San Francisco, California, Coinbase is a digital platform that allows users to conduct buying-selling operations. Moreover, you can find educational materials on the basics of working with cryptocurrency, advice, and market updates.
Coinbase is a perfect solution not only for private users but also for business people and developers. For example, for developers, the app provides the following functions:
Pay SDK
Commerce API
Wallet SDK
Exchange & Pro API
Query & Transact
Delegate
For example, the Pay SDK function converts fiat money to crypto much faster, in several clicks. Users can buy and transfer over 100 cryptocurrencies (the company also gives the most recent tendencies and statistical data in graphs) and convert from 60+ fiat currencies. 
Commerce API allows developers to integrate payments made in cryptocurrency into their businesses. Wallet SDK is a crypto wallet that also supports NFT-connected functions and expands opportunities for developers. The Exchange & Pro API function is an exchange trader and developer documentation. Query & Transact and Delegate give developers new opportunities to stake on trusted validators and control their nodes. 
Hacken
Hacken is a leading blockchain security auditor with a mission to make Web3 a safer place. The company was founded in 2017 and has quickly gained a reputation for its expertise in blockchain security, smart contract auditing, and vulnerability assessment.
Hacken's services include:
Smart Contract Audit
Blockchain Protocol Audit
dApp Audit
Proof of Reserves
Tokenomics Audit
Penetration Testing
Bug Bounty
CCSS Audit
One of the main advantages of Hacken is its team of highly skilled blockchain security experts and auditors with extensive experience in the Web3 industry. Hacken has conducted audits on more than 1,200 cryptocurrency projects. In the year 2022, among all Web3 security companies, Hacken achieved a notable accomplishment within the industry, as it recorded zero exploits among all the projects that were audited.
The Hacken ecosystem includes the following projects: HackenProof (Web3 Bug Bounty platform), Hacken Extractor (smart contract protection and monitoring system), Trust Army (development and security of the Web3 community), and Hacken.AI (HAI token utilities and security applications).
These projects work in various directions to help protect companies from cyber threats and make blockchain safer for users.
Gemini was founded in 2014 by Cameron and Tyler Winklevoss and specializes in cryptocurrency exchange. All of the company's products include:
Gemini Exchange
Gemini Earn
Gemini Credit Card
ActiveTrader
Gemini Dollar
Gemini Custody
Gemini Wallet
The function Gemini Clearing allows two parties to schedule a payment. In this case, the company presents itself as an unbiased third party that ensures safe and timely transactions. Gemini ActiveTrader is available to more active users and provides advanced charting, multiple order types, and a high-level trading experience.
Gemini has various qualifications and awards. For example, first place for Best Custody Exchange in Crypto A.M. Awards 2020 or the title of a winner for the Best Cryptocurrency Exchange in the 2020 CryptoCompare Exchange Benchmark. 
Founded in 2017, BlockFi attracted many investors, such as Coinbase Venture, Kenetic, PJC, SoFi, and Paradigm. The company provides a service called Crypto-Backed Loans, which allows the platform's users to borrow money at low rates.
Other products BlockFi recommends:
Interest Account
Personalized Yield
Trading
Wallet
The company's website also shares the latest news and notes for beginners. An interesting feature that can be found in the app is the BlockFi Interest Account (BIA) which illustrates crypto interest rates. BlockFi also has a service, Refer-A-Friend, that allows users to earn money by attracting new customers to the company.
Despite being a young company, Sorare manages to attract many users thanks to its original offer. Football and Baseball lovers will especially appreciate this platform created in 2019 by Nicolas Julia and Adrien Montfort. Sorare is a fantasy game that allows participants to buy, trade, sell, and manage a team with the help of digital player cards. 
The virtual game is based on blockchain technology utilizing Ethereum. Here, participants use nonfungible tokens (NFTs) for all operations made with digital cards. Moreover, NFTs collected during the game can also be traded outside the platform on various marketplaces, such as Opensea and Rearible. Virtual NFT games like Sorare are becoming more and more popular and demanded all over the globe due to their innovative business models and high potential. 
Autograph is one more platform connected with sports. However, its services are not limited to sports, as the platform brings together celebrities in entertainment and culture with the most popular brands. Autograph's partners include Naomi Osaka, The Weekend, Slam, Tom Brady, Tiger Woods, and many more legends. 
Also, on the Community webpage, you can see the rankings representing collectors' scores. If you are interested in a particular user from the ranking, you can access their profile and see their gallery and achievements and read the description the users write for themselves. It is a great way of forming acquaintances with people who share similar interests and combining your hobbies with such trendy technologies as blockchain and NFTs. 
Entre represents itself as "the Web3 professional network" and allows its users to build strong connections with other people and find the resources they need to succeed in Web 3.0. The platform offers its users such opportunities as:
 Connecting with other Web3 professionals
Monetizing your content & expertise
Discovering new opportunities
The connecting option is quite understandable. However, the next one might need an explanation. Entre's DeSo based platforms allow their users to earn income from sharing content and expertise on the company's app. 
In addition, Entre provides access to numerous job opportunities (even part-time positions) and helps its customers build successful careers. There is also an opportunity to go live, schedule events, charge tickets, and use screen-sharing. Entre is a must for those who want to build a strong professional network and dive into Web3.
Alchemy is a platform layer that helps developers create applications useful for the blockchain revolution. To learn more about what a platform layer is, visit Alchemy's homepage, where the company provides examples of the term. 
The company is backed by Charles Shwab (the Chairman of Google), Coinbase, Stanford University, and many more leading organizations. Alchemy's investors include Samsung, Lightspeed, Redpoint, and many other large companies. 
One of the most interesting features Alchemy presents is the Supernode. The company describes its supernode as "the most widely used Web3 API with supercharged reliability, data correctness, and scalability." What is definitely worth looking at is the supernode infrastructure diagram the company depicts on its website. In addition, Alchemy provides many helpful tools for developers, including Explorer, Mempool Visualizer, and Composer.
Passbase is a company that helps brands securely verify customers' identities with the help of ID documents, selfies on social media, and government databases. The company offers such solutions as:
Identity verification
Additional checks
Workflows
Liveness Detection
AML Compliance 
Age Verification
Identity Auditor
Many of them are pretty obvious. So, I'll focus on the most interesting ones.  For instance, Additional Checks include insurance card scans, age verification, proof of address, biometric authentication, KYC Checks, and COVID-19 Vaccination. And, AML Compliance allows users to monitor politically exposed persons (PEPs) and suspicious behavior with the help of various media and watchlist checks.