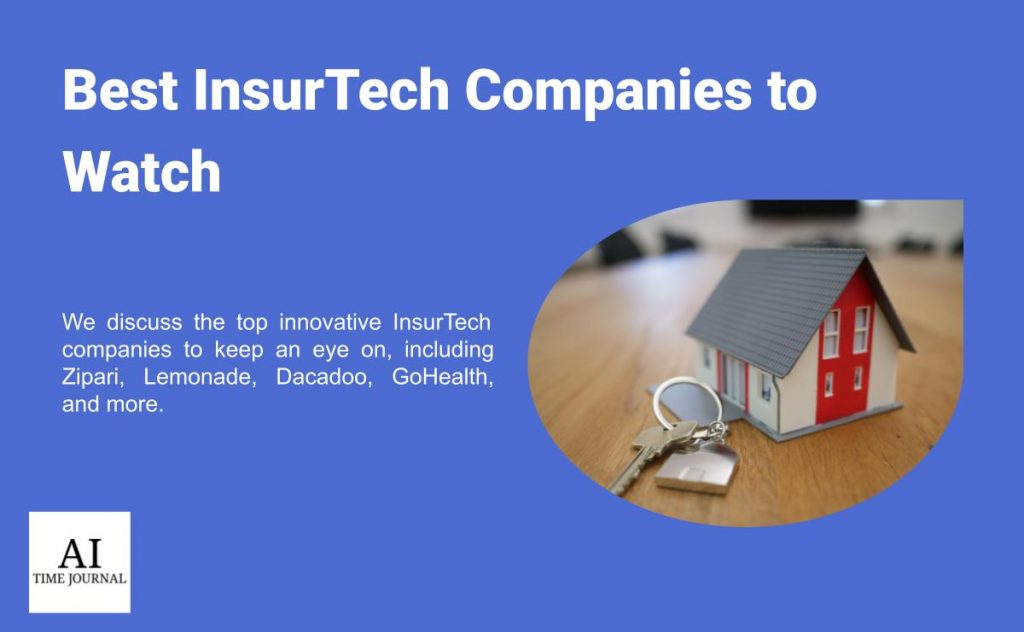 In today's world, insurance is a key element for many people. Many try to find the best insurance offers to protect their health, cars, houses, property, and many other areas of their day-to-day lives. However, customers tend to be dissatisfied with their insurance providers. For instance, according to some statistical records, only 29% of clients are satisfied with their insurance providers, and approximately 41% are ready to switch providers.
In addition, the lack of digital capabilities is the topmost challenge for over 15% of consumers. Therefore, in this ever-growing industry, the demand for technologically advanced insurance providers and InsurTech companies is rapidly increasing.
In this article, we discuss the best innovative InsurTech companies that can benefit both insurance providers and customers. Also, if you want to learn more about how modern technologies influence the insurance industry, watch this interview: AI's Evolution in Emerging Risk Insurance.  
Located in New York, Zipari is a software company that aims to make health insurance better for everyone. The company developed a powerful CX platform to provide "bigger, better, and bolder health insurance." Zipari suggests its customers leave their traditional consumer engagement strategies and start building strong company-customer relationships, running better operations, and improving engagement.
The company presents such offers as:
Comprehensive Sales Experience
Superior Member Experience
Collaborative Provider Experience
Hence, Zipari helps its clients optimize sales performance, improve individual self-service engagement, and simplify communication thanks to modern technologies. On its website, the company proves its results with some statistics. For instance, according to the records, 115% is the approximate year-over-year rise in the utilization of telemedicine.
Some of the products Zipari suggests include a variety of platforms for professionals in many spheres. For instance, the Digital Experience category includes such options as Member, Broker, Shopping, Employer, and Provider portals. 
Corvus Insurance is an insurance company based in Boston. The company's mission sounds rather simple: "to make the world a safer place" – and Corvus Insurance is constantly working on it. Corvus has many partners, including BrainCapital Ventures, Hudson Insurance Group, and more.
The company offers several smart commercial insurance products, including Cyber, Tech E&O, Cargo, and Reinsurance. Moreover, Corvus Insurance always develops and updates its products in connection with technological advancements. For example, to make its products smarter and better, Corvus implements machine learning methods and AI techniques in data analyses. Also, data science is applied to embrace cybersecurity threats.
One of the core moments that allows Corvus Insurance to be on top is the company's attention to data quality. Corvus believes that evaluating and analyzing data sources with the help of AI will help leverage risks connected to data. 
ScienceSoft is a Texas-based InsurTech development company with 11 years of experience in insurance IT and 750+ professionals on board. The company creates secure, future-ready software solutions that help digitally transform the entire insurance cycle, from underwriting to statutory reporting.
ScienceSoft develops custom software for all conventional insurance types and innovative insurance models like P2P insurance, microinsurance, usage-based auto insurance, and pay-as-you-live health insurance.
Having decades of experience in AI/ML, big data, blockchain, IoT, and AR, ScienceSoft helps its clients in insurance implement the best-fit technology to boost business profitability and minimize risks.
Full-cycle InsurTech services: software consulting, design, development, integration, QA, evolution, and support.
Proven expertise in building cloud-centric software with custom insurance logic.
20 years in cybersecurity to ensure world-class protection of insurance software.
Compliance experts proficient in KYC/AML, IFRS 17, PCI DSS, HIPAA, GDPR, and other global and regional legal regulations.
ScienceSoft guarantees a project started in just 1–2 weeks and typically delivers an MVP of an InsurTech solution within 2–5 months. The ISO 9001 and ISO 27001 certifications of ScienceSoft guarantee high levels of service quality and complete data security.
"An insurance company built for the 21st century." This is how Lemonade, a New York-based company, can be described.
The company uses an AI-powered chatbot named Maya to enhance communication with customers. Moreover, with the help of Maya, users can get insured in seconds and paid in minutes. In addition, if you are already insured, you can easily switch to Lemonade by providing your old policy details and choosing a new one while the company overtakes all the paperwork.
Lemonade has earned the B-corp certification (a prestigious certification), which means that the company meets the highest standards in many areas, including social & environmental performance, legal accountability, and public transparency. 
GoHealth is an insurance company that has an online health insurance marketplace that suggests individual and short-term health insurance. With over 2 million clients last year, the company offers many products and health insurance options.
For instance, in terms of health insurance, GoHealth gives such opportunities as:
Major medical insurance
Dental Insurance
Insurance by State
Accident insurance
Critical Illness insurance
Indemnity insurance
Obamacare
Vision insurance
Family health insurance and many more options. 
The solution called Obamacare is based on the Affordable Care Act (ACA) and aims to make health insurance more available and affordable. The program is explained in detail on GoHealth's website. The insurance by State option allows you to choose your state and find appropriate solutions for you. The company provides a map with all states of the USA and the corresponding healthcare suggestions. Other suggested insurance programs are clear from their names.
Virtual i Technologies is a Switzerland-based insurance company that pays much attention to risk pricing or underwriting. Currently, AI models are utilized to estimate risk levels and process large amounts of data. Hence, Virtual i Technologies benefits insurers and reinsurers with the help of their great underwriting platform. In general, the company helps its clients mitigate human-related mistakes, score various risks, improve risk management practices, and fasten the underwriting process.
The company works with clients from various industries, from aviation and space to financial institutions and education. Also, Virtual i Technologies is perfect for brokers as the company allows them to reduce costs, increase profitability, improve customer satisfaction, get reliable risk assessment data, and reach more policies. There are many more capabilities that the Vi-Broker function provides, including improved communication and risk reports. Furthermore, the company helps you find the best offer in minimum steps, such as seven fast and easy steps for brokers and five quick steps for re(insurers).  
Etherisc's motto is "make insurance fair and accessible." The Etherisc community offers insurance for many daily and unordinary situations, including flight delay insurance, hurricane protection, crop insurance, or crypto wallet insurance. The company is transparent in its actions as it provides potential and existing customers with explanations of its platform functioning and revenue model for crypto investors. On the website, you can find several guides thoroughly explaining Etherisc's mission, some of the models and strategies the company utilizes, as well as the company description.
One of the greatest innovations is the function of smart contracts based on blockchain technology. Normally, claims processing is time-consuming and involves five complex stages that aim to check whether the claim is legitimate. Therefore, Etherisc developed this capability that activates smart contracts automatically as long as all the specified criteria are met.
To learn more about blockchain technology, read this article: Best Blockchain and Cryptocurrency Courses. 
Founded in 2016 in the USA, Avinew is a software company that provides insurance for semi-autonomous vehicles. The company offers its customers such solutions as protection, customization, and savings. Avinew developed new, modern insurance for smart, modern vehicles and suggested to customers an easy-to-use platform that meets their needs. Also, customers are provided with various discounts for implementing ADAS safety features.
Avinew utilizes IoT technology to gain more data for underwriting auto insurance. Moreover, the company can help drivers change their habits in a safer way, such as by reducing speed, full breaks, or acceleration.
You can reach out to these AITJ articles: 3 Ways IoT Benefits Advertising and How IoT Technology is Changing the Financial Industry – if you want to learn more about the Internet of Things (IoT).
Bdeo is a Spain-located insurance company that, thanks to Visual Intelligence, provides a solution for streamlining insurance processes. The company claims that they "revolutionize the insurance industry."  Visual Intelligence allows Bdeo's customers to analyze the damages and estimate costs much faster.
The company provides great solutions for both motor and home products. Bdeo optimizes and streamlines the underwriting and claims of home insurance companies and vehicle insurers so that these companies can provide top-notch service to their policyholders and customers and build long-lasting relationships.
Additionally, Bdeo offers an AI-based platform that fastens and significantly improves claim processing. For instance, when damage happens, claimants can interact with Bdeo's chatbot and submit their location via the company's app. Also, this chatbot advises customers on how to photograph their damages correctly and verifies if the taken picture meets all the standards. 
Decadoo is based in Zurich, Switzerland, and provides insurance services by combining gamification, mobile technologies, AI, Big Data, and social networking. Thanks to its products, such as the Health Engagement Platform, Health Risk Quantification, and Technology Access via API, the company can successfully improve its customers' health and well-being.
In addition, Dacadoo presents its newly developed lifestyle navigator that tracks users' holistic health in seven areas that include nutrition, mental well-being, sleep, mindfulness, physical health, self-control, and activity. Another great tool Dacadoo provides is the Digital Health Engagement Platform (DHEP), which encourages users to lead healthy lifestyles and build new habits. Being connected with API, this platform helps insurers by collecting customers' health data from their devices (smartphones, watches, etc.). Hence, the company can provide insurers with information regarding mortality & morbidity risk assessment and life quality improvements. 
This Paris-based company provides intelligent decisions across key insurance functions, including fraud detection, claims, and compliance. All of the company's solutions are based on software-as-a-service technology in combination with AI-powered tools. Shift Technology suggests solutions in two key areas, such as Health & Life and Property & Casualty.
In the case of Health & Life Insurance, the company helps life insurers make more accurate decisions in real-time with the help of top-notch data and an AI-trained mechanism that detects fraud and increases savings. Speaking about Property & Casualty Insurance, Shift Technology helps its customers improve customer experiences, lower costs, and operate more effectively.