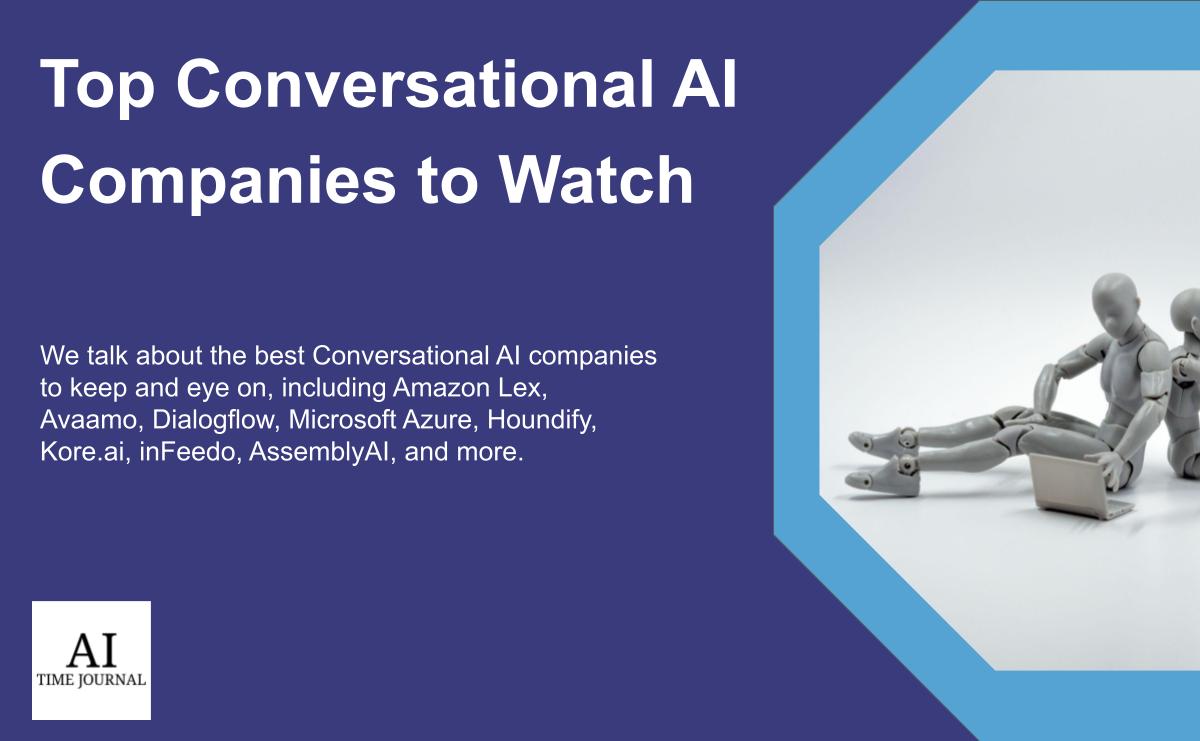 Human interactiveness and hospitality are of the utmost importance in connecting with consumers. Few would rather talk to a robot caller to resolve their issue than an actual human being. Moreover, consumers do not usually enjoy waiting long periods of their time waiting for a representative. And employees going through massive amounts of callers can cause a massive workload. 
To diminish this problem and improve efficiency, Conversational AI can be utilized in various companies to tend to the needs of respective consumers. It allows consumers to speak to chatbots as if they were talking to someone. This AI technology can provide accurate responses to those who need them in an almost human-like nature.
Here are some of the top conversational AI companies to watch in 2023:
Amazon Lex is a conversational AI program that Amazon Web Services (AWS) provides. With this powerful deep learning tool, Amazon Lex brings developers the same capabilities as the ever-popular Amazon Alexa. This service uses advanced natural language models to design and create conversational interfaces in various applications. 
Not only does Amazon Lex understand intent and context and perform simple automated tasks, but it can additionally connect to other AWS services to inquire about data and monitor performance. For those who want to try out this clever chatbot, AWS allows developers access to an AWS Free Tier for 12 months. 
Regarding technological innovation, a giant like Microsoft is not a company to shy away from AI implementation. Microsoft Azure is an AI service that provides Power Virtual Agents to help build conversational bots. Additionally, Microsoft Azure does not require any coding by the user to create these AI chatbots. 
Other features of Microsoft Azure include: 
Creating multimodal and multichannel experiences
Ability to scale safely with centralized management
Quick building of bots that can evolve over time
Not only does Microsoft Azure implement a wide array of impactful features, but it is also safe. Microsoft reportedly invests over 1 billion USD into cybersecurity and employs 3,500 security experts. Interested customers can try this tech for 12 months free using Microsoft's credits. 
Meta has created a conversational bot to allow businesses to respond to consumers through their social media site, Facebook. Meta's Messenger Platform provides conversational AI that eases the customer service process through Facebook pages.
Messenger Platform can do the following:
Ability to send around 250 messages a second
Gain insights through analytics
Natural Language Processing to understand intent clearly
Create personalized responses through IDs and profiles

With Meta being such a giant in social media, it's a given that the Messenger Platform continues to help businesses worldwide.
Named a leader in the IDC Marketscape for worldwide general-purpose conversational platforms, Avaamo is undoubtedly an AI company to keep an eye on. Its goal is to be a
full stack conversational platform with deep NLU coupled with domain-specific Machine Learning algorithms. Avaamo offers a combination of:
Conversational Intelligence
Machine Learning
Conversational Analytics
Enterprise Services
Avaamo additionally uses ultra-realistic voice AI to create positive experiences for consumers of any brand. Recently, Penske announced that they had significant success using Avaamo AI within their contact centers. Avaamo successfully lowered estimated caller wait times for consumers and facilitated efficient workflow. 
Owned by Google, Dialogflow is a developer of human-computer interface solutions. Whether using automated voice intelligence for customer service or chatbots for B2C conversations, Dialogflow describes itself as a "lifelike conversational AI with state-of-the-art virtual agents." This interface can be implemented in many situations, like various web applications and interactive voice response systems. 
Dialogflow's interface spans over 30 languages and variants to reach a global consumer market and provides advanced performance dashboards to gain insight into analytics. With big company names reporting success using Dialogflow, such as Malaysia Airlines and Dominos Pizza, it is apparent that this interface is one to look out for. 
Soundhound, an audio and speech recognition company has developed conversational AI software that uses advanced voice technology. Houndify provides all the tools needed for developers to create custom voice interfaces. Houndify is also software that can be used on various platforms, from IOS and Android to Javascript and Python.
Houndify also has an extensive domain library to provide consumers with quick responses to specific inquiries. This library includes topics such as:
Travel Information 
News
Sports
Podcasts
Prescription Drugs
As well, Houndify supports a variety of languages. It is no wonder why many big names, such as Netflix and Mastercard, use this platform to create voice interfaces.
Kore.ai values itself as a pioneer of virtual AI-first assistants. From banking to sales, Kore.ai has received many accolades in the industry, recently awarded a leader in Garter Magic Conversational AI Platforms. Without a single line of code, Kore.ai can create virtual assistants with ease by using Machine Learning capabilities and 2 NLP engines.
Transparency is essential in this software as Kore.ai implements an Interpretable Model that exhibits decision transparency and corrects its responses. With its many tools and functions, Kore.ai offers unique opportunities and is a company to look out for.  
If you have a business where many employees work remotely, this recent conversational AI startup company may pique your interest. Branded as Asia's number one employee experience platform, inFeedo's goal is to create conversational AI that engages remote employees and prevents "burnout."
Through an AI bot named Amber, inFeedo's NLP engine builds rapport with employees using its intelligent interface to remember previous conversations. This software can also understand the conversation's intent to give empathetic feedback and dive further into potential employee issues. With its comprehension of over 100 languages, it's no wonder this software assists over 500 employees in 60+ countries. 
AssemblyAI is used by many Fortune 500 companies, such as Spotify, The BBC, and The Wall Street Journal. This AI company researches and builds advanced models for speech and audio transcription. They reportedly are processing millions of audio files daily using their Application Programming Interfaces (API).
Using Assembly AI's audio intelligence, users can partake in the following:
Summarization
Sentiment Analysis 
PII Redaction 
Entity Detection
Recently, AssemblyAI was granted USD 28 million to become a signature audio analysis product. With funding like this and the array of companies flocking to this AI-powered innovation, it's worth noting that this startup could pave the way in this industry. 
Catering to over 1,000 companies worldwide, Yellow.ai strive to create a chatbot for business unlike any other. Yellow.ai aims to create a dynamic chatbot instead of a "dumb bot." The company's chatbot performs in over 150 languages and operates in over 70 countries. 
Yellow.ai's technology revolves around a proprietary NLP engine that understands the intent of an inquiry and provides "human-like" responses. This engine can provide consumers and businesses with these multi-lingual voice conversational agents in 10 days with no developer or data scientist required. As Yellow.ai contributes to over $100 million in business impact, it's no surprise they ended up on this list. 
Proto is a developer of conversational AI for over 100 low-resourced languages such as Tagalog, Kinyarwanda, and Twi, with chatbot products for government and business clients in emerging markets. Proto's chatbots have the unique ability to converse in multiple languages in a single conversation, as well as in mixed languages such as Taglish.
With data-heavy deployments in government service industries, Proto chatbots make consumer protection, business registration, and other services more accessible while accumulating data for its proprietary NLP engine. Proto also offers chatbots tailored for private industry verticals such as e-pharmacies, private banks, utility providers, and more.