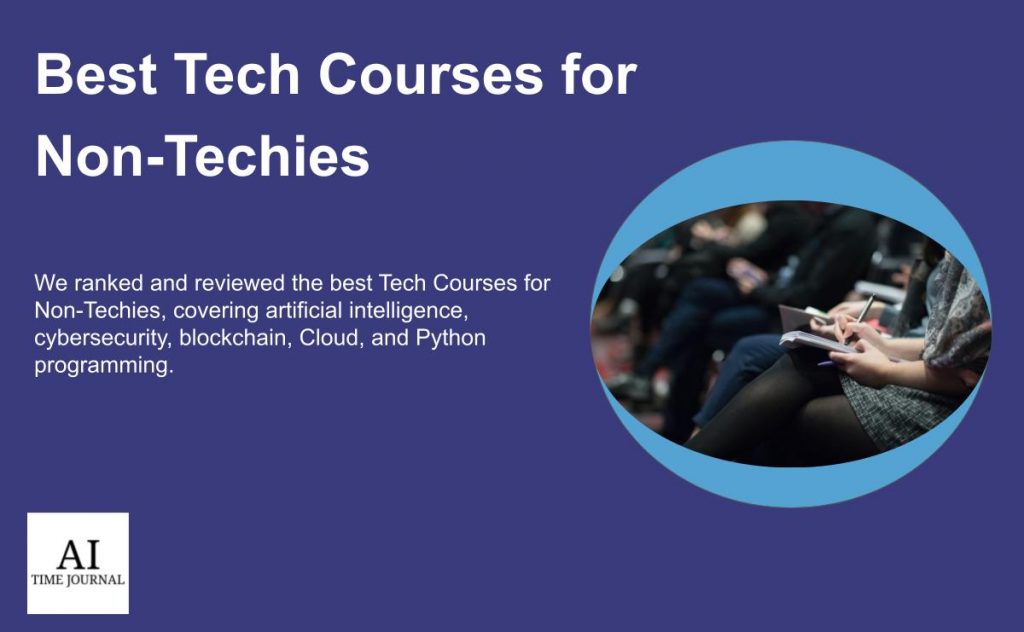 "Knowledge is key". Many would agree with this quote, especially in terms of new knowledge. An issue we find ourselves facing though is that generally, we do not pursue new knowledge. Whether that be because of the complexities that come from the more subtle parts of learning or us just not having the time.
One topic that has an overabundance of courses in the data field. Finding a really good course can be hard, so a clear and concise list of great courses helps to wade through the maze of less-than-stellar courses. 
To help this issue, we have done some research and as a follow-up to our last article on courses, we have found some beginning and intermediate courses for the major fields of data science. These will lead to success or at the very least a good base of knowledge on all the presented topics.
Table of Contents
Reviews of the best Tech courses for Non-Techies
AI
When looking into a large number of courses in the AI field it might be troublesome finding the one that would be just right for covering the bases of Artificial Intelligence; however, the course we've selected will give the best idea of how data works as a whole. This relates to things you would see in your houses such as the Amazon Alexa or Apple's Siri which could lead to more complex automated helpers further down the line.
The first of these courses is about AI which teaches the general ins and outs of the field. This course is taught by Andrew Ng (Data Engineer for GovTech Singapore, Butler 包得利, & IBM, Data Analyst for BOC Aviation, Content Product Manager for ASUS) and teaches common aspects such as the common terminology and what AI can and cannot accomplish. 
This course has been very well received with many people saying it is a very comprehensive look at AI that lays a great foundation for a future in this and many other different fields. This course is easy to digest and not long to complete so completing it could be done in tandem with normal work. All in all, this course is a great way to cover the bases of general data knowledge that will bleed into the other courses later on this list.
Cybersecurity
Moving from AI, on the whole, the most well-known data job would be in cyber security or the most common name for it, hacking. This career has been seen in countless media whether it be in movies like The Matrix and War Games or in TV shows like Mr. Robot where the main characters manage code to bypass issues or prevent issues dealing with code. This job is quintessential in the data field as it is the first line of defense when dealing with data.
The next course on this list focuses on cybersecurity, which is making sure that outside entities cannot steal a client's data and information. The course on this is taught by Charles Harry (Director, Center for the Governance of Technology and Systems for the University of Maryland, CEO and Co-Founder of Decision Point Analytics) whose teaching style has been called engaging and excellent for those looking to begin in the field. His knowledge from eleven years in the NSA has made him a great fit to teach these types of topics to students looking for a range of information for cybersecurity.
The structure of the course is done well and his explanations on topics make the material crystal clear for those who might be confused about the more intricate aspects that come from hacking. It covers the general work that the average cybersecurity worker would encounter while exploring the key points that make cybersecurity a headache for those without that basic knowledge. 
If you want to pursue this field you can even enhance your cybersecurity using AI which would bolster the defenses that are already in place to make an even stronger wall against devious hackers.
Blockchain
Technology changes much over time, with new tech being developed and finalized every day. One of these technologies is the highly popularized and very expensive medium of Blockchain. This is a misunderstood topic by those outside of the niche circles that follow it closely like a stockbroker watches Wall Street, thankfully getting ahead of this would mean a very lucrative opportunity for you which can only be accomplished by learning the ins and outs, which is what this next course is all about.
This course focuses on a relatively new data topic, at least for the public, that being the blockchain. This technology craze has popped up recently in the mainstream which includes cryptocurrencies and NFTs, while these topics at the outset might be intimidating, this course will help you understand these tricky concepts with ease. 
The course for this concept covers the issues with economics on the internet and how blockchain technology opens the floodgates to fixing these issues. The course is taught by Don Tapscott (Co-Founder and Executive Chairman at the Blockchain Research Institute & Cheif Executive Officer at The Tapscott Group) & Alex Tapscott (Chair of Advisory Council at Prophecy DeFi & Co-Founder of Blockchain Research Institute) who are business and emerging technology experts that have followed the rise and the impact of the blockchain on society. 
Their course is an interesting delve into ways to change the current business models to fit an online economy and learn the core concepts such as mining, hashing, double-spend problem, and other important aspects that make up this new tech environment.
Cloud
There is a wealth of knowledge all around you that is constantly withdrawing and depositing information in microseconds as if it were the world's quickest library trip. That is the core concept of Cloud computing which is how you are able to send emails through Emails, send your paychecks through mobile banking, and being able to watch streaming apps like Netflix are all examples of this in your average life.
Being able to understand how these work will let you understand the future of technology a bit deeper through what we currently have. 
This course will teach about the oddly simple yet dense topic of cloud computing while understanding the technology that you deal with almost as much as your computer.  This course gives you this information in the terms of a business perspective which pairs nicely with the last course. This course will teach about the essentials and history of the cloud led by familiar companies like Microsoft, Amazon, Google, etc. with hands-on access to IBM Cloud.
The course is helmed by Rav Ahuja (Global Program Director at IBM & Co-Founder, Growth Strategy at Cognitive Class) who gives a great opening experience to the cloud through informative models in a simplistic way packed into a five-week timeframe. 
Though it is important to learn and the information saved in the cloud is probably safer than any previous form of keeping information, there are far more secrets underneath the hood than the average person would know, see more here: "What They Don't Tell You About Cloud Computing".
Python Programming
After learning the ins and outs of the jobs involved with data and how AI meshes with data, it's time to learn the programs that make data work. There are a very large variety of these "coding languages" so picking one might be a tad confusing. The best of these programs would be python as it is the most popular choice for coding.
The last of these courses are for understanding Python programming and is taught by Charles Russell Severance (Clinical Associate Professor at the University of Michigan School of Information and Technical Advisor at Learning Experiences).
This course will introduce how data is structured and how to translate the language of coding. The course is capped off by creating your own methods for data retrieval, processing, and visualization. 
The course has been lauded as easy to understand and will help to understand what makes the code run and will help you to understand code if you want to progress in that field check "Master Machine Learning with Python". 
After learning this course, you will be able to earn far more about how your computer runs and be able to mess around with the settings in order to make your computer truly yours which can synergize with a cybersecurity course for adding firewalls and other anti-hacking software.
By integrating these technologies, platforms like PaperWritten.com offer specialized dissertation writing services. From providing guidance to delivering outstanding papers, these services operate round-the-clock. If you're skeptical about the quality of purchased dissertations, rest assured. Opt for dissertation services and receive precisely what you invest in – a stellar dissertation that could redefine your academic journey.
Embrace the power of technology to conquer the challenges of academic writing, and witness your academic journey flourish with the support of AI, Python programming, and specialized services like PaperWritten.com.