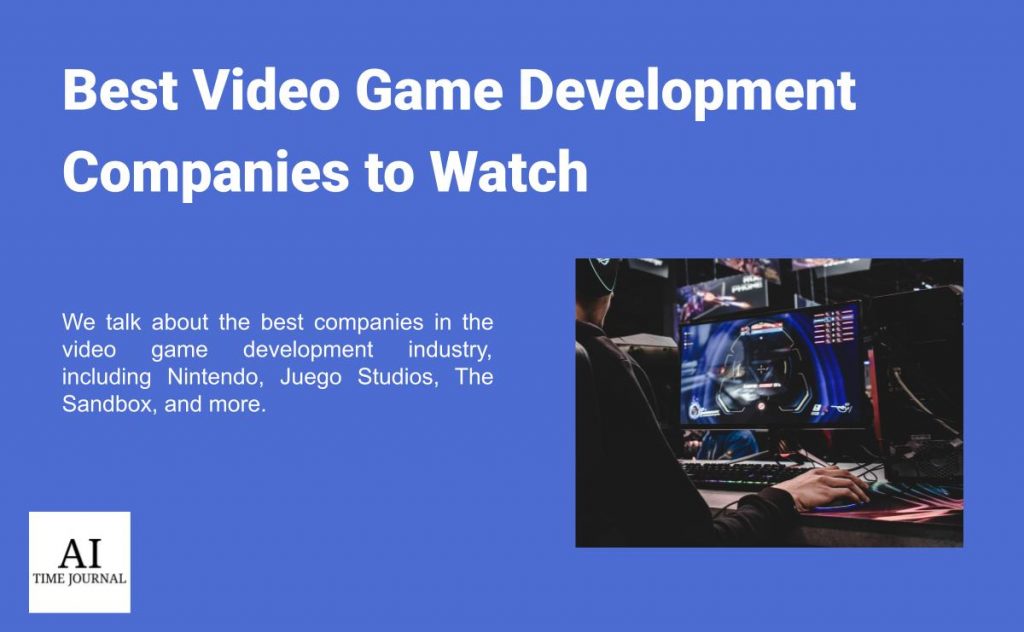 Who doesn't like video games? This kind of entertainment allows us to dive into fictional worlds, relax, connect with friends, and get the new experience we wouldn't be able to get in real life. In addition, in the modern world, video games often work in collaboration with virtual reality (VR) and augmented reality (AR), which makes users' gaming experience even better.
With the growth of this industry's popularity, many companies and startups want to penetrate the market with their innovative solutions. Therefore, due to a significant number of offers, it might be hard to choose the most convenient one for yourself. In this article, we list some of the best video game development companies to watch this year, so you may find the perfect solution for yourself here.
If you want to learn more about AR & VR and video games, read these articles: Top VR Companies to Watch and 5 Ways AI Is Improving Gaming.
No need to explain that Sony is one of the most well-known conglomerates in the tech world. Owned by this Japanese conglomerate, Sony Interactive Entertainment (SIE), earlier Sony Computer Entertainment, is a popular digital entertainment and video game development company founded in Japan but headquartered in California. Many of SIE's subsidiaries, such as Naughty Dog or PlayStation Studios, are also well-known in the video game development industry.
Sony Interactive Entertainment's games, including Ghost of Tsushima, Spider-Man, and God of War Ragnarok, are popular among many users worldwide. Generally, SIE focuses on developing video games for PlayStation, but the company also works on research, development, production, and sale of software and hardware for the mentioned gaming system. Hence, Sony Interactive Entertainment is worth watching not only because of its long history but also because of the creative games it develops. 
Headquartered in Kyoto, Japan, Nintendo is one more well-known video game development company with nearly 150 years of history. Those who have heard of Pokemons have most likely heard something about Nintendo as one of this game's developers. However, the company is considered a giant in the gaming industry not only because of the Pokemon franchise.
Starting as a manufacturer of playing cards, Nintendo managed to grow into one of the most influential video game developers thanks to its constant strive for innovation. Not only does the company develop joyful video games, but also offers its gaming hardware, including Nintendo Switch, Nintendo Switch Lite, and Nintendo Switch OLED Model. On the company's website, you can find many cheerful articles about many game characters, such as Mario. So, if you don't want to miss great offers, you should keep the company on your radar.
Juego Studios is another great company in the video game development industry. It works not only with video games but also implements such technologies as AR & VR. This India-based company has partnered with many brands, including Warner Brothers, Amazon, Disney, Coca-Cola, Puma, Johnson & Johnson, United Airlines, and more, which proves the company worth keeping an eye on.
The company's team consists of over 300 talented specialists from different disciplines, including project management, design, animation, programming, art, and testing. Juego Studios offers various game development solutions for desktop, mobile, NFT, blockchain, AR&VR, console, and the metaverse. The development of games in collaboration with such a variety of modern technologies makes the company one of the leaders in game development. 
Epic Games is an American software and video game development company founded in 1991. Some of the most prominent video games created by the company include Fortnite, Unreal, Battle Breakers, and more.
In addition to games, Epic Games suggests a great tool called Unreal Engine that empowers users to create without limits. The company addresses the platform as "the world's most open and advanced real-time 3D creation tool." On the website, you can find the most recent updates of Unreal Engine, materials on how to use the tool, and the community of like-minded professionals who utilize the program. No doubt that Unreal Engine will be a must for developers in the nearest future. 
Founded in 2004 in the United States, Roblox Corporation is a video game development company most known for its online game named after its developer – Roblox.
While many companies try to develop something close to the Metaverse, Roblox puts much effort into developing its digital universe, which attracted even more attention to the company. Currently, many celebrities and well-known brands partner with the company. For example, the NFL opened a virtual store in Roblox, and at the end of 2020, Roblox hosted a concert by Lil Nas X in its digital universe. With such an innovative approach to the Metaverse, Roblox Corporation is a must on your top companies list.
For more on the Metaverse, read this AITJ article: How AI and the Metaverse Work Together. 
Overwolf is a software company founded in 2010 that aims to facilitate the game development process for developers. The company offers developers to build apps, publish mods, monetize their game servers, integrate mods with their games, and more options. Overwolf defines itself as an "all-in-one platform for creating, sharing, and monetizing in-game apps and mods."
With over 31 million gamers and 95,000 creators using the platform, Overwolf is definitely a solution to consider. Moreover, not only does the company help creators make new experiences possible, but also has a lot of interesting information for partners and influencers on the website. 
Have you ever thought of creating your own virtual world or game but it was time-consuming and expensive? With KitBash3D, you can get this experience without any major expenses. The company allows both large content creators and individual artists to render virtual worlds by creating a library of assets that can be implemented in games, movies, and other spheres where 3D visualization is required.
If you doubt whether KitBash3D is trustworthy, look at some of the brands the company worked with. Among the company's clients are WB Games, Marvel, Ubisoft, 2K Games, and more. So, if you are looking for a high-quality and endlessly customizable platform to facilitate game development processes, this is the perfect solution for you. 
Founded in 2018, Sky Mavis is well-known as the creator of a video game called Axie Infinity. The company suggests such products as games, its marketplace, hub, wallet, and Ronin. Let's take a closer look at each of these solutions to prove that the company is an absolute innovator in the video game development industry.
Sky Mavis offers its customers various virtual worlds with digital property rights and user-owned economies. In addition, on the company's marketplace, users can sell their game items to anyone and anywhere. Furthermore, not only does the company provide a place to store your digital items and currencies through its Wallet function, but also offers a Launchpad for prospective blockchain games and helps them "build, fundraise and grow." Last but not least, Ronin ensures growth for blockchain gaming and collectible projects.  
Located in Bundang-gu, Seongnam, KRAFTON is a South Korean video game holding company founded in 2007. The company is well-known for the game called Player Unknown's Battlegrounds (PUBG). But KRAFTON is a must on your radar not only because of its leadership in the video game development industry but also because of the many innovative projects the company launches. For instance, recently, KRAFTON has partnered with NAVER Z to develop a new Web 3.0 and NFT project, which will address the creation of an NFT Metaverse platform.
If you want to learn more about Web 3.0 and blockchain, read these articles: How Cryptocurrencies Can Be Improved and 5 Best Crypto Games in Development.  
The Sandbox is a US-based startup that creates a decentralized gaming platform that implements such modern technologies as blockchain and non-fungible tokens (NFTs). The company proved to be innovative and prospective by attracting many investors, including The Global Ventures, and collecting over $93 million in a funding round in 2021.
On the platform, creators can monetize voxel assets and gaming experiences based on blockchain technology. So, if you are in search of an innovative platform comprising both video gaming and blockchain, then The Sandbox is the perfect solution for you.