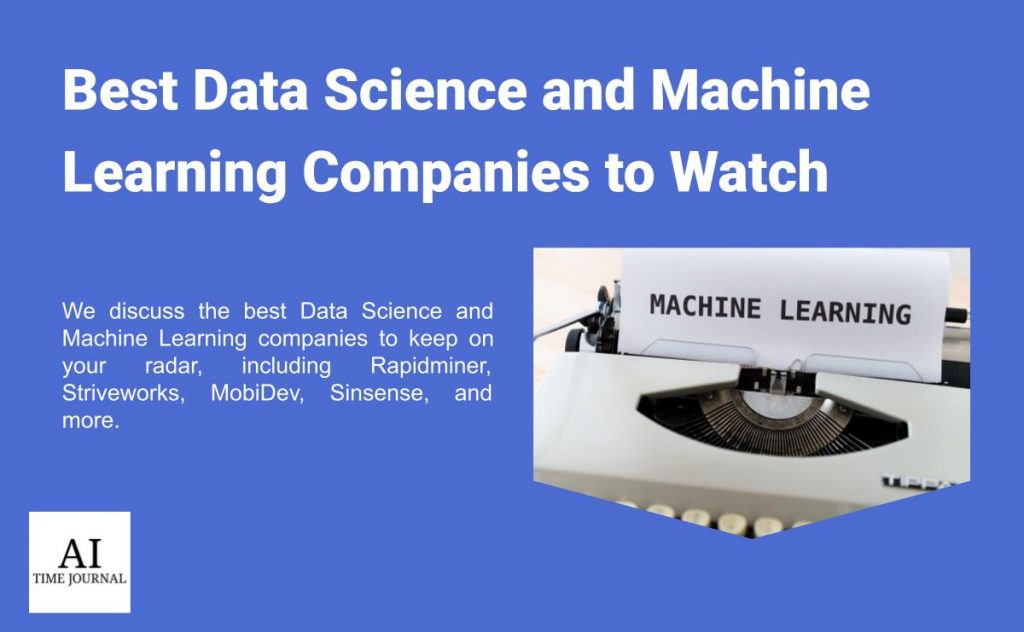 Interpreting and utilizing data and insights to the fullest potential can genuinely make or break a company. That is precisely why data science and machine learning can ease and exponentially automate any company's workflow. Data science is making sense of your insights by implementing various algorithmic and analytical tools.  Machine Learning (ML) is an AI practice for software applications that predict outcomes without being explicitly told to do so. 
Combining these practices can make any company a data machine, creating a workspace unlike any other. Using the technology the companies listed below provide, businesses can streamline their attempt at digital transformation
For more on Machine Learning and Data Science, check out these articles: Shortening the Data Science Cycle: Training Machine Learning Models in Production and The Pivotal Binary Relationship Between Machine Learning and Master Data Management 
Here are some of the top data science and machine learning companies to keep an eye on this year:
Predicting how your consumers interact with your eCommerce business is essential to improving profitability. Luckily, Black Crow AI's platform makes this process much easier, using machine learning and data analytics to foretell what your customers value when visiting your business. 
Black Crow AI starts by taking billions of real-time first-party data points and extracting features that help make sense of users' behavior. After which, the company's patented machine learning platform predicts the future value of visitors to your site, creating predictive audiences to advertise and extract the most potential out of your business. Many up-and-coming names, such as Liquid IV and Magic Spoon, use Black Crow AI to aid their eCommerce potential, making this a company to keep an eye on. 
Providing data science solutions, RapidMiner makes the workload on businesses easier with their fully transparent end-to-end platform. This company presents an easy model generation and a wonderful data science interface to over one million users worldwide.
Some solutions that RapidMiner offers include the following:
Model building with or without coding
Data Engineering
ML Ops for maintaining and managing production models
AI app building 
RapdMiner's tech is extremely versatile, as it spans various industries, including insurance, manufacturing, automotive, retail, and eCommerce. If you're looking for an efficient data science solution for your workforce, this is surely the platform you should try. 
Microsoft, Deloitte, and Sayari are just some of the prominent industry companies that trust Striveworks. Striveworks is a platform that allows users to build and deploy models rapidly with ease. With the company's operational AI, users can deploy models as quickly as a matter of hours rather than months.
Additionally, with Striveworks, users can leverage and retrain models to save time and money for a company and implement new data points. As a trusted leader in the cybersecurity, logistics, and finance industries, Striveworks will make an impact in the future.
Making sure that a business's cloud content is secure and managed properly is essential; that's why Egnyte offers software and APIs for any business's cloud. Egnyte is a trusted platform that secures and governs your company's data easily, with features like lifecycle management and threat management. 
Some other features that Egnyte has to offer include:
Ransomware protection
Sensitive content classification
Secure file sharing
Insider threat prevention
Content governance in Google and M365
With over 16,000 companies trusting Egnyte, among them prominent names like Yamaha, Nasdaq, Buzzfeed, and Redbull, securing your data with its platform would improve any business. 
Enhance your data analytics today with the help of InData Labs' platform. InData Labs is a company that offers big data consulting and AI solutions for businesses across various industries. 
InData Labs' platform has predictive analytics capabilities that analyze and anticipate customer behavior to create a competitive edge. Additionally, this company uses NLP processing features to better understand a brand's perception and access quality audience insights. Consequently, the platform can detect errors to deal with them accordingly. With over seven years of applied data science experience under the company's repertoire, it's safe to say that InData Labs will make its mark on the machine learning and data science industries. 
Millions of users utilize ScienceSoft for consulting and developing their digital success. Since 1989, ScienceSoft has provided digital solutions for companies to unlock their highest potential, such as management and support, migration, and helpdesk services.
ScienceSoft implements tech solutions to improve a business's development, such as AI, ML, and NLP, for emulating intelligent human decision-making. This platform can also handle Big Data, like support and evolution, data governance, and data security. Try it out today, with company giants like Nasa, Nestle, and eBay implementing ScienceSoft's solutions in their workload, which reflects their reputation and efficiency.
MobiDev is a mobile and web solution software company that provides many opportunities for established companies and startups. MobiDev offers a company's solutions with tech such as Machine Learning, augmented reality, and data science.
In terms of data science, the company's platform offers consulting, data analysis, and preparation using classic Agile principles with the help of the CRISP-DM model to mine data. MobiDev also offers the top machine learning specialists to help any business shine. With a 100 percent customer satisfaction rate, MobiDev aims to provide software with "ease and joy," making a company's workload more simple in the end. 
Considered the world's first urban intelligence platform, UrbanFootprint aims to better decision-making and assess risks within a consumer's data. The urban and mobility planning process in city areas has never been easier, as this platform implements important data points such as granular parcels, environmental data, and transport.
As well, UrbanFootprint makes resilient community planning with the help of hazard and vulnerability data points, strengthening infrastructure, and prioritizing grid investments. UrbanFootprint has been mentioned in many big-name news outlets, such as Forbes, CNN, and FastCompany, making this city-planning platform one of a kind. 
Analytics within a business is of the utmost importance to improve productivity and help make the most out of your company. Sisense understands this by bringing businesses a great platform to infuse data into their workflow. 
Some of Sisense's qualities include: 
Seamless workflow, being able to analyze powerful insights with or without coding
Customizable experiences, with the capability of infusing intelligence at any time
Extensible and scalable platform with APIs at every endpoint
This amazing company works alongside many reputable companies, like Verizon, Instacart, and Phillips Healthcare, providing modern solutions to data problems. Try Sisense for your business today, and you surely won't regret it.
Considered a world-leading platform in AI, Dataiku presents a single central solution for managing AI applications. Dataiku is incredibly versatile, spanning multiple industries like banking, retail, manufacturing, and more. 
Dataiku's data preparation functions make the data pipeline building process easier on coders and non-coders as it transforms datasets and provides reusable plugins. Additionally, the platform's automated machine learning fills missing values and transforms any data into numeric values. In addition, Dataiku has many more capabilities to offer, which is why this company ended up on this list.