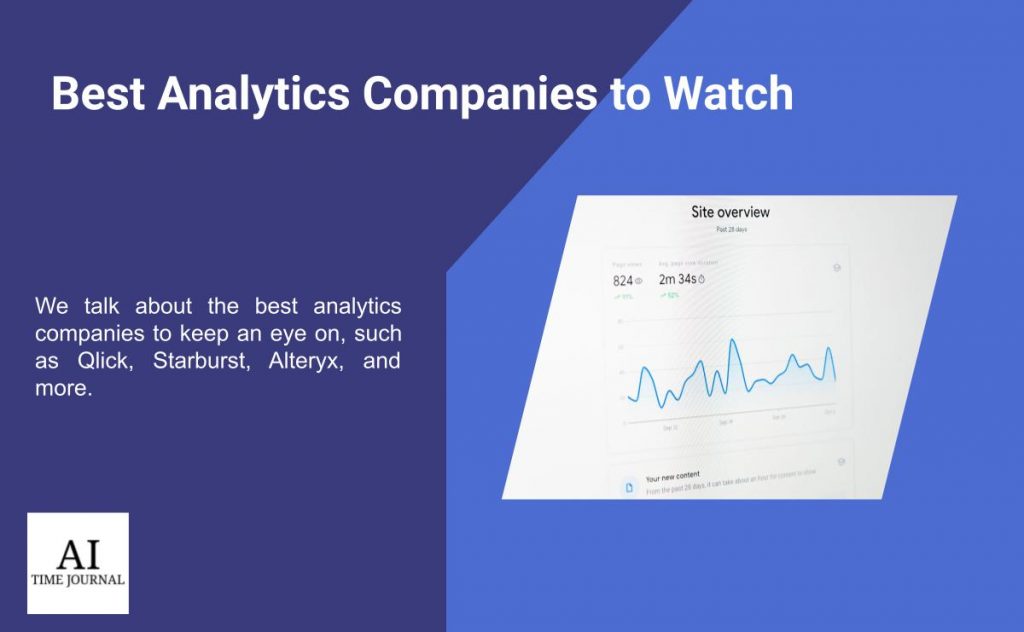 Numbers are of the utmost importance for businesses. Analytics and data insights are greatly needed to see the progress within a company and set potential goals. How can this process become easier for businesses? 
Using technology and AI, companies can solve any struggle when processing analytics. Letting the tech automate the process makes it simpler for businesses to see insights into potential problems or setbacks and provide a more efficient and accurate solution to further businesses' success.
For more on analytics technology, check out these articles: Two of a Kind: Real-Time Analytics and Machine Learning and The Crux of Artificial Intelligence's Enterprise Utility: Timely Analytics
Here are some of the top analytics technology companies to watch in 2023:
Powering more than one billion users worldwide, Oxagile strives to help companies process Big Data to give them a competitive edge. Oxagile implements data analysis, visualization, and pipeline migration to handle any business analytics request. 
Oxagile also incorporates the following Big Data services and tech:
Big Data Ecosystems (Apache Spark)
Cloud Platforms (AWS, Google Cloud)
Data Visualization Tools (Looker, Microsoft Power BI)
Programming Skills (Java, Python)
With these tools, Oxagile assists more than 450 companies, including Fortune 500 and Fortune 2000 firms. If you have not heard of Oxagile's services and are looking for a reliable company to handle your data, you should check this company out.
Qlik aims to turn raw data into informed action through its easy-to-use platform. The Qlik Cloud allows users to determine analytics and insights without prior data analysis knowledge. Qlik uses AI and Machine Learning to provide self-service visualization, advanced analytics, and interactive dashboards in a single cloud application.
Recently, Qlik was named a leader in the IDC Marketscape, with its deliverance in AI, Automation, and Hybrid Cloud solutions. With companies like Airbus, BP, Ford, and Paypal using Qlik's services, it's no surprise they ended up on this list. 
It's no wonder why 98% of Fortune 500 companies love using Citrix's all-encompassing products in their businesses. Citrix provides unique analytics software that strives for real-time employee performance analytics. According to Citrix, companies can expect the following results with this software:
Boosting productivity when employees are working remotely
Accelerating employee onboarding 
Building a better business continuity strategy
With over 100 million customers in more than 100 countries, Citrix is undoubtedly a software to consider when you need to look into employee analytics.
Rapidops has designed a data analytics tool operated by AI and Machine Learning to give businesses a competitive edge. With Rapidops software, companies can monetize their data while gaining knowledge of AI and ML, all in just four weeks.
Rapidops services include the following:
Data visualization platforms
IoT and Machine Analytics
Image, text, and voice analysis 
Personalization engines
With platforms like Amazon Web Service and Oracle using Rapidops data analytics, the company is undoubtedly one to watch for in the future. 
Ever wonder how big companies like Nike and 7-Eleven manage and analyze data to succeed in e-commerce? The answer: Integrate.io. Using Low-code ETL and Reverse ETL, companies can streamline the data process to focus on the fundamental insights rather than spend time preparing the data for analysis. 
Additionally, Integrate.io uses ELT and CDC, as well as API Generation, to replicate and give your team access to data in real-time. Integrate.io also provides easy-to-use visualizations of your team's data warehouse, making this company one of the best e-commerce data platforms.
Whether in a huge office setting or from a single laptop, Starburst presents data analytics software that is entirely compatible with any business practice. Starburst's software gives business teams easy access to accurate data with up to 7x faster queries and up to 40% compute cost savings.
Starburst also includes a global security feature to ensure your data is in the right hands. In addition, Starburst can perform insanely fast queries with concurrency. Condé Nast and Comcast trust Starburst with their data analysis platform, making it undoubtedly a company to watch for in 2023. 
With their simple, open, multi-cloud platform, Databricks provides a solution for businesses to perform data analysis. This easy-to-use software eliminates data silos that make the process complicated for companies. 
Flexibility is critical in Databricks software, as it has AWS, Google Cloud, and Microsoft Azure integrations to mold any business practice. Recently, using Databricks' platform, researchers saw outstanding performance when studying new drugs. Databricks has over 450 partners across the data landscape, making it a company to keep on your radar.
Providing "analytics for everyone, from anywhere," Tableau aims to deliver data visualizations while making it easier for businesses. Tableau offers a strong data culture that accelerates innovation and helps keep consumers happy. Industries that Tableau can help include:
Government
Media
Insurance
Retail
Healthcare
If you're still browsing analytical software for your business, Tableau provides a free trial for companies to try it out. HelloFresh, Lenovo, Lufthansa, and Verizon use this software in their data analysis process, meaning Tableau could become unstoppable in the near future.
No matter the skill level a company is at, Alteryx strives to make data processing more accessible and empower everyone to generate transformation and progression. While Alteryx is easy-to-use and encompasses every tool needed in a single platform, its capabilities present extremely advanced technology, using machine learning to take on complex coding and analysis. 
Alteryx's platform is also wholly scalable. Whether a small startup or a giant corporation, Alteryx can conform to any business practice with ease. The company also provides automated solutions to every aspect of the data process. 7-Eleven and Coca-Cola love using Alteryx, meaning potential companies should keep an eye out for this one. 
From telecom and media industries to retail and insurance, Fractal Analytics uses AI-powered data analytical software to innovate a company's progression. Fractal Analytics provides the following capabilities to make data processing a more straightforward process:
Data Lakes and Data Platforms
Digital analytics and engineering 
AI engineering and MLOps
Full stack engineering
Business intelligence and visualization
Everest Group has been granted Fractal Analytics the title of "Leader" in AI and Analytics PEAK Matrix Assessment. If you haven't heard about Fractal Analytics, giving it a try can eliminate the struggles when processing data and analytics.