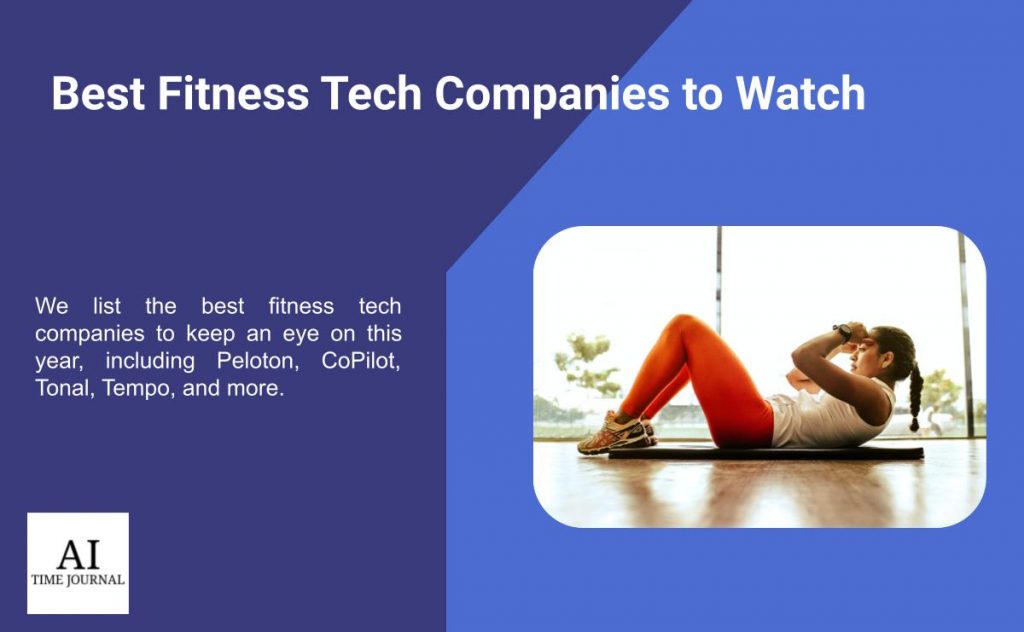 Making sure you're getting the most benefit out of your exercise routine is a must, whether it's for losing weight or maintaining a healthy lifestyle. According to statistical data, most New Year's resolutions pertain to fitness, such as eating healthier and exercising more. So how do we make these goals become a reality in the end? 
Implementing fitness technology into an individual's workout routine benefits them greatly. Whether counting calories or keeping the user motivated, fitness tech assists in many ways to help people strive for a healthy lifestyle. 
For more on how technology benefits other industries, check out these articles: Top HR Companies To Watch and How AI Can Help In Archaeology. 
Here are some of the top fitness tech companies to watch this year:
Imagine an all-encompassing company that provides all the necessary tools to assist in your fitness journey — that's precisely how Peloton is described. Established in 2012, The company aims to "bring the community and excitement of boutique fitness into the home" through technology and design, becoming one of the most popular fitness companies in the United States.
Among this company's most popular products are the Peloton bikes. Their unique design includes a 21.5" HD 10-point multitouch screen, which displays access to live and on-demand fitness training classes and multiple metrics like resistance and heartbeat. In addition, Peloton offers many types of workout apparel and a mobile app, making anyone's at-home fitness transformation much easier. 
Staying motivated while exercising can be challenging for many people. Luckily, CoPilot provides an easy-to-use solution to finding your next fitness coach. CoPilot offers many 1:1 training coaches that users can access daily for routine planning and overall fitness advice. 
In addition, this company offers the ability to follow a personalized plan through its simple platform. They also include easy tutorials and support to keep the user on track. With many big publications showcasing CoPilot, like Wired Magazine and NPR, it's safe to say that this company benefits those who want to improve their lifestyle. 
Using wearable fitness devices can be extremely convenient, especially since exercising can involve a lot of movement. When it comes to wearables, Fitbit is a well prominent name within the industry. 
Coming in all different shapes and colors, Fitbit's products allow you to work out in style while keeping track of your most valuable fitness data. Some of this company's most quality features include the following:
Sleep tracking to ensure a healthy sleep cycle 
24/7 heart rate tracking
A social media application to stay motivated with friends
An overall visualization of your daily activity 
Meal logging and nutrient data visualization
All this packaged within a simple mobile app makes Fitbit a strong contender as a top fitness tech company. If you haven't heard of the company before, its products are definitely worth a try.
Transform your fitness journey today, with the help of the 24/7 portable and wearable fitness coach technology provided by WHOOP. Based out of Boston, Massachusetts, WHOOP is a fitness tech company that offers one of the best wearable fitness trackers on the market, most notably used by many professional athletes. 
Their newest product, WHOOP 4.0, implements revolutionary technology that surpasses other wearables. With the WHOOP 4.0 containing 5 LEDs and 4 photodiodes, any fitness data can be recorded most efficiently. Not to mention, their newest product also has a haptic alarm system to wake up the user at the most optimal time. All this, plus a mobile app, make WHOOP a considerable mention on this list. 
Referred to as a "global provider of health and fitness software," Virtuagym is a company that aims to assist in health goals for individuals through nutrition and fitness applications, as well as for businesses that manage their own fitness studios. 
Gym management has never been easier with the help of Virtuagym's platform. The company's gym management software has automated billing capabilities to ensure members' payments are fulfilled on time. In addition, there is also a 24/7 coaching application to help customers train effectively. With some of the bigger organizations, like the YMCA,  backing Virtuagym with their success, it's not surprising that this platform earned its spot on this list. 
Regarding home exercise equipment, Tonal brings some of the best fitness technology to the market. Their unique patented digital weight system makes thousands of calculations per second through magnets and electricity to deliver a smooth weight-lifting experience. Their product also eliminates traditional metal weights by providing up to 200 pounds of resistance within an at-home sleek workout device.
Additionally, Tonal pushes its users to their fullest potential by eliminating inertia and providing resistance throughout a whole rep. With their 24" touchscreen display, users can search various training courses to fit their workout agenda. Many professional athletes such as Serena Williams and Lebron James endorse Tonal, so it's apparent that this company is worth a try. 
Trade out your typical gym membership today for a more encompassing fitness platform like Tempo. This company offers a subscription-based service, which includes over 2,000 guided workouts and a unique compact home fitness equipment package.
Get all the support you need during a workout with Tempo's one-on-one fitness coaching. Tempo provides a fitness coach with a subscription to help guide and plan out the most efficient regime personalized for the user. The company's guided workouts span various types, whether yoga or strength training. 
An essential part of losing weight is based on the amount of food one eats and the nutritional contents of what one consumes. Fortunately, Lose It! is a company that aims to help track what you eat and ensure you stay on your weight loss goal. 
Lose It! has many unique features to set it apart from other companies. For example, this company can track a user's water intake to ensure they consume a healthy amount daily. Additionally, Lose It! can keep up and instill your macronutrient goals, ensuring the amount of protein, carbs, and other nutrients are monitored. With mobile device integration and over 122 million pounds lost by users, this company is sure to take off in the near future. 
Managing your own gym or studio comes with many responsibilities and challenges; hence, Glofox provides software for those wishing to keep track of business within the fitness industry. Whether an indoor cycling and rowing establishment or a boxing and martial arts gym, Glofox covers a wide range of fitness studios and delivers quality results.
This company offers top-notch marketing tools for tasks such as social integrations and managing a custom mobile member experience. In addition, they offer management, optimization, and reporting features to streamline business and take care of scheduling. With many more opportunities for your studio, let Glofox take charge and make your life easier. 
Working out in a gym or at home can get old, viewing the same environment every time. Supernatural strives to make workouts more exciting, utilizing virtual reality and fun scenarios to keep users entertained and motivated.
Using the Meta Quest virtual reality device, users can work out in breathtaking destinations worldwide, such as Machu Pichu or the Great Wall of China. Supernatural also uses ordinary workout routines, like boxing, and transforms that into an ethereal gamelike experience. With the company, there is also no need to have a fitness coach, as they meet with you through VR. Voted among Time's Best Inventions 2020, Supernatural's unique approach triumphs many other fitness tech companies.