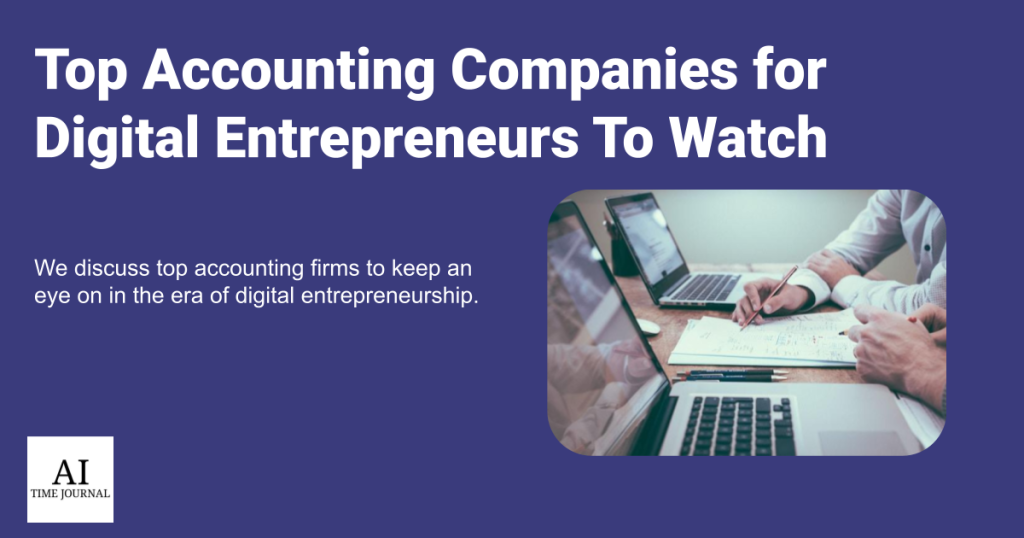 Let's face it, being a digital entrepreneur in today's fast-paced business world can be overwhelming. Managing finances and keeping up with accounting practices can be a real challenge, mostly if you don't have the expertise or resources in-house. But don't worry; there's a solution for that – accounting companies.
As we linger on in 2023, the accounting industry is keeping up with the fast-paced world of digital entrepreneurship. With the help of automation and cloud technology, accounting firms are stepping up their game to provide more value to their clients.
They're embracing digital transformation and offering streamlined services to help businesses grow and succeed. If you're a digital entrepreneur looking for top-notch accounting services, you're in luck! We've narrowed down the top 8 accounting companies digital entrepreneurs should watch in 2023.
Table of Contents
Top 8 Accounting Companies To Watch in 2023
In this tech-savvy era, accounting firms are looking to level up their game by embracing state-of-the-art technology to cater to the unique demands of their clients.
A whopping 43% of accounting firms have already witnessed a surge in productivity due to the integration of technology, and 40% of them are planning to invest in or have already invested in predictive analytic capabilities on technology.
Here is the list of the top 8 Accounting Companies for Digital entrepreneurs to watch out:
Xolo is a comprehensive platform that provides a range of accounting services to entrepreneurs. The all-in-one platform integrates accounting, banking, and company formation services, making it easier for digital entrepreneurs to manage their finances in one place.
With Xolo, entrepreneurs can access both accounting and legal support, along with helpful tools and resources to streamline their financial management. It has quickly become one of Europe's most popular accounting companies, serving over 30,000 clients since its establishment in 2015. Xolo's services include:
Invoicing.
Expense management.
Tax compliance.
Rho is a digital bank that provides a range of financial services to businesses, including accounting services. Rho aims to simplify financial management by eliminating complexity and fragmentation.
Current financial service providers often require businesses to use multiple third-party platforms. Hindering growth rather than facilitating it. To address this challenge, Rho integrates all necessary financial tools onto a centralized platform, reducing manual workflows and maximizing efficiency.
Rho is a comprehensive set of financial tools designed to enhance productivity, streamline operations, and drive business growth. Rho's basic plan is free and offers basic banking and financial services.
Since its establishment in 2018, it has become a leading player in the digital banking industry, offering:
Business loans.
Merchant services.
Expense management and more.
Juno is working towards the mission of making financial freedom more accessible. Juno offers a range of accounting and financial services that are designed to help startups and small businesses manage their finances more effectively. The platform provides online bookkeeping services, which allow users to track their income and expenses in real time.
Juno is an online bank that offers a range of financial services to businesses, including accounting services. Founded in 2019, Juno has quickly gained popularity for its innovative approach to banking, offering a range of services such as business loans, expense management, and financial planning.
FairMoney is a digital bank that offers a range of financial services to businesses, including accounting services. Founded in 2017, FairMoney has quickly established itself as a leader in the digital banking space, which offers a range of services, including loans, savings accounts, and insurance.
It is also a digital money lending platform that offers borrowers single-payment loans, installment loans, and payroll loans in an automated manner. Some reasons for using FairMoney are:
Focus on ethical finance.
Providing fair and transparent financial services to its clients.
Promote financial education and literacy among their clients.
Sablecard is a new player in the accounting space, but it has already made a big impact. This company offers a virtual debit card that can be used for business expenses, which is a great way for entrepreneurs to keep their personal and business expenses separate.
The Sablecard also allows users to set spending limits for each employee, which can help prevent overspending. Sablecard provides an easy way to get a debit card with no credit checks and no hidden fees and ensures no more barriers to building credit.
It requires no credit history or credit check. It lets people get a protected bank account and credit card in under 5 minutes.
Sage One, now rebranded as Sage Business Cloud Accounting, will be a noteworthy accounting company for digital entrepreneurs in 2023. It offers an intuitive interface for streamlining financial and administrative tasks like managing payments and expenses and obtaining valuable business insights to boost business efficiency from any location. Sage Accounting boasts a suite of accounting tools, including:
Invoicing.
Expense tracking.
Bank reconciliation.
Snap receipts,
Expenses.
Payroll
Payslips.
Compliance.
It is MTD compliant and allows users to submit VAT returns online to HMRC. A mobile app enables entrepreneurs to manage finances on the go. Sage One offers multiple pricing plans, starting at $10 per month, to cater to businesses of all sizes.
QuickBooks is a cloud-based accounting platform that offers a range of accounting services to businesses. It is a straightforward and easy-to-use accounting software that allows you to monitor your business finances by tracking your income and expenses.
It also organizes your financial data, saving you the hassle of manual data entry. QuickBooks automates many of the accounting processes, making it easy for entrepreneurs to manage their finances without spending too much time on bookkeeping.
QuickBooks also integrates with a range of other tools and platforms, making it easy for entrepreneurs to manage their finances across multiple channels. Additionally, QuickBooks offers a range of pricing plans to suit different budgets, with plans starting at just $25 per month.
FreeAgent is an online platform for bookkeeping software that helps small businesses, freelancers, and their accountants and bookkeepers. With over 100,000 customers, FreeAgent simplifies business account management and offers friendly support from a team of accountants without resorting to confusing accounting terminology. This software assists business owners in managing their daily administrative tasks, such as:
Tracking expenses.
Running payroll that is compliant with RTI regulations,
Monitoring time.
Creating and sending invoices.
Keeping an eye on cash flow.
Additionally, the software offers a mobile app that allows users to manage their finances on the go. Pricing for FreeAgent starts at $14 per month.
Conclusion
Digital entrepreneurs are constantly searching for new ways to make their mark. With the rise of digital entrepreneurship, the demand for specialized accounting and financial services has skyrocketed. In this day and age, entrepreneurs need to keep on doing what they do best and let the experts handle the finances.
That's where these innovative accounting companies come in, offering tailored services to meet the specific needs of digital entrepreneurs. Whether you're a small business owner, startup founder, or freelancer, these top companies are the ones to watch in 2023. With their cutting-edge services and expertise, they can help you manage your finances effectively and pave the way for your success.