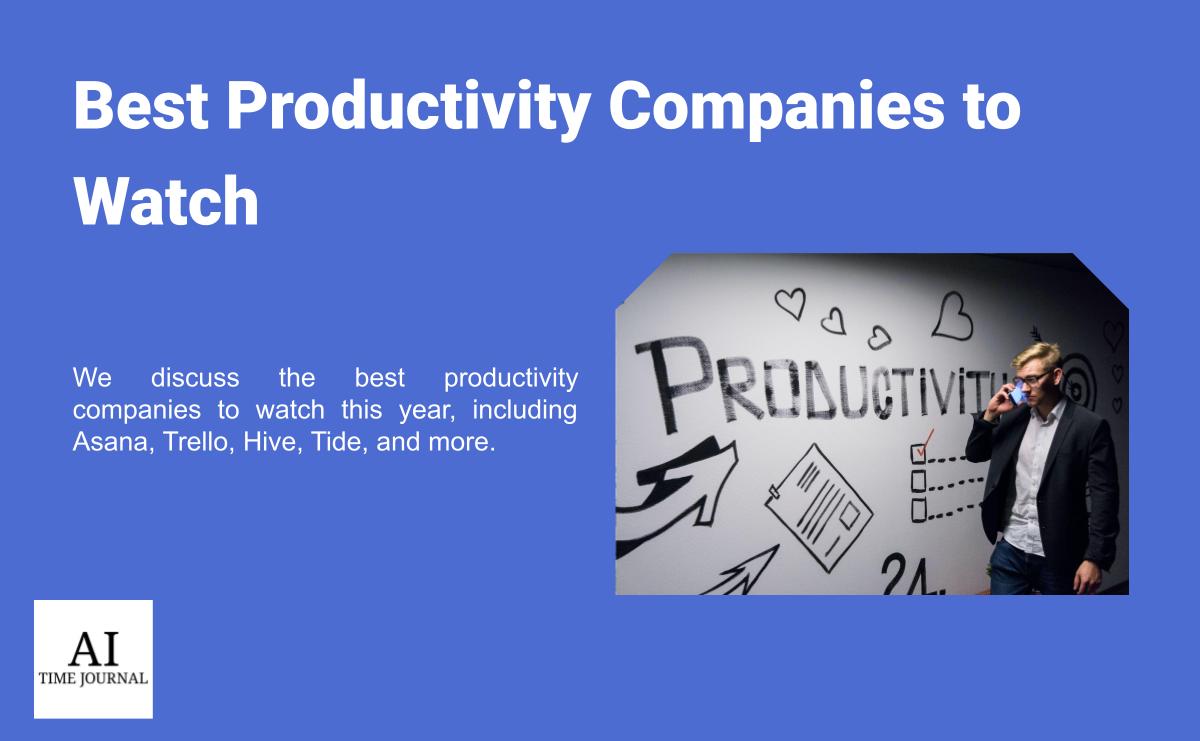 In our result-oriented world, remaining productive is an essential skill needed to succeed. Businesses want to enhance their performance, employers want employees to be more effective in their work, teachers expect their students to study hard, and many more spheres of our lives require productivity. Moreover, we expect much of ourselves: studying, working, relaxing, planning our day, building a career, and much more. Hence, accomplishing your tasks in less time and keeping track of all your responsibilities and upcoming events helps us free our day and get less stress at work.
Nowadays, many apps assist businesses in estimating their employees' productivity and help people plan their schedules and arrange everything on time. In this article, we list the best companies that provide tools to enhance the working process, save time, ensure effective communication, and boost productivity.
If you want to learn about AI improving other spheres of business, read these AITJ articles: 5 Ways AI is Helping HR to Build Company Culture in the Digital Workplace and How AI is Changing HR.
Founded in 2008 by Dustin Moskovitz and Justin Rosenstein, Asana is a great work management platform created to enhance teams in organizations, track their tasks, and manage their work. The software suggests such workflow solutions as:
Project Management
Goal Management
Agile Management
Task Management
Increasing Productivity
Work Management
Project Planning
To-do Lists
The Project Management tool allows companies to manage their projects from day one to the deadline and can help improve engineering, marketing, sales, and human resources tasks. In addition, Asana provides users with many helpful materials and tips on SWOT analysis, OKRs, SMART goals, and many more topics.
Trello is a web-based software created by Fog Creek Software in 2011 but later sold to Atlassian. The platform is supported by Coinbase, Google, Visa, and many other large companies. The software is great for list-making, managing projects & workflow, and tracking tasks.
In the beginning, Trello offers to arrange your upcoming tasks in the form of boards, lists, and cards. But later, you can customize your experience by implementing more specific features. On this platform, you can also assign tasks, access timelines, productivity metrics, and calendars, and perform many more activities.
The platform has many positive reviews from well-known companies, such as eBay and Sprout Social. As well as Asana, Trello is available on the website and in an app.  
Slack is perfect for improving communication in your workspace. This messaging program was designed for office use but is also used as a personal communication tool. With the help of this platform, you can create virtual workspaces and effectively communicate in channels or one-to-one chats.
Slack is easy to use; however, if you need some lessons on how to use the platform, you can easily access learning materials on the website. Slack fits every type of company, from IT and Engineering to Customer Service and Education, as it provides tools and a place where you can negotiate with your partners, discuss business with your investors, and communicate with your clients. If you are not sure if you should use the platform, read some of the articles the company presents on the website. These articles give examples of how successful companies like Zendesk or Snowflake use Slack in their business processes. 
Microsoft Teams is one more great platform for enhancing communication. It allows you to arrange video conferences, meetings, and online calls. The platform is one of Microsoft's products developed for business communication. Although Slack is considered the software's primary competitor, the platforms work great together.
Microsoft Teams improves workforce management, messaging, file sharing, collaboration, and video calling. Moreover, you can access various virtual rooms, use specific devices and apps created for teams, and lead webinars on the platform. Furthermore, the software enhances communication not only for businesses but also in education. Thanks to Microsoft Teams, students and teachers can meet in virtual conference rooms, learn from anywhere, and personalize their learning experience. 
Todoist describes itself as "a task manager you can trust for life." With more than 30 million app downloads and users working in Amazon, Shopify, Apple, and NYU, the platform is great for organizing your work and life.
Todoist provides users with various templates for spheres, such as Marketing & Sales, Personal, Design & Product, Education, Development, and more. Moreover, the platform allows users to set priority levels for their tasks, mark favorite events, and use reminders for keeping track of their schedules. To personalize their task views, customers can also choose their boards, labels, filters, and themes.
Some interesting features that Todoist suggests are Productivity Visualizations, Activity History, Completed Tasks Archive, and Todoist Karma. For instance, Todoist Karma gives you additional points for completing your tasks and utilizing advanced features. 
Tide
Staying calm, relaxing, and sleeping enough is essential for being productive throughout the day. Tide helps people solve these problems, stay on top during the day, and sleep well at night. The platform can enhance your sleep, focus, meditation, and breath.
The app suggests a feature called Sleep and Nap with Sounds of Nature that provides natural sounds that make you sleep tight. In addition, you can find many meditation options that will put a pause on your brain. Tide's Focus Timer combines the Pomodoro focusing method with natural white sounds that, in collaboration, start an immersive concentration. Additionally, you can receive daily inspiring quotes from Tide that will inspire with peace. 
Calendly is a software company founded by entrepreneur Tope Awotona. The platform is designed for enhancing business communication and scheduling external meetings. Calendly allows users to schedule meetings in several steps without tons of unnecessary emails. Hence, the software helps customers save time and prepare virtual calls more effectively. Also, on the platform, you can schedule various types of meetings, from one-on-one and group to collective and round-robin calls.
In addition, Calendly allows you to:
Set automated reminders and follow-ups
Make more connections and reduce cancellations
Delight Invitees with modern scheduling
Calendly provides solutions for numerous areas, including customer success, sales, recruiting, information technology, and marketing, as well as numerous tools for developers. 
Hive is "the all-in-one project management tool built for all ways of working." Hive allows you to look at your tasks in different views, such as Gannt View, Kanban View, Table View, and more. Moreover, all tasks assigned to you are displayed in an easily accessible view and are logically grouped.
In addition, Hive represents multi-step projects in a way easy to comprehend. Customers can use timesheets, time tracking tools, timelines, and team resourcing tools to be more effective in their work. Also, Hive has several specific cases designed for Marketers, Project Managers, and Agencies. In addition, you can integrate all other tools, including Slack, Microsoft Teams, or Okta, with the platform to improve productivity and have easier access to all of your working apps. 
Unqork is a computer software company that assists enterprises in finance, insurance, healthcare, and government. The company suggests its clients integrate all of their business data, increase productivity and innovation through innovation, and create new digital experiences.
On the platform, you can find various solutions by industry, initiative, and role. For instance, the category Solutions by Initiative includes such options as: 
Legacy Modernization
Cloud Migration Acceleration
Ecosystem Integration
Process Optimization
Digital Experience
Transformation
Rapid Application Delivery
Additionally, if you need more information about Unqork or the industries the company works in, you can access the resources section on the website. The company provides many helpful learning materials, including Community Hub, Resource Center, Unqork Academy, and more. 
Lattice is a startup launched in 2015 in San Francisco. The company suggests the following products: performance, engagement, OKRs & Goals, analytics, and more. For instance, the Engagement solution allows companies to receive valuable feedback from their employees and improve the employee experience. Through this feature, employers can also get real-time data about how their people feel about work. Hence, it is a great way to increase employee engagement and build strong and trustful relationships with your team.
Furthermore, Lattice suggests solutions for various industries, such as Technology, Banks & Credit Unions, Fintech, and more. In addition, numerous tools are provided depending on company size (e.g., for small businesses and enterprises).