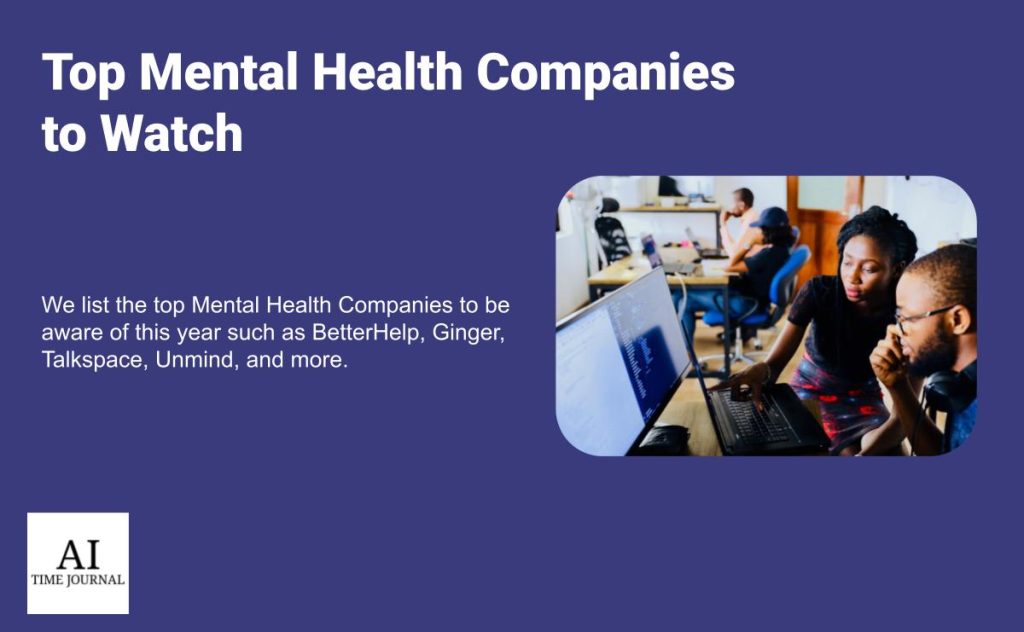 Mental health problems are challenging to handle and have a big impact on an individual's life. Fortunately, there are a number of companies that specialize in helping individuals cope with mental health problems.
Additionally, many of these companies also provide online services like Telehealth and digital platforms, which are especially beneficial for those who may not have access to traditional forms of help.
There are various options for mental health support such as online counseling, therapy, support groups, and educational materials. This support is relevant for people seeking therapeutic help for anxiety, depression, and other common mental health issues which can be valuable either online or in person.
However, the goal of any company related to mental health is to provide individuals with the tools and resources to manage their mental health and live fulfilling lives.
In this article, we will mention a few relevant health companies that offer support through online platforms, and maybe you might find the most suitable one for your needs.
If you are interested in more health-related information, check out the following articles: Best AI-powered Software Used in Healthcare and Top Health Tech Companies to Watch.
Due to a shortage of mental health professionals in the United States, it can be challenging to find a qualified therapist at an affordable price. However, thanks to platforms like TalkSpace, more people will have access to the help they need.
Talkspace is a secure online therapy service that provides text-based therapy with the option of live video sessions.
The algorithm that is used by Talkspace will match you with a provider according to your requirements and preferences, as well as the availability of therapists.
After you have been matched with a provider, you will have the ability to view information about that provider's professional experience, including the forms of therapy in which they specialize and other relevant information. This will ensure that you have the best therapist for your needs.
This online therapy session targets a wider range of concerns for adolescents, couples, and individuals as a whole.
BetterHelp is the largest online therapy platform, with over 25,000 licensed therapists across the United States. It provides remote teletherapy sessions with licensed, experienced therapists. Live video, phone, or chat sessions allow you to schedule virtual visits at home, in your car, or wherever.
This platform is excellent for this if you're in a time crunch because it offers limitless messaging as well as one live chat, phone, or video session every week for online therapy, giving you the choice to select the telehealth format that suits you the best.
For educational background, BetterHelp offers professional counseling from:
Licensed psychologists.
Clinical social workers.
Marriage and family therapists.
Board-licensed professional counselors.
Overall, this platform is excellent for working on goals or minor issues.
Mental health is addressed from every angle in Mindstrong. If you have a smart device, you can use it to access our online counseling and psychiatry services.
All parts of what they offer include:
Health evaluations and coaching.
Case Management.
Virtual therapy.
Psychiatric.
Medication management.
Round the-Clock emotional support.
Your care team creates a Care Plan with achievable long and short-term goals. Your talents, skills, potential hurdles, and passion for change can guide you to greater mental health. After reaching goals, focus on maintaining progress.
The app sends reminders and information to help you reach your goals. Your care team and self-reports include articles, videos, lessons, and worksheets to promote improvement between sessions.
Overall, it helps with self-improvement and brings to light areas where one needs additional work.
Children of preschool age often have trouble expressing their emotions, but they learn to make sense of the environment through play. There are many positive outcomes from beginning therapy early on. Care for expectant mothers and newborn babies is just part of Lantern's comprehensive approach to patient care.
Lantern Health provides primary care as it's based on relationships and authentic experiences.
The membership fee provides a more inexpensive and consistent means of gaining access to high-quality primary care. When compared to more conventional methods of insurance, the majority of members pay between 60 and 100 dollars per month.
Lanterns' platforms are for those who wish to improve their emotional stability and skills over time great for family and couple therapy.
Ginger is a business-to-business service to improve people's emotional well-being in the workplace. It claims that within 12 weeks, 70% of patients showed a statistically significant improvement in their depressive symptoms. This demonstrates Ginger's effectiveness. The company provides free limitless text-based coaching and ad hoc video therapy sessions to all employees.
Ginger is an on-demand mental health platform that helps people with anxiety, depression, sleep issues, and more.
The advantages of using ginger include :
Coaches are available 24 hours a day, seven days a week.
No need to fill out forms or repeat concerns—the app stores all patient information.
A collection of self-help materials and content.
Using and navigating the app is simple.
In general, employees use this to promote a healthy and productive work environment.
More than 2.2 million employees and dependents throughout the world rely on Lyra Health for revolutionary mental health benefits. Lyra Health is transforming mental health treatment by removing barriers for members, clinicians, and employers.
Blended Care Therapy is a program offered by Lyra that combines video therapy sessions with personalized digital tools. According to a study on the program, it is effective for treating depression and anxiety, and it can help clients recover two to three times faster than traditional cognitive behavioral therapy (CBT).
Lyra's work with consultant partners to:
Create a plan for customers' mental health that's specific to their requirements
Provide precise information on the effectiveness of the mental health program for clients
Help clients save money on their health plans
Drive clinical improvements for healthier, more productive workforces
This platform's primary objective is to promote the overall well-being of the workforce by ensuring that everyone has access to essential resources.
When it comes to improving one's health, there is more than one way to process feelings and gain insight into oneself. SilverCloud is safe and anonymous.
An interactive platform that includes:
Mindfulness exercises and Interactive journaling.
Mood or lifestyle charting to help manage emotions.
SilverCloud is an online therapy platform that helps people manage their problems by encouraging them to change the way they think and behave. What's the best part? It is completely free.
Journaling helps you prioritize difficulties, worries, and concerns, reducing symptoms and improving happiness. Tracking symptoms daily to identify triggers and improve control. Endorphins are released after exercise. These endorphins block pain receptors in your brain.
All of the programs have activities and interactive tools to help people learn how to take care of their mental health with more confidence. As their goal is to change the way people think by giving them a different point of view.
Big Health's co-founder, Peter Hames, got the concept after he couldn't find a solution to his insomnia other than medication. He knew that what had helped him may help others, even millions.
Sleepio is a tool that helps people improve their sleep in just 20 minutes a week by helping them:
Calm their racing thoughts.
Alter their habits and relax before bed.
It was demonstrated that Sleepio was effective After a period of six weeks, 76% of Sleepio patients showed clinical signs of improvement in their insomnia.
82% of patients take medication even when it's not necessary, possibly making their symptoms even worse; nevertheless, each individual's reaction to drugs is different.
In general, Big Health involves researching alternative treatments for sleeplessness and other health problems, in addition to using medication.
Companies thrive when workers can be themselves at their jobs. Unmind is a movement to improve mental health and wellness through the capability to adapt. We assist management in making the workplace a healthy and stimulating place to work, and we give our staff members the tools they need to achieve their own best.
71% of employees who took Unmind courses said they felt less stressed and 62% said they felt less anxious.
The use of the Unmind platform for companies comes with a number of benefits, including :
Based on your insights, make decisions about your wellness strategy that are backed up by data
Enable workers to track, assess, and understand their wellness
Learn about the health of your people and your organization
Acquiring an understanding of the investment
Unmind takes protecting your information very seriously. All of the information that employers can see about how their employees are doing is gathered together and made anonymous.
CareMore Health is an organization that treats the whole person, not just the disease. All around the country, people are talking about how great their disease-control initiatives are. And the health and fitness benefits of these preventative measures are numerous.
Regarding the programs for mental health California residents who are qualified for both Medicare and Medi-Cal can participate in a program called MediConnect, which provides a coordinated care plan that includes not just medical treatment but also long-term care, mental health and substance use programs, and social assistance.
All members who are at least 21 years old can participate in this program.