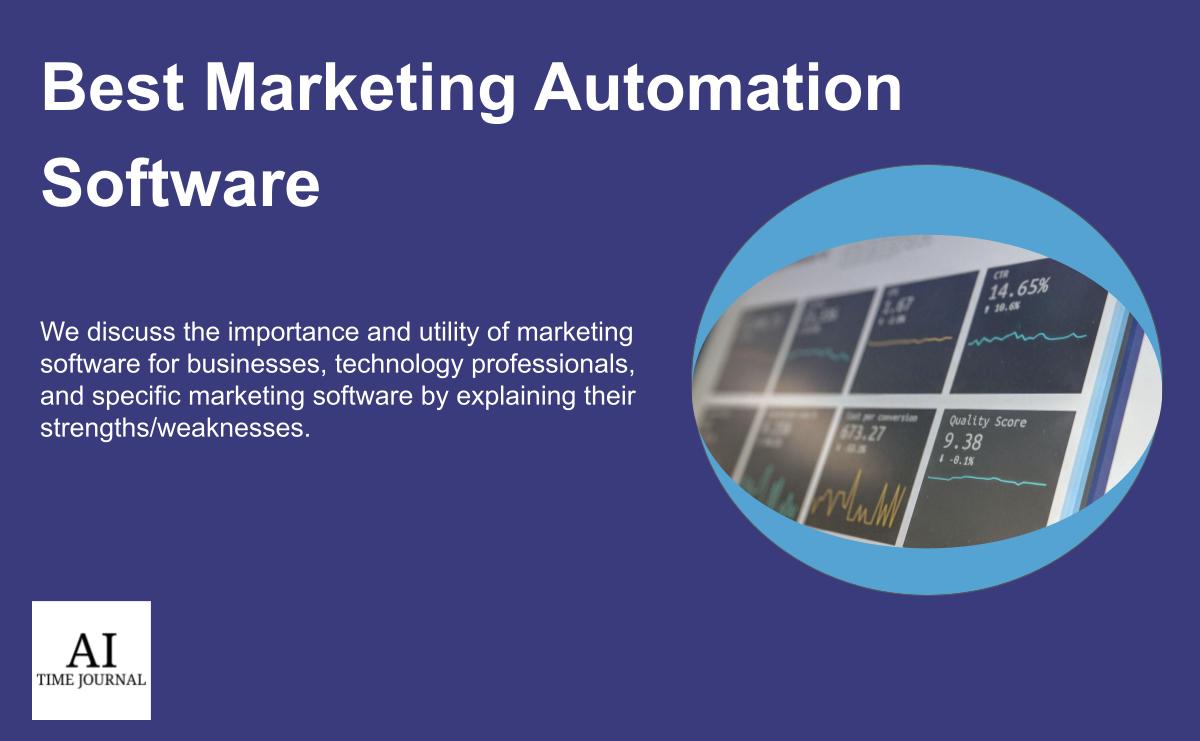 Table of Contents
What is Marketing Automation?
Marketing automation is a function performed by various kinds of software platforms that strives to increase the number of digital channels companies can market on, the effectiveness and data-driven nature of their Ad campaigns, and a reduction in the extent to which humans must complete repetitive or mundane tasks. 
In simpler terms, marketing automation is a practice that streamlines a business' marketing strategy without incurring enormous financial costs or necessitating private consulting with third-party organizations. Moreover, Artificial Intelligence plays a significant role in this process. 
Currently, available software packages provide businesses with many of the tools they need to build a successful marketing campaign, and a large part of this software is often designed with specific industries or functions in mind. If businesses do their research, it is likely they will be able to find a marketing automation product that fits their needs well.  
Why is it Important for Businesses?
Some business owners may be reluctant to follow the 'herd' in its acceptance of innovative marketing technologies that improve workflow, revenue, and client retention. Small business owners might recognize that some of their employee's livelihoods depend on their position, and thus be unwilling to implement technologies that will make those employees redundant. 
But, the fact is, businesses that are willing to evolve alongside emerging technologies will be able to build a comparative market advantage for themselves that increases exponentially as time passes. 
In today's competitive business landscape, utilizing marketing automation software is a must, especially for businesses with multiple locations. By embracing multi-location marketing software like Adplorer's Horizon, businesses position themselves as leaders in their industry, setting themselves up for long-term success.
Those businesses that have the most user experience and in-depth understanding of the functionality and benefits of marketing automation software will be the ones that set themselves up for success, especially as markets become more saturated with similar ideas and business models. 
The products this article discusses represent some of the most popular and proficient marketing automation software, though each one has its own strengths and weaknesses. Business owners would benefit from conducting their own research in this domain to establish which software best fits their business needs.
Hubspot Marketing Hub is a solid digital marketing tool for businesses that are just beginning to incorporate marketing automation software into their marketing strategy. There are a few reasons why this is the case: 
The platform is easily scalable; it can meet the needs of both small businesses and large enterprises.
The all-in-one approach gives businesses all the basic tools and data they need to build a foundational digital marketing strategy and automate tasks that are mundane or redundant. 
The platform is compatible with various other marketing software and third-party applications a business may want to use to enhance its marketing strategy. 
It has a straightforward and easy-to-use user interface. 
Marketing Hub allows its users to manage blogs and social media content, optimize SEO best practices, track and analyze advertisement-specific data, create powerful video content, and streamline business-to-consumer communication via automated chatbots. 
However, there are a number of disadvantages to this platform that business owners may want to consider. 
First, the customer relationship management (CRM) tools Marketing Hub provides are difficult to customize with respect to other existing platforms. Second, Marketing Hub offers several software packages, however, prices increase dramatically as packages scale, and smaller businesses may not be able to afford a package they actually need. Third, the number of available templates for marketing automation practices is finite, which constitutes a disadvantage for business owners that require more flexibility and customization capacities. 
For businesses that wish to automate and improve their email marketing strategy, Constant Contact's software is a strong choice. Moreover, the affordability of the software makes it an ideal option for small businesses interested in alternative CRM practices. 
Constant Contact focuses on the automation of four main characteristics of email marketing: 
The fostering of new contacts and leads via targeted and automated welcome emails.
The maintenance of business-customer relationships via automated drip marketing campaigns.
Increased engagement of the consumer audience through automated contact segmentation. 
The provision of Ad-building tools and templates for Social Media marketing. 
Nonetheless, there are a few drawbacks that are worth mentioning. 
A Drip campaign is a direct marketing technique that works by repeatedly sending marketing content to customers over significant periods of time. Such an approach could diminish the effectiveness of marketing strategies by 'spamming' customers with content they may find irrelevant. 
A more obvious downside to this software is its limited applicability: for businesses that want to automate digital marketing practices beyond email approaches, alternative software that provide a more comprehensive package may be a better choice. 
Salesforce Pardot provides an option for businesses that need to tailor their business-to-business marketing strategy to their sales approach. The software platform outlines several sales-specific benefits that help businesses expand and nurture their client base as they grow. 
First, Salesforce Pardot enables sales representatives to increase the speed at which they close deals. It does this by automating parts of the lead generation process and isolating those leads which are most financially lucrative. It also allows sales representatives to track the engagement of potential leads with advertising campaigns and follow up with customers in a more timely manner. 
Second, sales representatives can increase the strength of their business-to-consumer relationships by individualizing the customer experience and building targeted email-marketing campaigns using Salesforce Pardot's data analytics tools. The automation of mundane sales and marketing tasks also allows sales representatives to focus on building stronger, more intrinsically meaningful relationships with their clients. 
Finally, Salesforce Pardot allows businesses to calculate the return on investment (ROI) of their marketing campaigns. Based on these figures, businesses can make smart financial decisions that optimize their digital marketing approach and reduce financial losses. 
Being a sales-specific software, Salesforce Pardot suffers similarly from its limited applicability. It is also better suited to larger businesses or enterprises due to its high monthly fees. 
Marketo has designed its software platform to offer businesses the opportunity to automate and measure their marketing tasks to improve operational efficiency and facilitate revenue growth. 
Marketo provides many of the same tools that Salesforce Pardot provides for its customers, such as ROI estimates and individualized/targeted marketing campaigns. However, it stands out in two specific domains: 
Its intuitive user interface and ability to create customized templates and landing pages. 
Its CRM integration and network collaboration. 
While the Marketo user interface may not be the most aesthetic thing in the world, it is remarkably straightforward, with clearly labeled functions that reduce the learning curve of new users. Moreover, the degree of personalization Marketo offers, not just with customized landing pages, but also with industry-specific marketing templates, sets it apart from its competition. 
Marketo, as a stand-alone platform, has not included CRM tools in its software package. However, its compatibility with other CRM packages or networks, such as Salesforce, has made it a particularly versatile marketing automation software for businesses that have highly specific needs. The CRM integration also expands the breadth of marketing tools users have at their disposal and allows them to build a scalable stack of marketing applications to achieve their ultimate goals.  
Unfortunately, Marketo is an expensive marketing automation software, making it unaffordable for smaller businesses. Moreover, while it provides great customization options, some users have complained about the platform's data analytics tools and its relatively slow processing speeds.
Customer.io is an email marketing automation software package that is easy to use and cost-effective. Businesses looking for an email marketing tool that does not require any prior HTML experience or high degrees of 'tech-savviness' may find this is the right software for them. 
Customer.io provides users with a variety of tools ranging from A/B testing to multi-language newsletters, each of which is displayed throughout a well-designed application user interface (API). The software has received specific praise in the domain of data segmentation, where users are able to easily modify and customize marketing campaigns on the basis of behavioral data. 
Additionally, when it comes to creating effective drip campaigns, Customer.io gives users the ability to visualize their workflow build, which may streamline efficiency and reduce user error. Moreover, the Ad audience sync feature allows users to facilitate new audiences through data segmentation in the Google and Facebook space, thereby expanding their businesses reach. 
Where Customer.io suffers is its limited applicability. Like other digital marketing software packages, it has restricted itself to one domain. Moreover, while most users have provided overwhelmingly positive accounts of their experience, some have complained about the software's ability to sort through and organize relevant data points, a fact to consider for businesses aiming to be more data-driven. 
EngageBay is an ideal marketing automation software for small businesses. It is affordable while also providing a comprehensive feature set, making it an excellent choice for business growth. 
EngageBay is a favorite among startups and SMBs for these reasons:
The all-in-one marketing, sales, and customer support method provide businesses with a holistic view of their customer and client base, providing valuable insights into customer incentives and behavior.
EngageBay's visual automation workflow builder automates repetitive and mundane tasks. This improves productivity and efficiency. 
EngageBay offers multichannel marketing that includes email, phone, SMS, social media, and the web. Emails and posts can be scheduled based on time zones and priority. 
It's one of the easiest CRM platforms to use. 
Advanced segmentation using smart lists that help pinpoint buyer personas. 
Moreover, EngageBay also offers a suite of sales enablement tools, including pipelines, sales funnel management, appointment tracking, and task automation. Customers can also address any questions or concerns they have post-purchase using EngageBay's helpdesk and live chat support systems.  
Additionally, businesses can employ EngageBay's powerful visual dashboards tools to view relevant and insightful metrics at a glance. Users can further customize the dashboards, automate periodic reports, and motivate employees through leaderboards. 
EngageBay's most prominent strength is that it offers all of these features at an incredibly affordable price. 
That being said, EngageBay does not have enough third-party applications yet; users may not be able to connect their favorite applications with the platform. However, this will change in the near future as the vendor adds new integrations periodically.