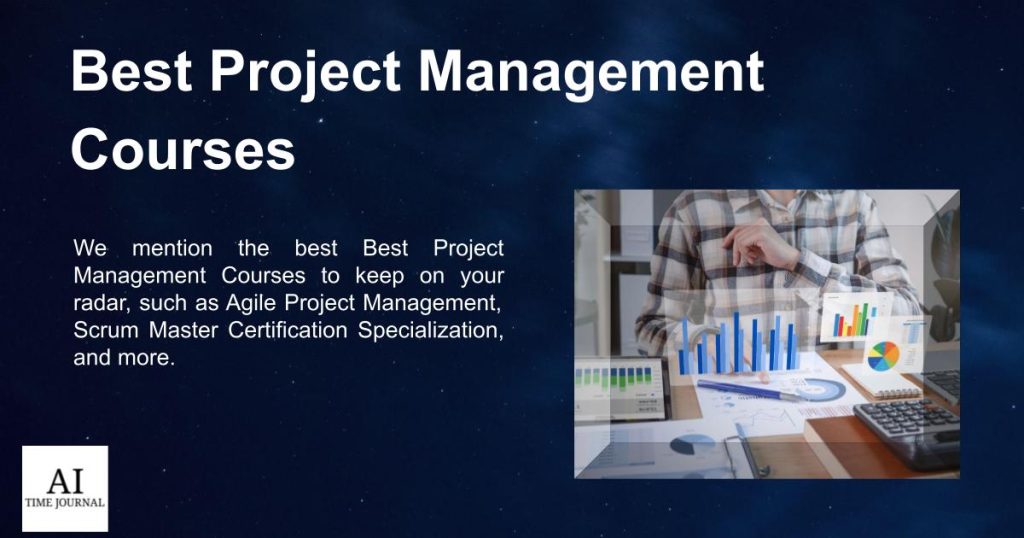 Whether it was in school or at your job, chances are you have worked on a project. Although you may not have registered it, you have also probably had experience with project management or a lack thereof. Without proper project management, projects can be stressful and tend to run overtime and over budget. However, with PMP certification training, it is easier to ensure that projects can run smoothly, on time, and within budget. 
As virtually every organization handles projects, project managers are some of the most sought-after employees. According to Google Career Certificates, there are approximately 479,000 project management job openings in the U.S. With a $73,000 median entry-level salary, project management is a career to consider.
In this article, we will be discussing some of the best project management courses available to take this year. These courses will help teach you the fundamentals of project management and help you get on the fast track to a career in project management. 
For more like this, check out our other articles: Best Content Marketing Courses and Best Storytelling Courses.
Fundamentals of Project Planning and Management
Fundamentals of Project Planning and Management is an introductory course on project management offered by the University of Virginia. Taught by Yael Grushka-Cockayne, an associate professor at the university, this course aims to help students identify the factors that lead to a project's success as well as how to plan, analyze, and manage projects.
Although spread throughout four weeks, this course can be completed in as little as 8 hours. It is broken into the following sections:
Welcome to the World of Projects
The Ins & Outs of Project Planning
It's a Risky World & Then the Unexpected Happens
Ready, Set, Go: Project Execution
This course promises to teach students how to execute projects using the earned value approach and how to determine a critical path. Upon completion, students earn a certificate that will easily boost any resume. 
Create a Project Management Tracker using Microsoft Excel
A project management tracker is an important tool that helps visually display the progress of a given project. It is extremely useful and can be created without fancy software. In Create a Project Management Tracker using Microsoft Excel, instructor Paula Del Rey will walk students through the process of creating a project management tracker using Microsoft Excel. 
This course walks students through the following steps:
​​Log into Microsoft Excel Online 
Share a document in Microsoft Excel to organize the sections of the tracker
Develop a project-tracking spreadsheet
Add static content and drop-down menus 
Add conditional formatting and hyperlinks
This course is a free-guided project-style course that will help students create the perfect project management tracker in as little as two hours. This course will teach students how to use Microsoft Excel's formatting tools such as dropdown lists and conditional formatting. Upon completion, students will have a project management tracker that they can use to show their hands-on experience.
Agile Project Management
Offered by Google Career Certificates, Agile Project Management is the fifth course in Google's Project Management Certificate program. Taught by current Google project managers, this course introduces students to the Agile project management approach and the philosophy and history behind it. This course will focus on the Scrum framework and will explore how managers can implement the Agile or Scrum approach to their organization. 

The course is broken into four sections:
The Fundamentals of Agile
Scrum 101
Implementing Scrum
Applying Agile in the Organization
Upon completion, students will have earned a shareable certificate and be prepared for entry-level project management roles. In addition to the content and skills, this course also helps students search for Agile roles and provides coaching to help them succeed in any potential interviews.
Project Management Principles and Practices Specialization
The Project Management Principles and Practices Specialization is offered by the University of California Irvine's (UCI) Division of Continuing Education. This specialization includes a series of intense hands-on courses that will help students learn how to ensure their projects will meet the expected quality standards while being completed on time and within budget.
The specialization is comprised of the 4 following courses:
Initiating and Planning Projects
Budgeting and Scheduling Projects
Managing Project Risks and Changes
Project management Project
Upon completion of these courses, students will be able to manage the product scope, build a work breakdown structure, create the project budget, and more. Taught by Margaret Meloni, the President of Meloni Coaching Solutions, this specialization will help students prepare for a career in project management. It also serves as the precursor to the Applied Project Management Certificate offered by UCI. 
Scrum Master Certification Specialization
The Scrum Master Certification Specialization is offered by LearnQuest and is designed to help Scrum beginners learn to become proficient with Agile Scrum. This specialization helps students to become Scrum masters, leaders of a Scrum operation whose job is to remove the obstacles to getting work done. 
This specialization is broken down into the following courses:
Introduction to Scrum Master training
Scrum Master Certification: Scrum Methodologies
Scrum Master Certification: Scaling Agile and the Team of Teams
Combining Scrum with Other Agile Methodologies
Taught by Jim Sullivan, a training master, and practitioner in a variety of programming-related technical subjects at LearnQuest, this specialization reviews everything related to Scrum. It will cover terminology and roles, how to scale Scrum, continuous integration, and more. At the end of this course, students will be well prepared to implement Scrum operations in their organizations.