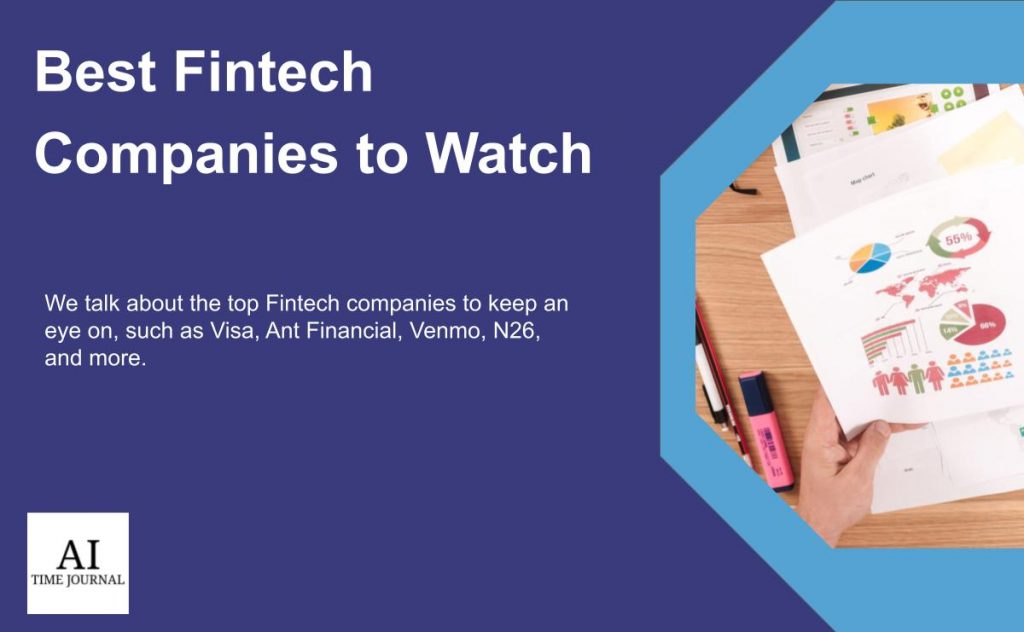 Nowadays, Financial Technology (Fintech) is broadly applied to enhance banking and financial services. Such technological advancements as Artificial Intelligence (AI), Blockchain, Cloud Computing, and Big Data formed a steady basis for the development of the fintech industry.
Currently, many startups and middle- or big-size companies penetrate the industry or changing their traditional ways of providing financial services. Let's take a look at some statistics to support the claim. By the end of 2021, there were 26,000 fintech startups worldwide, and the number has more than doubled since 2019. Moreover, the fintech industry is expected to be worth approximately $213 billion by 2024.
Hence, the importance of innovative approaches to financial services is ever-growing. In this article, we talk about the best fintech leaders and startups to keep on your radar. Also, if you want to learn more about crypto, read this article: 10 Platforms to Trade Cryptocurrencies. In addition, watch this podcast interview to learn more about AI in Finance: Artificial Intelligence in Finance & Accounting with Shivam Arora.
Who doesn't know about Visa? Along with Mastercard, Visa is one of the most well-known companies when it comes to financial services. The company values inclusion & diversity, social impact, and ESG responsibility. Hence, Visa tries to provide customers with the most relevant, convenient, and needed products.
The company provides numerous solutions for individuals, businesses, innovators, and all of them simultaneously. For instance, some of the most popular products for individuals include Visa Credit, Debit, or Gift Cards, security options (e.g., fraud prevention and shopping safely), and many smarter technology suggestions (e.g., Click to Pay, Tap to Pay, Mobile Payments, and Visa Installments).
Visa is constantly trying to improve customer shopping and buying experience with the help of modern technologies. The company utilizes AI and various data analysis techniques to provide its Advanced Identity Score service that helps users detect fraud. Also, AI and deep neural networks are used for real-time risk scoring, predicting account behavior, and verifying applicants.
If you are interested in how deep neural networks and deep learning help mitigate credit risk, access this article: Conquering Credit Risk with Graph Neural Networks. 
Founded in 2014 in Hangzhou, China, Ant Group, also known as Ant Financial, is a financial services company and part of the Chinese conglomerate Alibaba Group. The company provides a great mobile payment platform called Alipay, which has over 1.3 million users worldwide. Ant Group helps SMEs (small and medium enterprises) with digital financial services and helps them satisfy their consumers with faster payment options.
The company's great mission is to "make it easy to do business everywhere." Hence, Ant Financial tries to create equal opportunities for people with the help of modern technology. Alipay is not the only service the company suggests. In addition, Ant Group operates an open insurance marketplace that currently has more than 80 insurance companies and approximately 400 million users.
One of the greatest features the company presents is providing personalized fund recommendations based on users' personal profiles, goals, and expectations. Hence, Ant Group's customers can now have easier access to investment that was earlier difficult to reach due to the lack of financial literacy.
Not only is the company worth watching because of its fintech solutions, but also because of the many initiatives, the company launches. For instance, one of the recent events is called "Together Digital" and aims to support women entrepreneurs in a digital world. 
Being an American multinational fintech company, PayPal operates an online payment system accessible worldwide. The company suggests various products for individual clients, businesses, and developers. With the help of this platform, customers can pay with credit, send & request money, buy, shop, and search for deals. Furthermore, PayPal suggests some options regarding crypto and spend money smarter. Also, businesses can accelerate growth, streamline operations, manage risk, and find marketplaces & partners.
A feature called Pay in 3 is available for both businesses and individual clients and allows them to buy and sell products in several easy steps. Currently, such platforms as Freewebstore, RomanCart, Miva, Opencart, and many more, support this payment option. 
Since its foundation in 2009, Venmo developed into a great mobile payment service. The company is located in New York and has been owned by PayPal since 2012. Venmo pays attention to enhancing communication between people. Along with sending and receiving money, it suggests writing small notes or comments on every transaction. Moreover, it provides a convenient solution for splitting costs, which is a great opportunity for friends for any shared activity. For people to keep in touch, Venmo offers a convenient platform for little generous gestures like sending money for coffee or celebrating a birthday.
Furthermore, the company has a great offer regarding spending your money. For instance, with the help of Venmo, you can pay back your Uber from last night's dinner. In addition, you can use the solution on every platform where you add Venmo as your payment method. 
Founded in 2009, Addepar is an American wealth management platform primarily designed for investment advisors. The company claims that "the best client experiences are created with Addepar," and this statement is not far away from reality. The company specializes in data aggregation, analytics, and performance reporting and offers an impressive number of solutions, including
Aggregating every ownable asset 
Analyzing & visualizing portfolio data 
Easily creating customized branded reports 
Providing customers with the best experience and more options.
Furthermore, Addepar provides various integrated solutions designed to enhance workflows. With the help of this option, customers can easily connect all of their systems and workflows and therefore save plenty of time that was used for switching platforms. 
Creative Juice is a great fintech platform for social media creators. It allows creators to get revenue from all of the platforms they utilize, including YouTube, Patreon, TikTok, Twitch, and Instagram. The company aims to help creators get revenue for the job they do and love. Therefore, on the platform, creators can access diverse analytics & invoicing tools, media kits, and instant payment options.
Also, the company suggests thorough data protection for its customers. Users' funds are stored by the platform's partners (e.g., Blue Ridge Bank N.A.), the data is encrypted, customers can instantly freeze their debit cards, and no monthly fees and credit checks are required. You can check out all of Creative Juice's advantages as the company provides a comparison of their services with the one's traditional banks and PayPal provide. 
This London-based startup offers products for credit providers to help them approve more people and reduce risk. Credit Kudos' smart products can help businesses throughout the entire customer lifecycle. On the website, you can find various options for businesses and borrowers.
An interesting feature you can also find on the official webpage is the piece of code that Credit Kudos utilizes in its work. The company brought to life a new approach to data representation. Credit Kudos provides a comprehensive and convenient view of customers' financial situations, even if they have no credit history at all.
In addition, one of the most significant company's products, called Signal, uses machine learning to predict how likely a specific user will repay, allowing lenders to increase acceptance rates and move beyond relying on traditional credit scoring.  
With its headquarters in London and founded in 2006, Molten Ventures is a venture capital company that invests in the most innovative and promising technology companies. Along with a fascinating website design, the company has much to offer.
The company's three main products include PLC, EIS, and VCT. Also, clients can find much information, including portfolios, investment cases, company documents, news, financial calendars, and more, on the website.
Molten Ventures work with both young startups and already grown-up promising companies in the fintech industry. Furthermore, the company pays extra attention to its ESG policy (Environmental, Social, and Governance) and tries to bring the environmental impact of its actions to a minimum.
Fidel API is a London-based startup that believes that "the future of money is programmable." The platform is designed for companies to help them improve customers' engagement in real-time, work on a reliable platform, and save time. For instance, Fidel API's clients can use the company's product as a connectivity layer between their app and the major card networks.
Being supported by such industry leaders as Google Pay, Perkbox, or Nextjump, Fidel API suggests various creative options, as well as many solutions for developers. You can find interesting case studies (e.g., on how Perkbox boosted enrollment and reduced friction at checkout with the help of the company's solutions). Fidel API's solution can be utilized in many cases, including rewards, and expense management.  
Headquartered in Berlin, Germany, N26 is a neobank that operates in numerous member states of the Single Euro Payments Area and the USA. N26 offers a mobile banking app that functions without any physical branches. Moreover, the company suggests various plans for personal use, as well as for businesses. For instance, personal options include Standard, Smart, You, and Metal, which cost various sums of money per month and ensure different opportunities.
Also, N26 suggests a financial product called N26 Insurance. This solution is constantly developed and upgraded. Hence, many options, such as bike, home, and pet insurance, are available now, and more will be coming soon.