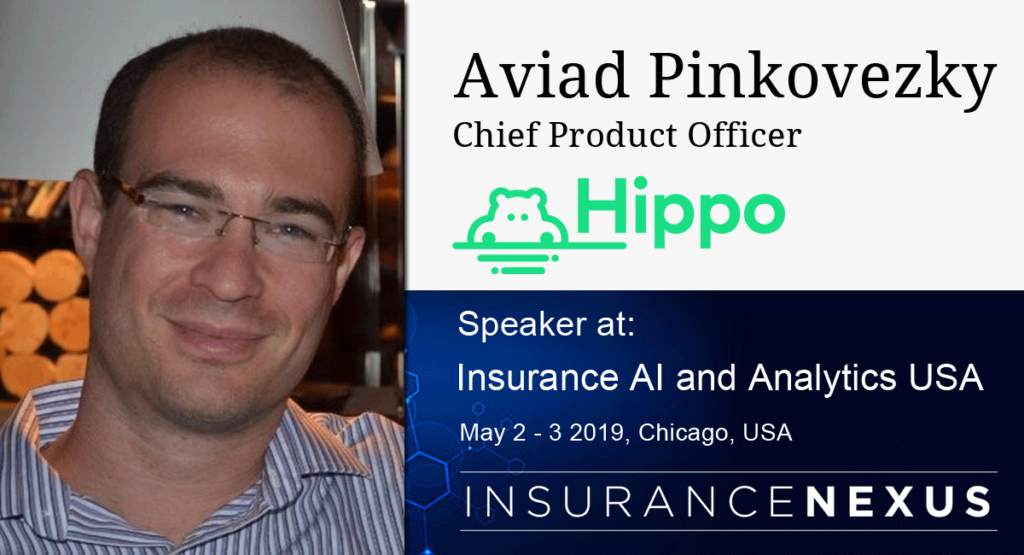 Aviad Pinkovezky is the Chief Product Officer at Hippo Insurance, a home insurance company headquartered in Mountain View, USA, that is leveraging AI to improve customer experience and the policy life cycle at large from comparing prices, purchasing a policy, renewing and submitting a claim.
Mr Pinkovezky is also a speaker at the Insurance AI & Analytics USA conference on May 2 – 3 in Chicago.

In this interview, Mr Pinkovezky shares insights on how insurance companies can use AI to improve customer experience and get ready for the opportunities brought by AI.
---
Q: Where do you see the biggest potential of applying AI in the insurance industry in the coming years? Which trends do you think are the most significant?
AI represents a significant opportunity to improve customer experience throughout the policy lifecycle – from reducing customer prices to purchasing a policy, even renewing or submitting a claim. AI can empower insurance organizations and professionals to provide customers with more efficient, personalized service. At Hippo we don't think that AI will "reinvent" the insurance space; we think of AI more as an evolution, rather than a revolution. It's a tool that can be applied across the organization to improve processes and customer experience.
Q: What are the biggest challenges faced by the insurance industry today? Can AI be leveraged to address these challenges?
Customer expectations have shifted across the board and insurance will be no different. There is an assumption that all online experiences will have an "Amazon-like" or a "Netflix-like" ease and flow to them – regardless of the product or service. Meanwhile, insurance companies find it difficult to engage with their customers and to create a customer-centric service and streamlined online experience. AI can represent a wider effort to change this culture.
Consider for example the impact that a highly personalized quote could make on a customer, if the quote is already adjusted to the risk profile and risk appetite of the customer, or the impact of mitigating a complicated claim in a quick manner it could bring the application and shopping experience for products like insurance into the modern era. The accuracy of the quote would only be possible through AI since the claim adjuster's solution would be advised by an AI-driven solution that took into consideration hundreds of thousands of previous claims.
Q: What is your experience of applying Chatbots & Conversational AI in insurance?
While we did experiment with chatbot solutions, we don't believe that this is is the best use of AI. To understand that, you need to consider the possible use cases, and what kind of interaction clients expect during the purchase, service and claims process.
When dealing with a transactional task, like buying a policy, comparing one quote against another, or resolving a support related issue, users prefer to get their task done as quickly as possible, and in many cases without talking to anyone. So why forcing users to complete such a task via a chatbot, which is more difficult to interact with than a well designed web interface that pre-fills the information for you from trusted data sources? It just doesn't make sense.
On the flip side, when dealing with a more complicated task, such as submitting a claim, a deeper level of sophistication than what is offered by chatbots is needed. Moreover, in many cases, users expect an empathetic rep who can assist them in their time of need, when they face a claim that disrupts their life. No chatbot is able to provide this experience.
Q: Which AI-related technology do you think is the most impactful in insurance, and will be in the future?
At the moment, many AI technologies are promising, but still don't show a maturity that can be widely used. An interesting exception is computer vision technology, which Hippo uses to streamline the policy buying experience by automatically identifying property characteristics such as roof condition, does the property have a swimming pool, or analyzing catastrophic risk exposure due to wildfire and brush containment. A compelling AI vision should include how to take existing process and touch points, and improve their accuracy, frequency, and outcome while using AI. Leveraging AI just toward cost cutting or pricing will miss the mark and won't affect customer experience.
Q: How can insurance companies leverage AI & Analytics to make their customers happier and more satisfied?

AI and Machine Learning are tools that can be harnessed to benefit the customer and elevate the customer experience. Streamlining the quoting and purchasing experience is step one, but also deeper tasks such as expediting claims handling can play a huge role in improving customer satisfaction. We built Hippo with the tools, from the ground up, and that has resulted in an industry NPS score of 78, while the industry average is stuck in the '30s (according to delighted.com). Generally speaking, a compelling AI vision should include how to take existing processes and touch points, and improve their accuracy, frequency, and outcome. Leveraging AI just toward cost cutting or pricing will miss the mark and won't affect customer experience.
Q: How can insurance companies prepare for the changes in the industry brought by AI technology?

Three things: AI is enabled by huge amounts of data. Without access and an ability to process such data, AI tools will be limited in their capacity. Second, creating a strong tech team which is able to implement, modify and iterate on such solutions. This is a critical point since buying an AI solution "as is" is likely to underdeliver. From our experience, a sizable amount of customization is needed in order to gain meaningful outcomes. Third, creating a risk-taking culture that is willing to change existing work processes. This is not trivial in large organizations, and in many cases requires close "aerial support" from C suite executives.
---
Insurance AI and Analytics USA, Chicago, May 2019
Aviad Pinkovezky will be one of the speakers for Insurance AI and Analytics USA, happening in Chicago in May 2019.

Aviad Pinkovezky's Talk and Panel Discussion
May 2nd at 15:50
Create a Modern, Customer-Centric Home Insurance Experience
How did Hippo go about rethinking the home insurance experience throughout the policy lifecycle?
How technology and data can be leveraged to create and grow a new insurance brand
Strategies to build trust and credibility to support and sustain growth
May 2nd at 16:30
Panel Discussion & Joint Q&A
Aviad Pinkovezky, Chief Product Officer at Hippo Insurance
Nicholas Sharma, Director, Product at Argo Group
Pat Ryan, Chief Architect, SPR
James Simonian, VP Customer Success at HyperScience
MODERATOR: Nicolette de Guia, Principal at N7 Momentum