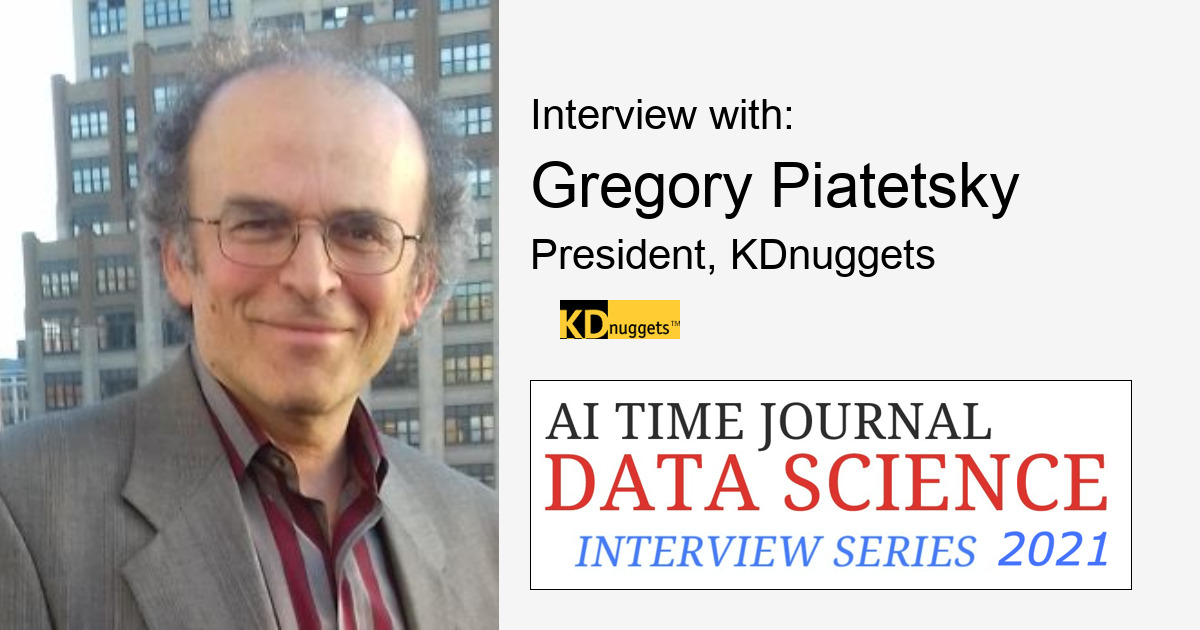 Gregory Piatetsky-Shapiro, Ph.D., is the president of KDnuggets. He is a well-known expert in Business Analytics, Data Mining, and Data Science and a top influencer in the field. His specialties include Data Mining, Business Analytics, Data Science, Predictive Analytics.
This interview as a part of Data Science Interview Series  with Gregory Piatetsky from KDnuggets has been extremely an insightful session where he unfolds his learnings and experience in the technology industry. The highlights of the interview are as below: 
One of the biggest trends now is Deep Learning, which can achieve superhuman performance in many areas, especially connected to images and speech.

Gregory Piatetsky
Technology & Trends
Jagan: Which current trends in AI and Machine Learning have captured your interest?
Gregory Piatetsky: Reinforcement Learning seems to have matured and reached the level of practical applications.
I am also concerned about Deepfakes and how they impact what the public can trust.
Finally, unsupervised learning, which has been a big project of Yann Lecun has also seen recent breakthroughs.
Jagan: Through your experience how do you visualize the evolution of data mining and data science? Could you brief them?
Gregory Piatetsky: One of the biggest trends now is Deep Learning, which can achieve superhuman performance in many areas, especially connected to images and speech.  However DL is very data-hungry, and needs labelled training data which is difficult or impossible for many important applications.
One approach is to work with synthetic data.  Another approach is unsupervised learning, which does not require labelled data.  Finally, transfer learning may help in many cases, as the example of GPT-3 showed. 
Jagan: 3 words that best summarize how you learned ML and data science:
Gregory Piatetsky: Math, Statistics, SQL.
KDnuggets: The Growth & Accomplishments
Jagan: What is the biggest improvement that you introduced in the last 12 months that has considerably improved your workflow?
Gregory Piatetsky: The answer may be boring, but no less important.  I have published KDnuggets for over 20 years, so we have been doing many things by inertia.  We have reexamined the KDnuggets processes with a view of what produces effective results and more popular posts, and put more attention towards effective processes.
Jagan: What are the top challenges you currently face as a professional data scientist, and how do you go about tackling them?
Gregory Piatetsky: My main activity now is not to analyze data, but to edit and publish KDnuggets, and select a few interesting blogs to publish each week.  I read many newsletters on AI, Data Science, and Machine Learning, and also review many submissions we receive to find a few gems to bring to our hundreds of thousands of visitors, subscribers and followers on social media.
Jagan: Could you please share with us the recent accomplishments of KDnuggets?
Gregory Piatetsky: We have reached a record 900,000 unique monthly visitors in February.
KDnuggets or myself have also been selected among top publications in many lists, including recently
Jagan: Tag one or two people in your industry who you would like to see answer these questions.
Gregory Piatetsky: I am a big fan of Andrew Ng, Yann Lecun, and Geoff Hinton and follow their new great ideas.
I also follow the ideas of Gary Marcus and watched the AI Debates that he organized recently.
---