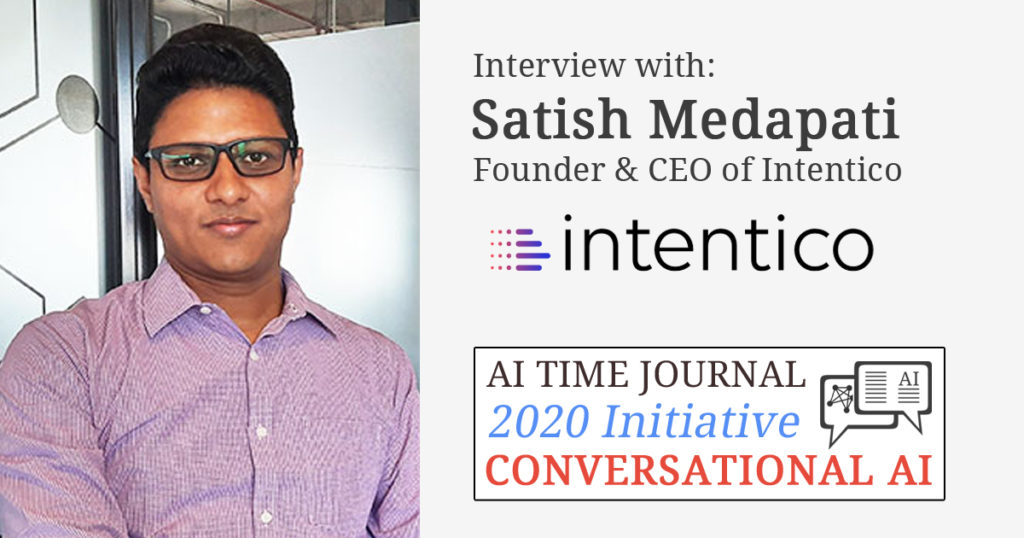 What is your background and how was Intentico started?
I have spent about 10 years in analytics and data sciences across different geos before starting up. My earlier startups were data science based consumer companies .  Have been looking at this industry right from my 247.ai days and tracking this transformation as well as having realized that nothing much has changed in this space, decided to leverage on my past experience and do from a fresh technology and data sciences  perspective . Intentico was started out of frustration for customer experience that we encountered over the years and wanting to change the narrative to a very positive outcome for companies and users.

Walk us through Intentico's products, and what problems they solve.
Sure, all the products are built on the same platform – idea being they are connected as well as learning from each other.  Here are some of the products and what they do.

Curie is Intenticos core product that has both NLP engine as well as an adaptive flow engine that can design, build and manage conversations with users.  
Botlytics is a unified analytics and reporting dashboard across communication channels. For instance, we can compare a conversational telephony metrics with an AI chatbot metrics or a human effort in the same dashboard. 

Completely independent data science products are Cognitive Question Answer Builder (CQA), Answer Engine and Synthesizer. 

CQA which finds the most appropriate answer for any given natural language input where there are no training models.
With Intentico's synthesiser, one can build training data sets for bots to learn from. This helps early stage companies generate data for training models .
Answer Engine is specifically built to handle conversational user experience and anthropomorphism. This works in tandem with Curie.
Our other products are Middleware that can handle multiple channels, connect with external systems and manage transactions. Back -up systems for specific  human interactions such as live chat , agent console and ticketing bots – all built on open source. It's a full stack suite of CX products.

What are the biggest challenges (in business and technology) that you are currently facing at Intentico?
My biggest challenge in business is discovery and reach.  Since we are early stage and not strong in marketing, we continue to have discovery problems. We have always been strong when someone evaluates us technically but when its the initial discussions with business teams, we look alike with other players.  "CX as a Service" is also unheard of and we being the first proponent of this comes with its own challenges.  

On technology, scalability across interaction channels especially since they are all connected in the back-end is something we are learning and growing with every deployment. 

How can enterprises leverage conversational AI to make their customers happier and more satisfied?
It depends on the maturity level and customer centricity of an enterprise. When a customer is trying to reach out to you, anticipating the interaction and resolving their issues while empathising is utmost needed. Having this in a seamless and connected CX is enabled by technology players like us.  Take for instance, following up on a complaint is a real big pain for any customer and why couldn't the bots follow up with customers on what's happening (with a limited frequency) rather than a customer follow up on the issue.

How can enterprises get started with their conversational ai strategy?

Enterprises need to think of customer experience holistically. Identify why is a customer contact on a channel happening, understand the modes and communication aspects of customers, enable a seamless sales and service experience across channels . To get started, do a thorough analysis of existing processes. They would benefit hiring experts. 
What are the biggest opportunities for enterprises to leverage Conversational AI?

The biggest opportunity is to streamline customer experience across functions.  I guess we should not limit Conversational AI to customer service alone but start delving into sales, supply chain , IT ops and internal user engagement . Each of them not only saves millions of dollars for enterprises but also helps  in retaining customers and growing top line.

Which Conversational AI-related technology trend do you think will have the biggest impact in your industry in the coming years?

I think the biggest problems today are understanding a 'conversation' as a "conversation"  and understanding and communicating in "language" being a barrier for "botification". Most of the mobile internet is driven by Tier-II ,III , non-english speaking cities and this is going to only grow.  

Bots communicating similar to human like Conversation  and not as a "query -response" system is a big challenge today. While conversational user experience does help the dialogue design , as a technology evolution we should see this happening towards this year or next as there is a lot of research that has already started showing results. 

Advances of NMR (neural machine translation) will probably start taking shape this year blurring the barrier of language completely for bots.

What are the most interesting conversational AI use cases for business that you see emerging in 2020?

As I have mentioned earlier, the use cases vary with each business and within each enterprise. They are dependent on the confluence of data, technology ,processes, customer centricity and overall maturity of the organization. AI transformation is not digital transformation and hence we see very interesting use cases in supply chain automation especially for manufacturing sector. Omni-channel Customer service across industries may start having a fillip this year as more businesses are now looking at combining text and speech to interact with their customers. 
We are working on some very interesting use cases in insurance and this is one more poised for greater impact.