The success factor of any technology entity would be on the choices the company offers to its clients. Walt Mayo, CEO of expert.ai (formerly Expert System) has accentuated the necessity of offering technological choices to the clients. The first part of the interview has focused on expert.ai's AI-based NLU, success stories, and the launch of expert.ai. In this second part of the interview, Mr. Walt has conversed with AI Time Journal on the below topics.
Technologies & Research team in expert.ai
Business Expansion Amidst COVID-19
Reliability and Necessity of Cloud Technology
Feed Your Thought Segment
Also, grab your interest in the live demo experience shared by the interviewer on expert.ai (correlated to AI features on NL API). Traverse the article to find the details about an insightful webinar link on expert.ai and the rebranding news. Yes, Expert System Announces rebrand to Expert.ai. Happy Reading.
Technologies in expert.ai
Jagan: Could you brief us on the technologies that the expert.ai relies on?
Walt Mayo: Yeah, certainly. So, there's a number of approaches to natural language understanding because it remains one of the most complex problems in computational technology. So, it's counterintuitive in that for people, language comes naturally. We think in language. So as a child, your language skills grow and deepen. What we do is we apply the very best of the approaches that are available for natural language understanding toward one very straightforward goal. And that goal is what works, what's most practical? So, we have a very rich capability built around the symbolic understanding. And in addition, we use the range of other approaches that have become more available and more sophisticated in recent years, primarily around machine learning. And by combining the embedded knowledge of symbolic approaches with some of the advantages of machine learning. We offer what we think is the most practical solution. That also provides a level of understanding and comprehension of nuances and context that very, very few other companies can offer.
Business Expansion Amidst COVID-19
Jagan: Due to the adverse effects of COVID-19, most of the organizations are shrinking their territories. But how does the expert.ai is handling it and what are the future business expansion plans?
Walt Mayo: Well, the expert.ai was born in Italy, and we still have a very meaningful part of our business in Italy. We have our research and development team in Italy, and we have a quite substantial business that we generate in Italy. From there, it expanded out and we're now present in seven countries across Europe and in the United States. But our presence in the U.S. is quite modest. And we see the market opportunity in the United States, and North America more broadly is extraordinarily attractive. So, a very large component of our growth capital will be focused on driving our resources in the United States, particularly on the sales and marketing side, to get our message out around our technology in the marketplace. So, big focus on the U.S. We also think that, beyond the verticals where we've enjoyed a great deal of success up until now, the value creation opportunity for language extends across almost every enterprise.
So, we see that extending across more verticals. And then the third element is building out a true software as a service business that offers our technology from a free version, which we launched. It is the natural language API (cloud-hosted language engine) that are provided to enable people to design and build solutions more easily. Also, up to collaboration, and then finally into the full enterprise suite of monitoring, managing, governing, operating, and improving natural language solutions in the enterprise. So, kind of three dimensions focused geographically on North America. Broaden our vertical approach, and then offer a range of different engagements from individual teams, all the way up to the enterprise. Our growth capital will help us accelerate all three of those.
Jagan: That's a perfect strategy with a clear vision, Mr. Walt.
expert.ai : R&D
Jagan: I would like to understand what are the research and development challenges that you're facing at expert.ai currently, and how do you go about tackling them?
Walt Mayo: So, to your earlier question around the application of the growth capital, we intend to make a very significant investment in our research and development team. So, we're going to double the size of the team between now and 2024. The team will continue to operate from Italy, where we have already some of the very best engineers in the world who are working on language problems. I think the core goes back to the earlier statement around where the market is. And there are two elements. There's a lot of different approaches to artificial intelligence and artificial intelligence language problem-solving. Our view is that we should offer choice to our customers around the approaches that work best, but guide them with the experience that we have on real-world implementation. So, broaden the offerings that we have, and then guide them to how do you actually get it to work in the enterprise in a scalable and repeatable way. And that's kind of a combination of simplifying and expanding. Expanding the choice and simplifying the operation of bringing natural language understanding to bear in the enterprise to save money or make money.
Jagan: Currently, how many data scientists are there in your team?
Walt Mayo: Well, so we have about, in our core R&D team, a little over 50 engineers. And in addition, we have a group of linguists who are focused on how you take insights around language and turn them into capability in our platform. So we're well over 100 people who are focused on building out the solutions for natural language understanding that we think will add value for the enterprise.
Jagan: Enterprises started moving into the cloud and SaaS-based technologies from the conventional on-premises data center/ applications. But do you think the enterprises are really capable of having this transition to the cloud due to the multiple security threats and ransomware happening?
Walt Mayo: I think that there is a clear long-term trend towards adopting cloud resources and cloud capabilities because of the advantages that it offers. But you correctly pointed out some of the challenges. And so it's our view that we should offer a choice. For many customers, they'll want to have core technologies on-premises and we're offering that to them. For many customers, they'll want to have some hybrid version where some elements are on-premises and some are in the cloud. There's increasing recognition of this kind of edge capability. Where you get the benefits of the scalability of the cloud, but you also have the ability to ensure the integrity and security of the data. So, we're building everything going forward with the idea behind let's offer choice, so that the customers can decide what is the most appropriate solution for them.
Feed Your Thoughts (FYT)
Jagan: Okay. Well, thank you, Mr. Walt. Before we wrap the discussion, I would like to have a small fun segment "Feed Your Thoughts". I have a couple of statements. So once I say that particular statement, I want to understand what's your idea about it.
Jagan: The first statement is "turning languages into insights".
Walt Mayo: That's core to what we do. And the value that we create is by applying robust, practical technology to the massive volume of language that surrounds us at speed and scale. And when you have better insights, which you can get by understanding the important parts of language in context, the relationships in language. When you have better insights, you can make faster decisions and smarter decisions. And I think that's something that is appealing to almost every enterprise.
Jagan: Cool. The second Statement is "Artificial Intelligence: more complex than we thought".
Walt Mayo: I think that's a recognition broadly across the market right now. And it's very typical of the adoption cycle for any technology. Generally, there are early adopters, and then a growing awareness of the potential to adopt the technology. And then you run into the complexity barrier. How do you make it work in a repeatable, simple, scalable way? And the companies that solve that complexity barrier tend to do very well. And we believe we're uniquely positioned to be the company that solves the complexity barrier for language understanding.
Interviewer's Live Demo Experience: expert.ai
Demo dated Sep 24, 2020
Jagan: As mentioned in the Part-1 interview article, Mr. Walt has mentioned on the live free demo available at the expert.ai website. So, the curiosity to plug and play with the NLU has enhanced my zest and zeal. I have accessed the live demo experience through https://developer.expert.ai/
For any technocrats whose holy grail factor is on AI or the NLP would be fascinated with the expert.ai demo. The conspectus of my experience is jotted below and snapshots of the demo are appended in this article.
expert.ai holds simplicity in the GUI. The navigation across the analysis through Natural Language Understanding is a spot-on element
The access to the detailed analysis of the language and the data interpretation is captivating
It also gives me an in-depth understanding of the various applications/ sectors where this technology can be utilized for larger lucrative outcomes
Finally, it is an absolute experience of "turning language into insights"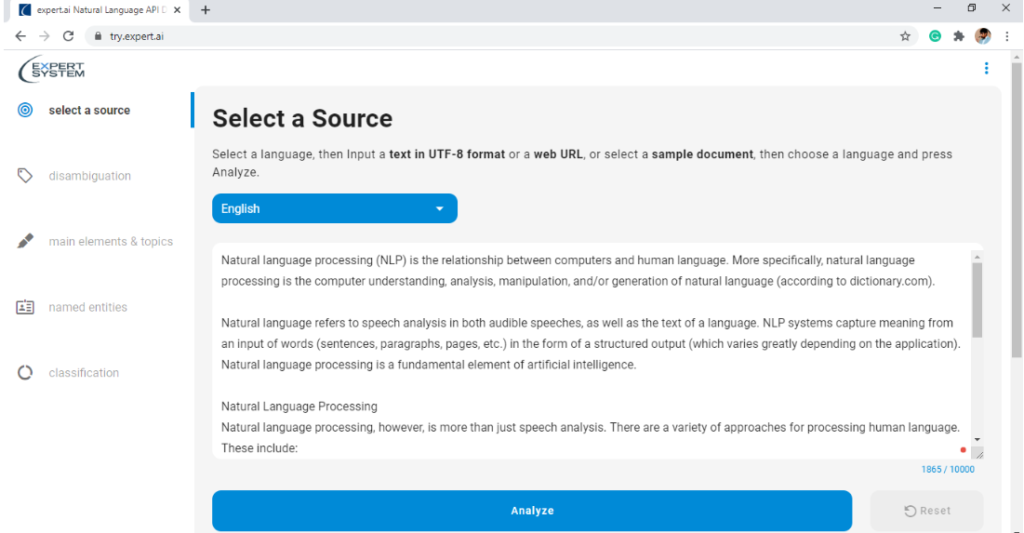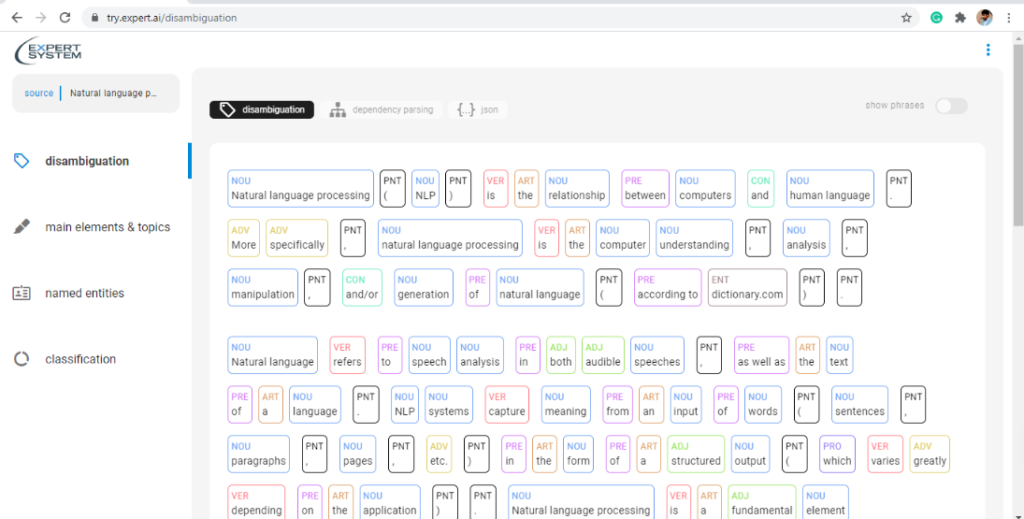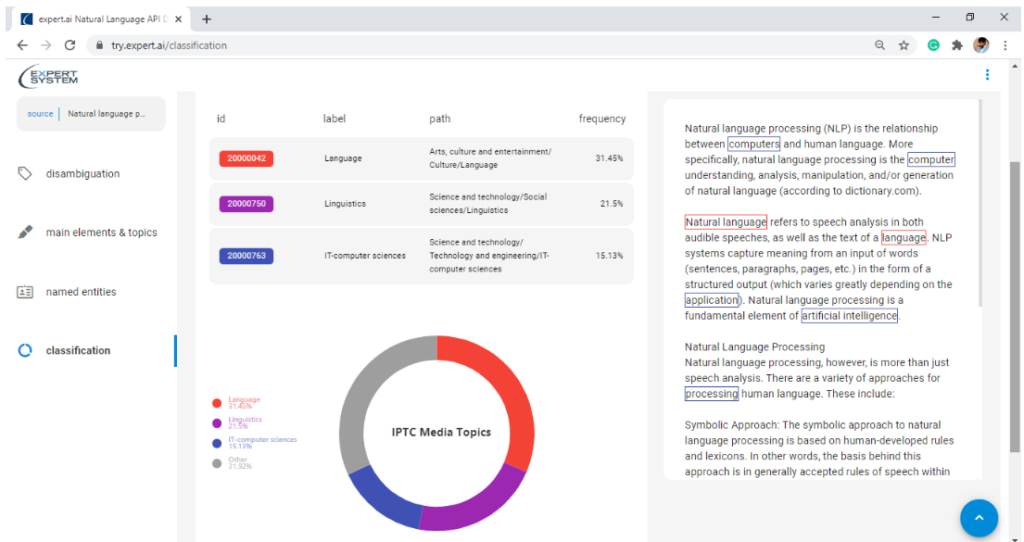 Energize on expert.ai
To accord the technocrats and NLU analysts with the profound insights on the expert.ai, the team is hosting a specific webinar on October 07, 2020, at 11 am EDT.
Embrace this righteous opportunity by registering for the webinar on expert.ai at the below link https://register.gotowebinar.com/register/3126963100547305487
Expert System Announces Rebrand to Expert.ai
To simplify AI, to make it available to all, and to make everyone an expert, there is an elevation being launched. Yes, the good buzz around is on the new branding of Expert System to "Expert.ai".
A successful journey of two decades in the AI field has enlightened the company's supreme vision in redefining the possibilities in the value extraction from language to obtain the whole dynamics of information.
To explore more about the expert.ai and their AI tools on the NLU, visit their new website www.expert.ai.
Connect yourself with below new logo of expert.ai

---
Jagan:  Thank you for your patience and for sharing such wonderful insights. It is a clear explanation of expert.ai and what exactly the expert.ai has been doing. And in fact, you spotted a beautiful point on the challenges that have been associated with moving into cloud and SaaS technologies. I'm quite impressed with the strategy of expert.ai on providing the choices to the enterprises so that they pick which is more suitable to them.
Walt Mayo: Jagan. It was a pleasure. You were very nice to me. You didn't make it too hard. So, thank you for that.