Official Announcement
The Evaluation Committee has completed the evaluations for the AI Time Journal TOP 25 Artificial Intelligence Companies 2018.
A Recognition to AI Companies
The purpose of the TOP 25 Initiative is to give recognition and showcase AI companies for their contribution in 2018 to making the world a better place by applying Artificial Intelligence, Machine Learning and Deep Learning to solve significant and complex problems in a multitude of domains including Healthcare, Finance, Education, Autonomous Vehicles and more.
Evaluation Committee
The TOP 25 Evaluation Committee is composed of AI influencers, founders and data scientists from major companies. We thank the Committee members for their contribution to evaluating the TOP 25 companies.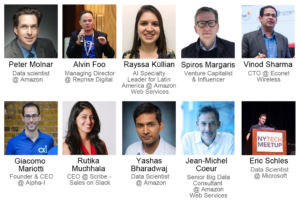 TOP 25 Artificial Intelligence Companies 2018
See the conversation on:  Twitter → | LinkedIn →
---
Gamaya addresses the need to increase efficiency and sustainability of large industrial farming, as well as the productivity and scalability of small-holder farming, by deploying the world's most advanced solution for mapping and diagnostics of farmland.
---
Kreditech combines non-traditional data sources and machine learning to provide access to better credit and a higher convenience for digital banking services
---
Woobo.io develops Woobo, a fuzzy robot version of an imaginary friend every child dreams of, Woobo can answer questions, express feelings, sing songs, and play games.
---
Neurala makes cameras, robots, drones, toys and self-driving cars more autonomous and useful.
---
Spatial.ai is a location data company that uses conversations from social networks to understand how humans move and experience the world around them.
---
OccamzRazor is mapping the human Parkinsome — a dynamic knowledge map that reveals the hidden mechanisms and new treatments of Parkinson's Disease.
---
Textio is the augmented writing platform that tells you who will respond to your writing based on the language you have included in it and gives you guidance to improve it.
---
AppZen develops a SaaS platform that uses artificial intelligence (AI) to automate the auditing process of a company's overall spend.
---
NewtonX leverages a proprietary search methodology developed by a former Google engineer, coupled with a dynamic matching algorithm to deliver same-day, one-on-one expert consultations to executives around the world.
---
Umbo Computer Vision is an artificial intelligence company building autonomous video security systems for businesses and organizations.
---
Get involved in AI Time Journal Initiatives → 
---
DeepScale develops AI perception software for driver-assistance and autonomous driving, with a focus on implementing efficient neural networks on automotive-grade processors. DeepScale's neural nets use data from various sensors to help vehicles of all automated driving levels better understand the world around them.
---
Crediwatch curates contextual information intelligence from distributed and unstructured data sources to help businesses and organisations make data-driven decisions.
---
Haptik builds Conversational AI solutions that reach over 100 million devices monthly and have processed over a billion interactions till date. Haptik helps enterprises leverage the power of AI to automate critical business processes and improve overall customer experience. Read the interview with Haptik's CEO Aakrit Vaish.
---
Directly's CX automation platform taps the knowledge of expert users to help companies deliver better customer service at scale while creating economic opportunity for people in the AI era.
---
Anodot applies AI to deliver autonomous analytics in real-time, across all data types, at enterprise scale. Unlike the manual limitations of traditional Business Intelligence, Anodot provides analysts mastery over their business with a self-service AI platform that runs continuously to eliminate blind spots, alert incidents, and investigate root causes.
---
CarePredict is a AI-driven digital health company that is on a mission to develop technologies that can provide high-quality senior care.
---
Wade & Wendy is building conversational AI chatbots to improve the hiring process. They equip companies and people with insights and recommendations to make more informed hiring decisions.
---
Signal Media is an Artificial Intelligence media monitoring company that transforms the world's information into accessible, actionable business knowledge.
---
Onfido uses machine learning to help over 1,500 companies verify the identity of their users online.
---
Petuum's operating system gives users a single platform to build any Machine Learning or Deep Learning application using large amounts of data, and deploy it at scale on any hardware – such as workstations, data centers, the internet of things, and edge computing.
---
Get involved in AI Time Journal Initiatives → 
---
---
ACTIVE.AI delivers conversational banking services to help banks and financial institutions redefine their future digital strategy.
---
Yanu develops a fully autonomous A.I. and robot empowered bartending unit. It serves drinks, handles payments, identifies and communicates with clients.
---
vPhrase helps companies make their reports easy to understand by explaining the insights in words, using AI.
---
Imagen develops state-of-the-art AI systems to reduce diagnostic errors and improve patient outcomes. Over the long-term, Imagen is conducting research to find the next set of breakthroughs at the intersection of AI and medicine to transform early disease identification and management.
---
Sponsors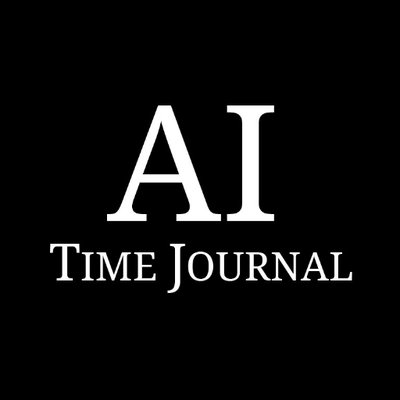 The mission of AI Time Journal is to divulge information
and knowledge about Artificial Intelligence, the changes that
are coming and new opportunities to use AI technology to
benefit humanity.