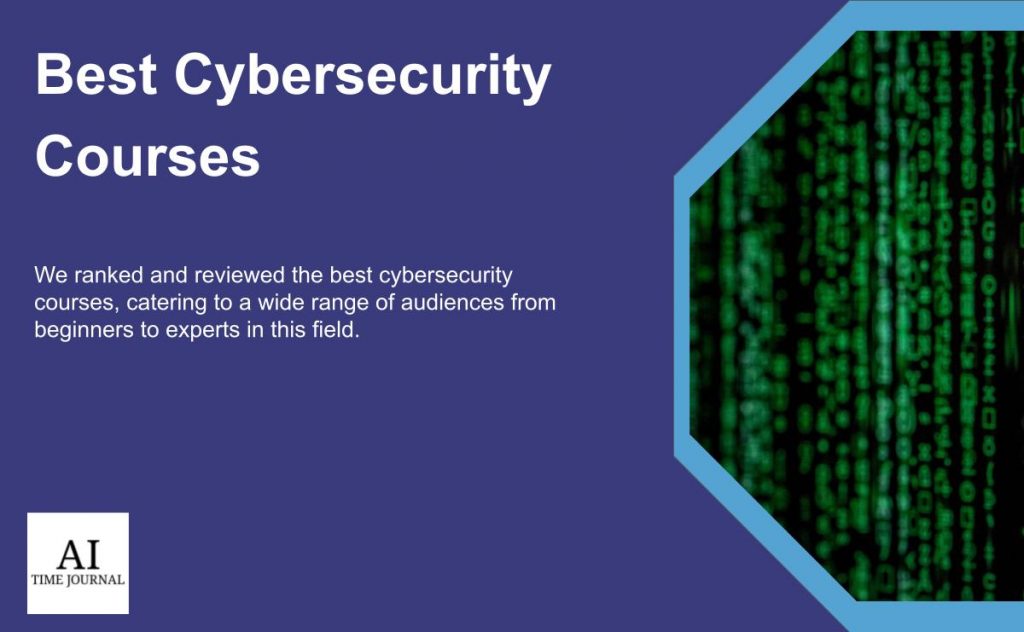 The demand for professionals in the cybersecurity industry has been rising for the past few years. According to Cyberseek.org, about 500,000 job openings for cybersecurity positions were reported between April 2020 and March 2021. Therefore, it is the peak time to explore opportunities in cybersecurity. To those end, one first needs to be literate about cybersecurity. In this article, we will discuss the best cybersecurity courses.
Cybersecurity degrees can be quite expensive to pursue via formal educational settings, i.e colleges. Online educational platforms solve that by providing courses that cover popular to niche subjects, which are taught by reputable Institutions at the most affordable price ranges (including financial aid and free courses).  
With most courses taking a few months to complete and requiring minimum background knowledge or expertise, these cybersecurity courses are perfect for anyone looking to get into the cybersecurity industry. 
"Most Relevant Skills To Learn To Succeed In A World Dominated By AI", provides other types of skills that readers can benefit from too. 
Table of Contents
Reviews of the best Cybersecurity courses
IT Security: Defense Against The Digital Dark Arts
This course is offered by Coursera. Although this course covers a wide range of topics, it is still designed so that beginners can join too. Along with the comprehensive lectures, this course also provides regular quizzes to test the learner's capabilities. The students will learn these concepts amongst others:
Cryptology, AAA Security
Defense mechanisms
Dissection of security threats 
Appropriate response formations 
Learners will receive a practical while well-rounded education, as Google Career Certificates, is the instructor. Certification issued by Google is also an impressive addition to any portfolio. 
Cybersecurity For Everyone
This is a course by The University of Maryland and is available on Coursera. Dr. Charles Harry is the instructor of this course and is a former NSA (National Security Agency) official. His background makes him exceptionally suitable to teach Cybersecurity and its broader impacts. 
This course too doesn't require students to have any formal knowledge of IT and has flexible deadlines. However, contrary to most other courses, Cybersecurity For Everyone takes the discussion of cybersecurity to the next level by explaining its applications from the perspective of policy implementation, corporate security demands, and also average user concerns. 
Students have found this course easily digestible and applicable. This course has valuable lessons for anyone interested in the Cybersecurity industry. 
Introduction to Cybersecurity Tools And Cyberattacks
This third course is offered by IBM and available on Coursera. This course is ideal for anyone interested in Cybersecurity; it provides an overview of Cybersecurity's history, types, applications, tools, actors, and motives, and is perfect for anyone enthusiastic about the security landscape of the IT industry. 
Learners who tried this course found it advantageous for building a solid foundational knowledge of Cybersecurity. Moreover, this course also gives students access to the Introduction to Cybersecurity Tools & Cyber Attacks IBM digital badge after course completion which can help one's portfolio stand out. 
Python For Cybersecurity Specialization
The fourth course by INFOSEC is available on Coursera and instructed by Howard Poston. This course is designed for those with prior experience in Cybersecurity and Python. 
Professionals who want to update their cybersecurity skills and automate tasks will benefit from this course. Case studies incorporating the usage of Python include MITRE ATT&CK and Shield.
This compilation of 5 courses including quizzes, graded assignments, and peer review helps professionals to become aware of their deficiencies and work on them too. 
IBM Cybersecurity Analyst Professional Certificate
The last one is the best course for anyone looking for a career in Cybersecurity. It contains 8 courses in total with practical project work. 
Along with being beginner-friendly, this course provides certification that professionals can add to their portfolio for job placement even without a formal college degree in Cybersecurity. As it is an IBM course, learners can be sure to receive the most up-to-date education that's both interactive and comprehensive.
Learners found the course very detailed and the end-of-the-term project challenging enough for a well-rounded education on cybersecurity. The learners especially liked the Cyber Threat Intelligence and the Capstone part of the course, as it was intriguing and contained strong explanations. 
Anyone who takes the course will be forced to explore out of their comfort zone which will make them more prepared to succeed in their career because a career in Cybersecurity requires professionals to take on challenges.