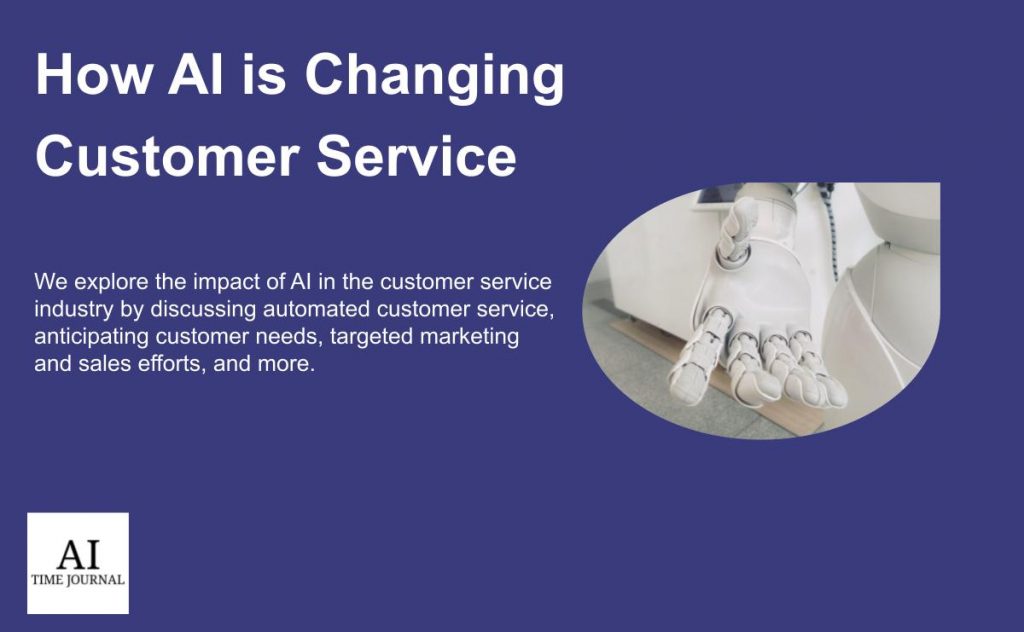 With the development of artificial intelligence, especially conversational AI, and the wide use of chatbots in all business fields, a revolution quietly swept the whole market and brought complete changes to both business operations and customer experience. 
On one hand, as a representative industry innovated by AI applications, the customer service industry updates its staff team structure by replacing human agents with chatbots, and as a result, reducing labor costs and improving problem-solving efficiency. 
On the other hand, customers also benefit from AI applications through a refreshing customer experience with more personalized and highly-efficient services, such as product recommendations and anticipating customer needs. 
In today's workplace, business people, no matter what technical level they are in, need to increase sensitivity to the technology updates and AI applications in the industry, learn digital marketing principles, and understand how AI is changing customer service. In this way, they can make preparations for further changes in advance and better interact with AI applications. 
To capture more incoming trends in business, this article, "7 Trends in Conversational AI and their Impact on Business" will be a good reference. Also, the following article will point out five ways AI is changing customer service. 
Automated customer service is becoming more prevalent
Automated customer services are offered by software-based platforms that provide a combination of human-centric services. Nowadays, chatbots have been widely used in the customer service industry and replaced many human agents and telephone marketers. With the automated customer service provided by chatbots, businesses can reduce costs on human labor, improve working efficiency, automatically collect customer information, and predict future needs. For consumers, chatbots provide a refreshing and more convenient service, which requires less waiting time and provides personalized recommendations.  
Companies using chatbots for automated customer service include T-mobile, Version, Yahoo, Netflix, and Uber. 
AI-powered chatbots are freeing up human agents to deal with more complex issues
Today's chatbots are getting clever to conduct conversations with customers and provide simple services, such as paying the bill, checking account balances, and typing information. With chatbots taking over some simple but time-consuming tasks, human agents are facing less pressure and can give more effort to solve complex issues, such as responding to customer questions, feedback, and complaints. 
Besides, relieving human agents from repeating heavy workload tasks also reduces the boredom and dissatisfaction of customer service employees. In this way, employees can put their effort into developing communication skills, learning company culture, and enhancing engagement with customers. With higher efficiency of problem-solving provided by AI-powered chatbots and attractive company culture delivered by human agents, there is no doubt that customer satisfaction will be improved significantly. 
Personalized recommendations to customers
Another benefit brought by automated customer services is offering personalized recommendations to customers. Automated customer services rely on software-based platforms that can collect users' data, classify it, and then re-use it as a reference to offer personalized recommendations. 
Netflix is a good example of offering personalized recommendations with automated customer services. Nowadays, movie watching has shattered traditional geo-restrictions and turned into automated service entertainment that can be enjoyed at home. By using the Netflix App, customers do not need to buy a ticket from human agents in a theater and see the recent films from the theater's posters or the human agents' recommendations. Instead, they can get personalized recommendations on the Netflix App directly. By collecting users' search history, analyzing the data information, and guessing their interests, automatic customer service can provide a large number of accurate and personalized recommendations for its users. 
Now, while the personalized recommendation function offers convenience to consumers, it has also become an important way for companies to enhance engagement between products and consumers and increase customer loyalty. 
Anticipate customer needs and proactively address them
While consumers benefit from AI customer service with personalized recommendations, companies also benefit from the technology since it can automatically anticipate customer needs and address them in advance. The predictive analytics of AI allows businesses to design sales strategies, prepare future campaigns, make priorities, and balance demands and supplies before problems show up. 
For example, Domo is an AI-driven platform that aims to help everyone to drive actions from data. It provides predictive analytics for its user business and assists them to make better decisions. Users of Domo get: 
Faster insights with automatic data discovery based on deep learning and descriptive stats.
Higher efficiency in the decision-making process with data science tools and predictive models. 
Optimize data preparation with Domo's ELT tools and processes. 
Find answers to data problems with natural language inquiries. 
More targeted marketing and sales efforts
Through data collection, data analysis, and data classification, AI customer service does not only learn the consumer behavior of customers but also categorizes people into different groups based on their interests and consuming habits. Then, AI customer service can automatically choose the target audience group whose needs will most likely be fulfilled by the product. In this way, AI customer service will improve the efficiency of marketing and maximize the results of sales efforts. 
For instance, First Insight is an AI-driven platform that aims to help retailers and brands find the right target audience and make proper product decisions with its predictive analytics and digital product testing services. Compared with in-store marketing, the platform has the confidence to maximize sales efforts by: 
Sharing the products on the platform 
Collecting consumer feedback both qualitatively and quantitively 
Analyzing data and giving results within two days
Getting winning products with data-driven confidence quickly