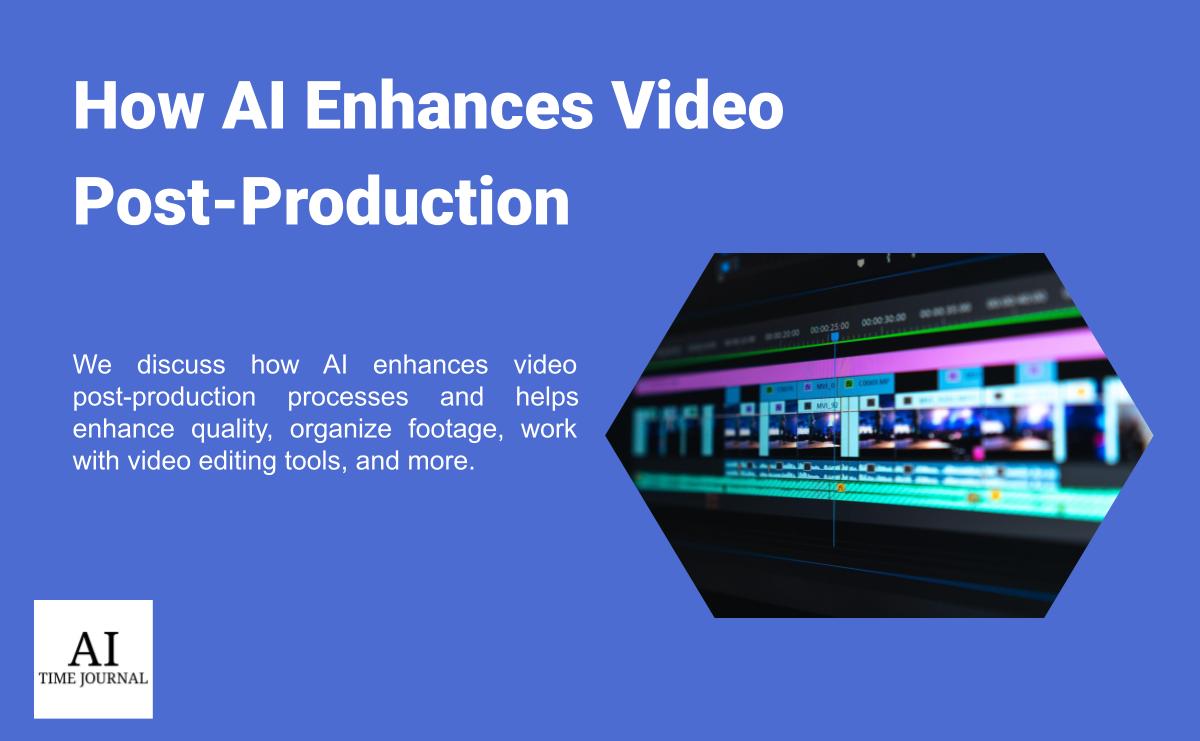 After long days of planning and shooting video footage, the post-production process begins. Whether you are producing a 30-second commercial or a full-length 2-hour film, post-production is the final necessary process before sending your project out to the masses. 
Since it is the final process, post-production requires meticulous detail and care to achieve the perfect look for a produced work, which can take many hours for any video editor. Introducing artificial intelligence makes this process easier and less time-consuming. 
To learn more about AI in entertainment, check out: 5 Ways AI Is Changing The Entertainment Industry – AI Time Journal. 
As video production has transitioned from using analog tools into digital, AI tools are just another technological innovation that provides a simple solution for editors to create content without hardship. 
Here are a few ways that AI is helping video post-production become more efficient:
AI Organization Tools
Being organized is essential to keep track of large amounts of footage in the post-production process. AI tools have been implemented into video-editing software to make this step simple and quick. 
Popular video-editing software DaVinci Resolve showcases AI in many tools. One tool, in particular, uses facial recognition capabilities to organize footage.
To learn more about more implementations of Face Recognition technology, check out: Are Face Recognition Security Cameras Worth It? – AI Time Journal 
DaVinci Resolve's "Facial Detection" option allows editors to organize their footage based on the actors or individuals on camera. The facial recognition AI analyzes the videos, picks specific individuals in each clip, and separates them. 
After grouping the clips based on people, Davinci Resolve gives the user an option to label the different groupings by each person's name. After labeling, the editor can make folders of each individual with just a few clicks. 
This type of AI organization tool can turn a more drawn-out process into one that requires minimal effort. 
Footage Quality Enhancer
It takes skill to get the perfect shot when producing a film. Whether ideally focusing on the camera or utilizing a unique angle, cinematographers work hard to get good results. But what happens, in the end, if the footage quality does not look professional?
Topaz Labs provides a deep learning AI tool for editors to enhance their footage quality.  Video Enhance AI naturally analyzes lower-quality footage, improves overall resolution, and removes motion artifacts. 
Video Enhance AI does the following:
Upscales the footage (4K)
Removes film noise
Deinterlaces footage
Restores older videos
Increases frame rate
Using AI video enhancers like Topaz Labs provides, no reshoot is needed if the film's quality is not up to par. 
AI Aids In Cutting Up Footage
After organizing your footage, it is time to begin cutting up your clips into your video editing software timeline. This can be time-consuming, especially for beginners just starting in the video editing process. 
Adobe Sensei is a machine learning integration in the most popular professional editing software, Premiere Pro. This tool makes editing significantly more manageable by allowing users to "cut corners" to save time and effort.
Adobe Sensei's capabilities include:
Automatically reframing clips based on different aspect ratios of social media websites (Ex. 16:9 to 9:16)
Scene Edit Detection automatically cuts up your scenes based on previously analyzed cuts. 
Morph Cut uses facial recognition and optical-flow interpolation to create a visually continuous transition between clips. 
Color Match automatically matches the color and tone of different clips to create continuity.