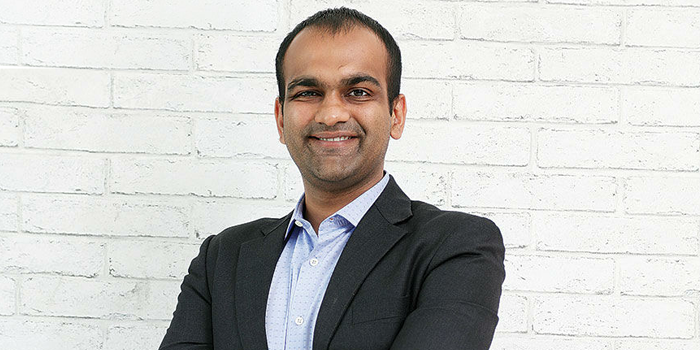 Aakrit Vaish is the CEO and Co-Founder of Haptik, a Conversational AI company that helps enterprises engage their users through chatbots.
Haptik has recently been listed in the AI Time Journal TOP 25 Artificial Intelligence Companies 2018.
Haptik was started as a consumer app that quickly became one of the most popular personal assistant apps in India.
The company now serves many large enterprises and is working to become a Voice-first conversational AI company and expand globally.
---
Q: How was Haptik started?
We started in late 2013, so it's been a little over five years.
We had the thesis that conversations, whether chat-, text- or voice-based are going to be more pervasive moving forward for task completion.
At that time, people mostly used chat and voice to communicate with each other, so peer-to-peer communication. We had the idea that this medium should be used for a lot more, for example communicating with business, with brands, when trying to buy something, or get something done.
Conversations, whether chat-, text- or voice-based are going to be more pervasive moving forward for task completion
So this was the 10-thousand-feet thesis that we were going after. And what's funny is that whereas over a period of time the business has obviously changed and evolved and done so many different things and we pivoted from one thing to the other, this core thesis has not changed.
And in fact, it has become stronger and stronger over a period of time. In fact, I realize it whenever we stayed away from doing anything core to this thesis, it doesn't work for us, and as long as we keep doing things within the statement of this problem, the company continues to do well.
Q: You started the company from a Consumer App. Tell us about that.
We started out with the consumer app because we felt that no matter what we do, the best way to collect and build a bunch of this underlying datasets was if you could actually get it from users.
The product can only be as powerful as the understanding intelligence, which can only come from real-world data. So we said, "Okay look, this is what we'll do regardless: trying to get first-party data".
And at some point, we realized that to build a consumer product in the right way, a way that does justice to it,  there was a lot more needed to it than just simply that original thesis of "chat can do so much more". In fact, chat was becoming one very small component of that. And sometimes chat was even becoming a hindrance!
We have already millions of active users, but to scale beyond this point of 5 and 10, and over 100 million active users, it would have been a very different path, but which do not make sense for us.
Q: When did you start serving enterprises?
At the same time as we realized that scaling the consumer app did not make sense for us, what happened was that enterprises started reaching out to us saying: "we've used this assistant product of yours as consumers. Can you white-label the same technology and license it to us, so that we can use it for our own use cases?".
Enterprises started reaching out to us
So we said "that makes sense", and that seems like back to our original problem statement of "how can we get users and businesses to interact"?
And that's where we started engaging with enterprises.
The inbound demand was so high, that we acquired 43 large clients with one salesperson.
The inbound demand was so high, that we acquired 43 large clients with one salesperson.
Q: The consumer app is still popular today in India. How do you leverage it?
The consumer has continued to remain of flat in terms of the usage, but it provides the right amount of data to make the model intelligent. 
We also use the consumer app to test new features before rolling them out to our enterprise clients.
Q: What is your experience of conversational AI in e-commerce?
TEXT-based
There was a time when we used to process millions and millions of conversations that go related to shopping and purchase.  Over a period of time, we realized that compared to a regular interface, the value added by a conversation interface when you're trying to shop was not so much. The conversion rate was not much higher, so we put our chatbots for e-commerce on hold.
VOICE-based
We believe that e-commerce capability will become a lot stronger in a voice-first environment. Voice is interesting because the challenge with the text-based approach is that you still have to go through as many clicks, buttons, and steps before you completed a purchase.
However, with voice, it could be one command and you could get a purchase done. That's very powerful.
Voice-based conversational AI
We had two insights:
 In India, most people prefer communicating in their own native language

When people communicate in their local languages, they often don't type. The insight came from Whatsapp, which many people in India use to send voice messages back and forth (because typing is not very easy in some of the local Indian languages).
We realized that the only way to get the next 100 million users, at least in the Indian market, is by successfully building a voice-based strategy, which also enables various languages along with it. This is now our number one focus for 2019: our goal to become a Voice-first company by end of 2019.
Voice-bot to order food from KFC in India
We recently rolled out a voice-based conversation interface for KFC in India, in the form of an Alexa skill, so a user can now simply order food by telling the bot something like "Order two chicken burgers and one side of fries and one diet Pepsi". This is especially useful for so many users in India who are used to doing everything in their native language and don't find the standard UI website very convenient to navigate through.
Our goal to become a Voice-first company by end of 2019.
Q: How do you balance expanding the business in India versus globally?
The way I think about it as a following, we think about it is that today the priority is to become a Voice-first company that does everything in all these different languages in India. We are present in India, we have a brand with a good reputation and we think we should absolutely be able to capture that and win that market.
Expanding globally
As far as global expansion is concerned, that's the only part of sort of the fair that did not move in for us last year (2018), where we tried or have been trying to expand into the US and the UK and getting customers over there. We spent some time in those markets, but for one reason or the other, we were not able to get business in the way that we work. To scale to the next level we will be building a team out and focus on those markets.
Q: In your TOP 25 application you mention that one of the technical challenges that you are currently facing is "Defining a bot's personality and gauging a user's response to it". Can you elaborate more on that?
That is an area of conversational AI that is fairly unexplored so far. Right now, what we're doing is just like anything else, in AI: we are manually training these emotions in the bots; depending upon the context of the conversation and how the brand wants to perceive itself, our conversation writers manually create this emotion understanding.
What we want to get to is that once we have more and more data on how people are responding to different emotions and different personalities, we can get into the entire emotion AI space. This is again manually entering data, as well as learning from end consumers, to build out models that can automatically scale to become effective self-learning models, such that the manual activity reduces and emotions eventually become part of our underlying NLU (Natural-language Understanding).