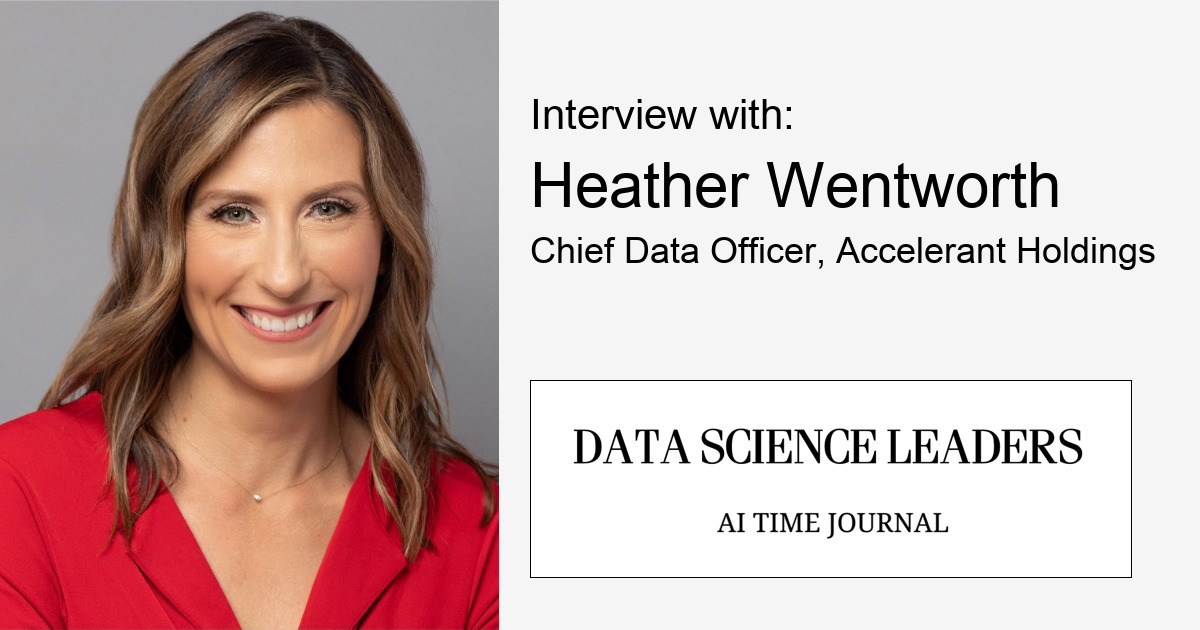 IBM states, in the Insurance Nexus Global Trends report, the insurance world generates 2.5 quintillion bytes of data every day, with 90% of the world's data having been created in the last two years. With the use of AI and other congitive technologies, the Insurance sector is seeing significant advancements supporting better informed decisions. Chief Data Officer, Heather Wentworth believes, "data holds the biggest opportunity in the insurance industry and is also the biggest limiter today"
As a direct result of these AI technologies, The "Big Data in the Insurance Industry: 2018 – 2030 – Opportunities, Challenges, Strategies & Forecasts" report, predicts large loss claims will increase in accuracy to nearly 80%, while improvements in fraud detection rates will increase as much as 60%.
Accelerant Holdings is not a traditional insurance agency. Instead they are a technology-fueled insurance platform that empowers underwriters to more effectively serve small and medium enterprises and focuses on rebuilding the way underwriters share and exchange risk. As Chief Data Officer, Heather Wentworth is driving value through the development of true data intellignce, using AI and cognitive technologies, to turn those predictions from 2018 into reality.
We thank Heather Wentworth from Accelerant Holdings for taking part in this interview and sharing her thoughts and insights.
The Foundation for a CDO
What are the key ingredients to gaining buy-in from the organization to support a CDO role?
First, I think the CDO role must be defined in a way that adds value to the organization and supports the data strategy. There is not one answer for what that is. An extension of getting support for the role includes getting buy-in for the underlying data initiatives the organization needs. I've found that the most powerful cases are centered on what a company won't be able to achieve without a CDO role and these initiatives in place, in addition to the advancements that become possible by supporting this.
I find that it is also useful to be clear about alignment and how this role will work within the organization. Another key ingredient is transparency and planning for any changes or committments the organization may need to make for this to be successful. Depending on how the CDO role is defined, that could include time spent increasing data literacy and participating in data stewardship.
I think it is key to use this phase to not only gain initial buy-in but to lay a foundation that ensures the CDO role and underlying data initatives will be successful if the organization chooses to move forward.
Shift Towards Data Intelligence
What prompted the shift in your career from Head of Technology to CDO?
I believe that data holds the biggest opportunity in the insurance industry and is also the biggest limiter today. There are plenty of people who want to work on the tech but not a lot of hands go up to work on getting the data right. My passion is designing and delivering innovative customer solutions but I couldn't see what future solutions would be possible without quality data that is governed in an efficient, unified, and sustainable way. So I made the shift.
I've not for one second stopped thinking about those future possibilities and that's part of what motivates me to get this right. I'm fortunate to be part of a company that is obsessed with data quality and we're already progressing our data governance into data intelligence, which is a more efficient, unified and sustainable way of managing data through the use of AI/ML.
CDO is Accountable for Data Provenance
Where do you see the division in accountability between CDO and CTO?
This will vary by company and should be designed in a way that works culturally and achieves the data strategy. I subscribe to the analogy that technology is the bucket and data is the water. Data governance and data literacy are  key accountabilities for a CDO as well as data provenance, including external data sources. Applications and infrastructure are well suited with a CTO. Where it gets muddy is with analytics.
My philosophy is that analytics can be developed by anyone and everyone at a company to varying degrees if the skills, support and controls are in place. Specific to data science, I like seeing this embedded in the business areas where possible but with an integrated data and technology model for operationalizing any projects that move forward.
Direct Impact between AI and Customers
Your field of study has been in the insurance industry. How has AI and cognitive technologies change the insurance industry, specifically the impact to the customer?
Customer service, claims and inspections are leading areas where AI and cognitive technologies are having a direct customer impact.  We are also seeing these technologies applied in areas that have an indirect impact on customers including faster processing of unstructured data and ML models for risk selection, pricing, claims, churn, data management and many other areas.