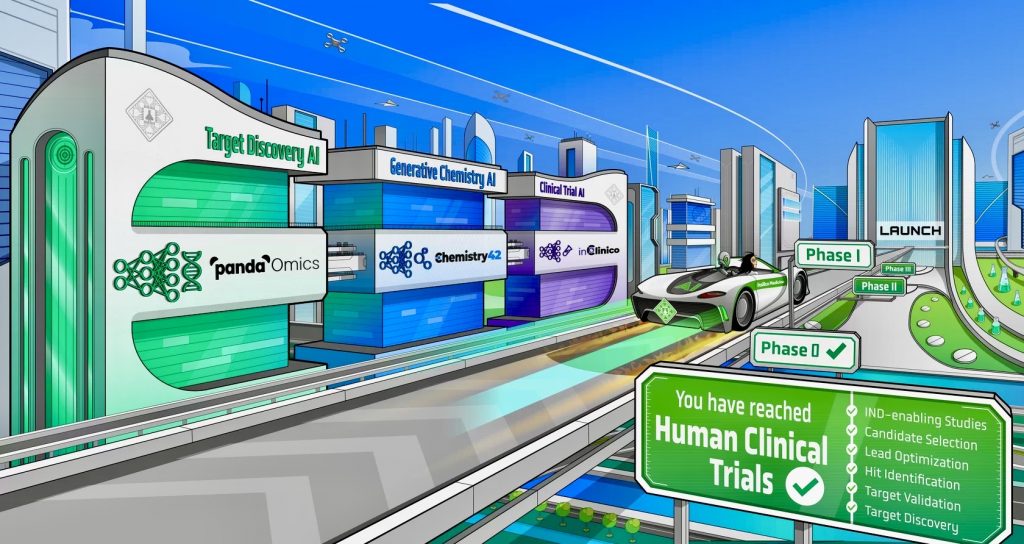 This week Insilico Medicine achieved a major milestone in the history of AI for Drug Discovery. The company announced the successful completion of their Phase 0 human study and commencement of their Phase 1 clinical trial with their first-in-class anti-fibrotic drug candidate. This is significant because this is the world's first Phase 1 clinical trial of a drug developed from scratch using AI. Insilico's end-to-end platform applied AI to biology for target discovery and to chemistry for drug design. This is the first time that a large group of humans (80 people) will be dosed daily with a drug that was completely designed by AI.
This achievement sets a historical precedent because Insilico used an AI-discovered molecule based on an AI-discovered novel target and did this rapidly and at a low cost. The total time from target discovery program initiation to Phase I took under 30 months which represents a new level in therapeutic asset development speed for the pharmaceutical industry. 
Idiopathic Pulmonary Fibrosis is a serious disease that affects the lungs and primarily occurs in older adults. As the disease progresses, the lung tissues stiffen and health deteriorates leading to life-threatening pulmonary failure. About 5 million people suffer with Idiopathic Pulmonary Fibrosis every year. There are very few therapies available so there are limited options to fight the disease. 
Although other AI companies are conducting Phase 1 clinical trials, Insilico Medicine's trial is the first time that human beings will be dosed with an AI-discovered novel molecule based on an AI-discovered novel target. Exscientia is conducting Phase 1 clinical trials for a drug it designed using AI for an established protein target and Recursion is using AI to repurpose drugs owned by other companies. Insilico uses AI end-to-end at every stage of the drug discovery and development process.
Phase 0 Trial
In November 2021 Insilico initiated a Phase 0 exploratory microdose trial of ISM001-055. The objective was to understand compound distribution, establish a dose, and provide insights into ISM001-055's safety profile in humans. The trial was conducted in Australia and included 8 healthy volunteers. The results identified a microdose with a favorable pharmacokinetics and safety profile.
The path from the initial concept to preclinical drug candidate nomination was accomplished at a fraction of cost and time compared to traditional preclinical programs. Typical programs cost around $430 million out-of-pocket expenses and above $1 billion capitalized, and generally take from 3-6 years to finalize. Insilico's preclinical development program from hypothesis to preclinical drug candidate generation took less than 18 months at a budget of around $2.6 million. It took an additional 12 months to get the preclinical drug candidate through the successful Phase 0 trial. Insilico's accomplishment is orders of magnitude faster and cheaper compared to a traditional drug discovery process. 
Phase 1 Trial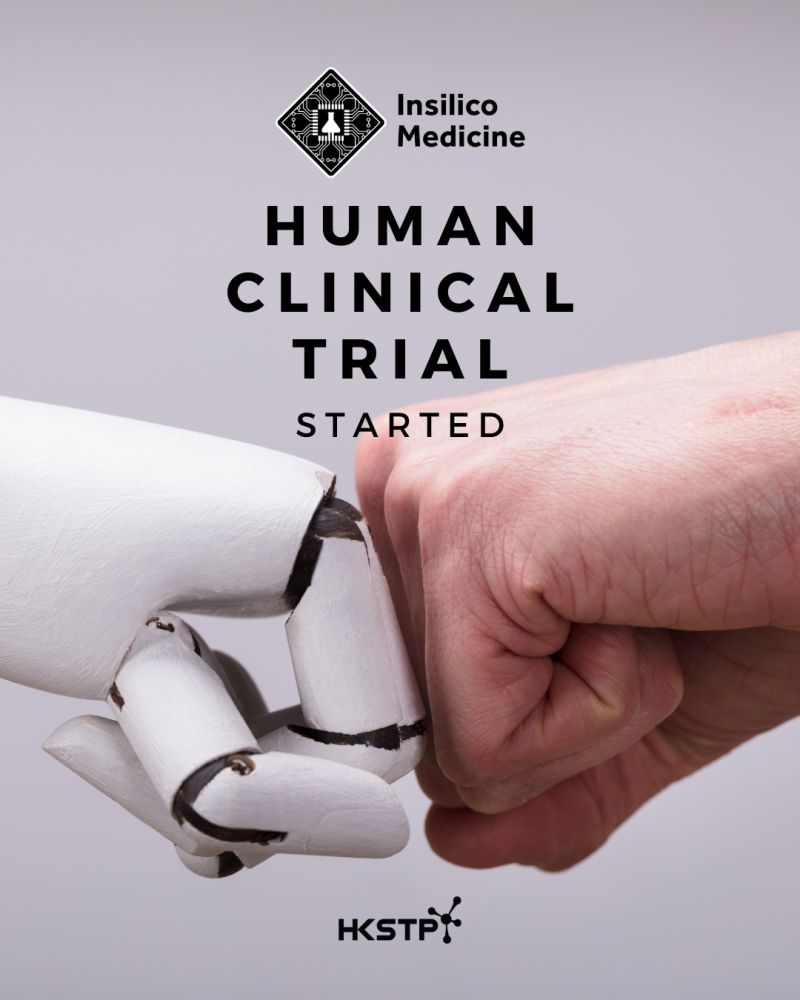 Insilico reported that they have dosed multiple healthy volunteers in a Phase 1 clinical trial evaluating ISM001-055. The objective of Phase 1 clinical trials is to evaluate the safety and tolerability of the drug at the dosage required for therapeutic effect. Phase 1 trials do not evaluate effectiveness of the drug.
The trial is double-blind and placebo controlled with single and multiple ascending doses. 80 healthy volunteers will be enrolled in 10 cohorts comprising of 5 single ascending doses and 5 multiple ascending dose cohorts. The primary endpoints determine the maximum tolerated dose and establish dosage recommendations for potential Phase II clinical trials.
Overview of Insilico Medicine's Process
The antifibrotic targets were chosen using AI with two main criteria: the target must be an important regulator of pathways implicated in fibrosis and the target must be important in aging.
To build the initial hypothesis, Insilico used their target discovery module PandaOmics and trained it on a collection of omics and clinical datasets related to tissue Fibrosis and annotated by age and sex. 
PandaOmics then performed sophisticated gene and pathway scoring using a family of iPANDA algorithms and came up with relevant targets via deep feature synthesis, causality inference, and de novo pathway reconstruction. 
The target novelty and disease association scoring was assessed by a natural language processing engine, which analyzes data from millions of data files, including patents, research publications, grants, and databases of clinical trials. 
As a result, PandaOmics revealed 20 targets for validation, and one novel intracellular target was prioritized for further analysis. 
Next they applied Chemistry42, their generative chemistry module for drug discovery. This module includes an ensemble of generative and scoring engines that can "imagine" molecules from scratch using cutting-edge deep learning technologies. In this case, Chemistry42 was used to design a library of small molecules that bind to the novel intracellular target revealed by PandaOmics.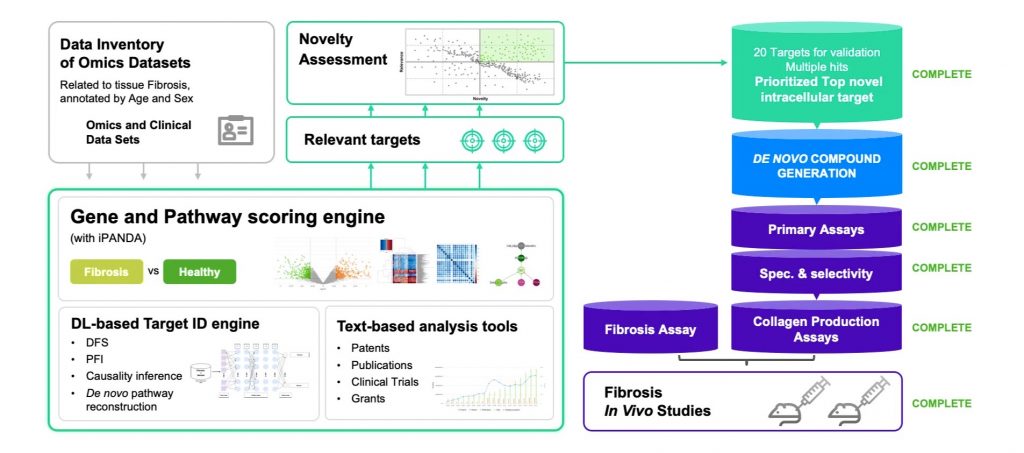 Promising Results
The series of novel small molecules generated by Chemistry42 showed promising results on target inhibition. 
One particular hit, ISM001, demonstrated activity with nanomolar IC50 values. 
When optimizing ISM001, they managed to achieve increased solubility, good ADME properties, and a favorable CYP inhibition profile, while retaining nanomolar potency.
Interestingly, the optimized compounds also showed nanomolar potency against 9 other fibrosis-related targets.
The ISM001 series of molecules showed activity improving fibrosis in a Bleomycin-induced mouse lung fibrosis model, leading to further improvement in lung function. These compounds also demonstrated a good safety profile in a 14-day repeated mouse dose range-finding study. 
The best-performing molecule of the ISM001 series was nominated as a preclinical drug candidate in December 2020 for IND-enabling studies. 
A final version of the drug candidate, ISM001-055, demonstrated highly promising results in multiple preclinical studies including in vitro biological studies, pharmacokinetic and safety studies. 
The compound improved myofibroblast activation, a contributor to the development of fibrosis. ISM001-055's target is novel and has potential relevance in a broad range of fibrotic indications.
After completing the IND-enabling studies Insilico initiated an exploratory microdose trial (first-in-human trial) of ISM001_055 in November 2021, conducted in Australia in 8 healthy volunteers. 
The results exceeded expectations with the findings of a microdose of ISM001_055 with a favorable pharmacokinetic and safety profile of the drug in humans which successfully demonstrated clinical proof-of-concept. 
A New Era As A Clinical Stage Company
With the initiation of this Phase 1 clinical trial, Insilico entered a new era as a clinical-stage AI powered biotech company. The estimated study completion date for the Phase 1 trial is February 28, 2023. Following successful completion of the Phase 1 trial, the company will conduct Phase 2 and Phase 3 trials. Thousands of participants will participate in Phase 3 and 4 trials to test the drug's effectiveness. A number of drug candidates for other indications have been designed using Insilico's AI platform illustrating the system's ability to replicate success and generalize to other therapeutic areas. Insilico designed one recent drug candidate targeting kidney fibrosis and another drug candidate for immunotherapy for Fosun Pharmaceuticals. ISM001_055 is the first AI discovered compound to enter the clinic. Many more compounds are expected in the near future.