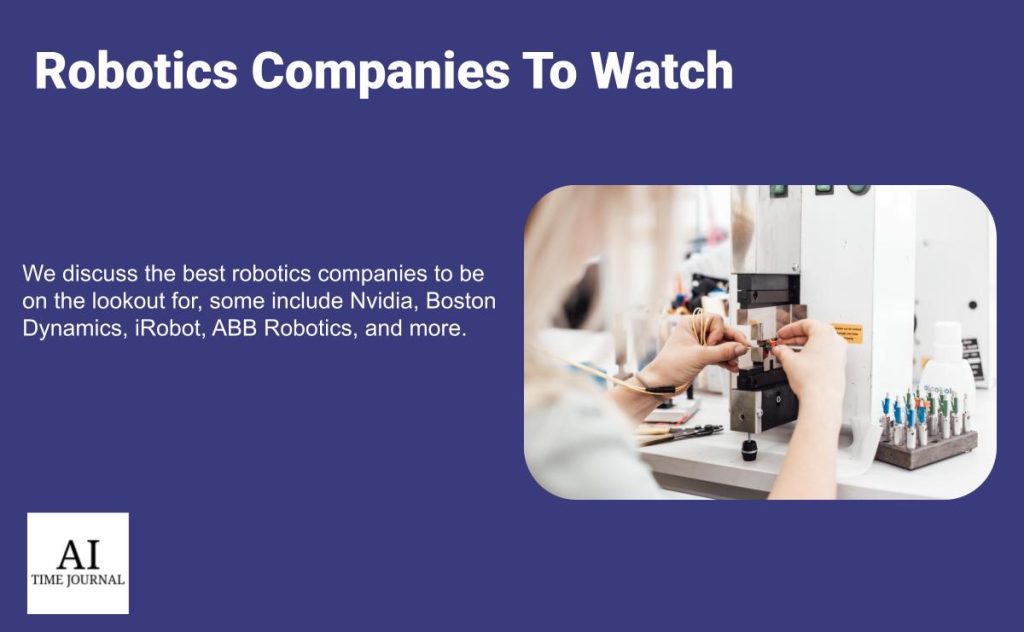 Nowadays, robotics has an increasingly important role in everyday life. Already, robots are being used in a wide variety of industries, such as manufacturing, agriculture, healthcare, and transportation.
In the near future, robots will become increasingly sophisticated and will be able to perform tasks such as assisting with medical procedures and even providing companionship.
Robotics will continue to expand into new areas, such as education, where robots may be able to teach students, and service industries, where robots may be able to provide personalized customer service. As robotics technology continues to develop, it will open up new possibilities for humans, further blurring the line between man and machine.
Additionally, Intelligent machines include self-driving cars, drones that can fly themselves, humanoid robots, and other similar creations. As part of their function, they use AI technologies such as sensors, computer vision, machine learning, and so on. Large advances have been made in the robotics sector due to the rising need for machines that can learn and adapt.
Moreover, advances in artificial intelligence and machine learning will enable robots to make decisions and complete complex tasks autonomously.
Today, we'll go over top robotics companies to keep an eye on. Each company has unique talents and abilities with its technology evaluation, and we will also be explaining the features.
Check out these articles to learn more about robotics and AI: Top AI Influencers To Follow and Best Robotics Courses to Become a Robotics Engineer.
For problems that no one else has been able to solve, NVIDIA created accelerated computing. Their contributions to artificial intelligence and the metaverse are revolutionizing major global economic sectors.
NVIDIA is known for making integrated circuits, which are used in everything from video game consoles to personal computers (PCs).
NVIDIA Isaac works on enhancing and accelerating robotics in order to face daily difficulties and provide solutions. For example, robotics might help solve real-world problems, such as those related to the environment by identifying recyclables with the help of AI robotics using Recycleye which is waste sorting with AI, and computer vision. It's using AI to figure out which plastics are safe for food and which aren't, with an eye toward increasing the number of plastics that can be recycled in a closed loop.
Potentially, it could aid in the creation of brand-new uses, such as enhanced food packaging.
With the use of NVIDIA technologies and a massive training dataset, Recycleye has reduced the time it takes to deploy its model from two months to two hours while reaching item identification accuracy greater than human vision.
The life-changing projects that these companies have worked on are fascinating, so let's look at how it works :
Cloud-based machine learning involves the training of models.
on an instance of Microsoft Azure that has GPU support.
then distributed to Recycleye's devices at client sites.
By automating and speeding up the flow of materials through sorting systems and more accurately identifying them.
Rockwell Automation provides strong automotive manufacturing solutions to the automotive and tire industries to improve efficiency. Our experts and scalable control and information technology can help you overcome these difficulties.
Modern advancements in robotics have altered the game for original equipment manufacturers. Machine learning technologies have made modern robots much easier to program than older mechanical ones.
The robot's controller adjusts the data, leading to the creation of the robot's own path or movement strategy. To put it another way, the route design and about 80% of the required robotics are both done by code.
Learning by imitation is an excellent illustration of this principle.
A robot's "Imitation learning" gives it the ability to carry out a task it has been shown. The company was only recently involved in a case packaging application that made full use of this method. Rockwell Automation had to move the robotic arm to three different positions in order to educate the robot on how to pick up, hoist, and position the item within the case.
Overall, teaching robotics to be productive and perform daily tasks like a worker.
To learn more about how AI can assist you with focus and productivity check out the following: Top Productivity Companies to Watch.
There is no better place to look if you run a company and want it to develop and expand. UiPath is the company that best fits your needs. This organization offers solutions to businesses that want to automate their everyday office processes in order to facilitate a more rapid shift in business. It employs a wide range of strategies to convert laborious responsibilities into straightforward, automated procedures.
What Exactly Is UiPath? UiPath is an automation solution for robotic processes that can be used for large-scale end-to-end automation.
RPA is a software technology that makes it easy to build, deploy, and manage software robots that interact with digital systems and software as if they were people.
Here are a few examples :
Software robots, like people, can understand what's on a screen.
Press the right keys, and move around in a system.
find and extract data, and do other things that have already been set up.
Using this will help businesses be more profitable, adaptable, and quick to change by removing difficult work from their days, also makes employees happier, more engaged, and more productive.
It can be difficult to clean after working 40 or more hours per week, but with the help of an IRobot, the task is much less overwhelming. Although robots are products of human creation, humans often have trouble thinking that they are entirely in control of the robot.
Just one thought was all that was needed to kick off the manufacturing of this corporation.iRobot, the world's leading consumer robot company, designs and manufactures robots that enable people to do more both inside and outside the home.
One of the most well-known consumer robots ever created is the self-driving vacuum cleaner known as Roomba. It cleans your floors while moving carefully around obstacles and under furniture, and when it's completed, it goes back to its charging dock.
The following are some of the advantages of using a Roomba :
Robotic vacuums can make your home much cleaner and better for your health.
Smarter than expected, the robotic vacuum. It adjusts to surface changes.
A robotic vacuum can spot barriers. It can protect itself and the furniture with sensors and a buffer.
Robotic vacuums are much quieter.
Overall, it saves you time and can assist you with chores for more look at Best Robot Vacuum Cleaners for Rugs and Carpets and Can Robot Vacuums Go Over High Thresholds
Teradyne enterprises provide manufacturing automation to customers all around the world, in a variety of industries and applications. Together, they enable businesses to achieve better production volumes, higher quality, and higher returns on investment. They also handle complicated test and automation challenges.
All businesses, no matter their size, can benefit from Teradyne Robotics' cutting-edge automation technology. Its solutions, which include collaborative robots, mobile robots that can operate independently, and motion control software for robots, are risk-free, dependable, and simple to implement.
Robotics comes in many forms, some of which include collaborative robots and autonomous mobile robots :
Collaborative robots, or cobots, work with humans. With these lightweight, easy-to-program robotic arms, companies of all sizes can automate their processes for a low cost and without technical expertise.
Autonomous Mobile Robot Collaborative technologies enable autonomous mobile robots to manage internal logistics quickly and cost-effectively without infrastructure changes.
Boston Dynamics' goal is to develop innovative robots that help improve people's lives. It is an enormous task to create machines that can move, manipulate, and react like humans and other creatures.
The desire to create dynamically stable, legged machines is one of the distinguishing characteristics of Boston Dynamics.
A couple of the products that Boston's dynamically created :
Dynamic Sense-Capture data when and where it is required.
Mobile Manipulation- Allows for quick and flexible case handling.
Smart solution- Discovering technology to solve difficult problems.
ABB Robotics, one of the world's leading suppliers of robotics and machine automation, is the only company with a comprehensive and integrated portfolio covering robots, AMRs, and machine automation solutions. ABB Robotics is one of the leading suppliers of robotics and machine automation in the world.
How can an ABB robot be used to automate tasks? There are a lot of choices, like :
Spot welding.
Assembly and Dispensing.
Painting and coating
Packaging and drilling.
Arc Welding.
What sets ABB Robotics apart from its competitors? Improved Productivity ABB robots are able to operate at fast speeds and process higher throughput rates. This results in increased productivity.
KUKA offers a comprehensive range of industrial robots. No matter how difficult the application, you will always find the best one. For a cost-effective entry into robot-based automation, industrial robots were created to handle the demanding automation of assembly lines.
They have a specific kind of prosthetic arm made by Industrial Robotics, and it has the following features:
KR SCARA horizontal-jointed-arm robots have a lot going for them: they are light and slim, but also very fast and strong.
KR DELTA – fast, precise, and flexible robots were developed for the high-speed range. Their top speed corresponds to a cycle time of up to 0.32 seconds.
LBR iiwa-lightweight KUKA cobot, specializing in delicate assembly operations, allows human-robot collaboration in the workplace.
Zebra Technologies Company manufactures electronic products. The business sells mobile computers, printers, barcode scanners, RFID, locating systems hardware, software, etc.
Here we introduce FlexShelf, a mobile robot designed to aid employees in warehouses.
The leaders in on-demand warehouse automation, Zebra Technologies, and Fetch Robots have collaborated to create a new, comprehensive fulfillment solution, which includes the FlexShelf family of AMRs.
The Flex Shelf has many useful features, such as:
Can boost productivity by up to three times.
Robots that can carry 50% more weight and move 50% faster than the worker.
Ensures the most accuracy possible.
By allowing the robot to assist the factory worker with the less important tasks, the robot aids the industrial worker overall.
Intuitive Surgical, Inc. is an American company that designs, manufactures, and markets robotic technologies to enhance clinical results for patients undergoing minimally invasive surgery.
The development of AI and its transformative effects on the healthcare sector.
Robotic-assisted surgery through a single port with Da Vinci SP may lead to the next generation of surgical innovations. The system's patient cart design, single-port surgery equipment, and improved vision enable complex surgeries.
Take a look at the following health-related article: Robot-Assisted Surgery: The Application of Robotics in Healthcare.