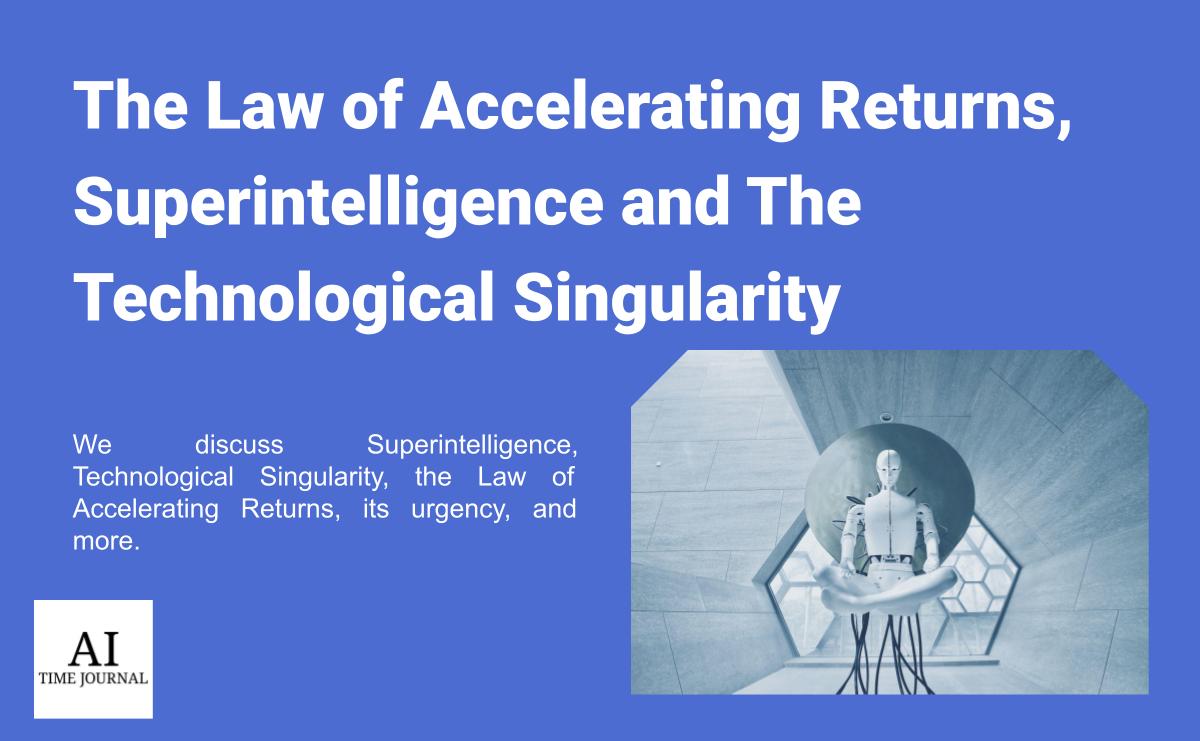 On June 1st, 1983, the Internet was born, effectively propelling humanity into the next stage of its evolution (or so we think). The advent of the Internet, and subsequently the World Wide Web in April of 1993, revolutionized the way humans could access, process, and consolidate information at scale. This technology has built the hyper-connective and socio-digital fabric in which our data infrastructure and modern societies are now rooted; it has fundamentally restructured not only the way in which humans understand themselves but also the world in which they reside. 
What many of us fail to realize, however, is the fact that technological innovation, contrary to our intuition, progresses at an exponential rate. Our comprehension of the nature of this progression is limited by the timeline of our lives and our day-to-day existential experience with technology; when technology evolves alongside us (or appears to), in plain view, our abilities to fully grasp the structure and pace of its evolution are hindered by personal biases that underlie our use of digital devices. The more we use digital technologies the more normalized and embedded they become into our societal frameworks – the purpose of technology in modern society is to streamline the experience of everyday life. 
Before beginning our inquiry, let us consider a highly relevant example of exponential innovation: the progression of the iPhone from the original 2007 device to what it is now. 
The iPhone: A Prime Example of Exponential Growth
The current iPhone 13 possesses up to 512 gigabytes of storage capacity (the Pro models can store a staggering terabyte of data), compared to the original's 4 gigabytes – this amount of storage would not even be enough to run the latest IOS software. Moreover, the iPhone 13's processing power is downright remarkable – using a tailor-made A15 Bionic chip in its processing core, the current model is not only 14-17% faster than the previous model (iPhone 12) but a bewildering 62% faster than any other available smartphones on the market. Now consider these improvements in conjunction with the implementation of facial recognition for security (as opposed to biometrics), wireless and lightning charging capacity, and dual 12-megapixel cameras that can now record in 4K resolution (among a variety of other impressive functions). 
At the present moment, we are still moderately capable of keeping up with the rate of innovation, as exemplified by our widespread adoption and use of the latest iPhone models (there are many more such examples throughout technology, especially IoT). However, as these models, which represent the pinnacle of digital information exchange, expand their computational abilities, our autonomous capacity as individuals will actually decrease. This may seem counterintuitive. But, when considering that the purpose of modern computational technology is to make human life and behavior both easier and more profitable by delegating various tasks throughout virtually all industries to intelligent algorithms or machinery, it becomes apparent that our freedom to choose how we exist is compromised. 
Throughout this article, I will explore the basics of the Law of Accelerating Returns, a revolutionary principle established by the inventor Ray Kurzweil, that pinpoints the inherent predictability of technological innovation and evolution. 
The Law of Accelerating Returns
Those who are interested in AI or computational technology might already be familiar with Moore's Law – the idea that every two years, the number of transistors on a microchip double while the price of computers is cut in half. This translates into an exponential increase in processing power per unit cost. In fact, Moore's Law is a paradigm that falls under the governing forces of the Law of Accelerating Returns, which describes the rate of technological evolution. 
The Law of Accelerating Returns is an evolutionary process – this means that a) the rate of technological innovation is exponential and b) that as technological progress is made throughout shorter and shorter timespans, the use of new technologies to create novel ones accelerates the rate of exponential growth itself. This means there are two positive feedback loops at work here, one that dictates the initial rate of innovation and another that dictates the rate of innovation, both of which are exponential. 
Let's consider the following example: the printing press, which was invented approximately 550 years ago. This device revolutionized how humans could access and produce information at scale for low cost, although it was not replaced until around 250 years later, at the dawn of the 19th century, by the steam-powered rotary press. This device, while it had prominent industrial capabilities, was soon overtaken by the LinoType in 1881. Barely 50 years later, Alan Turing created his famous Turing Machine, the basis for all modern computational technology. This example perfectly illustrates the dynamics of the Law of Accelerating Returns and highlights an important trend: the acquisition of knowledge is, in itself, exponential. 
Now that we understand the structure of the Law of Accelerating Returns, what does it mean for the future of humanity? And, can we, to any reasonable degree, anticipate what our world will look like? 
Superintelligence and The Technological Singularity
The Law of Accelerating Returns, predicts that at some point in time, likely within the next century (at today's rate of innovation we can expect to see a century's worth of progress in approximately 25 years), humanity will encounter a Technological Singularity. This singularity presupposes that the rate of technological growth and innovation will surpass human abilities to control and comprehend it. 
If, however, we were to try and 'see' beyond the singularity when it occurred, we would require a form of intelligence superior to our current biological intelligence. The most conventional hypothesis describing the birth of such a superintelligence revolves around the evolution of AI, namely from 'narrow' algorithms to Artificial General Intelligence (AGI). Once AGI is achieved, superintelligence will necessarily follow – it is likely that the computational processing speeds and information storage capacity of an AGI would outperform those of the human brain. As such, AGI information acquisition and learning would see exponential enhancement over time, eventually birthing a computational superintelligence. 
Another way we might achieve superintelligence is through the use of gene editing technologies, like CRISPR, and biological enhancement. We may find that there are specific genes that underlie the development of various cognitive traits associated with human intelligence as there are genes that dictate muscle growth, predisposition to certain diseases, height, eye color, etc. Once we uncover these specific genes, we can select for them in human embryos, and artificially curate a class of biological humans that represent the intellectual pinnacle of humanity. 
While biological enhancement generates a number of ethical problems, primarily related to who could access such treatments and whether or not the genomic programs would be state-sponsored, this approach may be necessary at the dawn of the Technological Singularity to ensure that humans keep up with innovation. 
Another possible approach involves Whole Brain Emulation (WBE). If WBE became possible, we would theoretically be able to create functional computational replicas of individual human brains, which could then be uploaded into an interactive cloud-based virtual environment. Such a system would have human-level intelligence in conjunction with the ability to store, access and process information much faster than the biological human brain. This version of superintelligence, although unlikely given our current brain imaging technologies, could be our safest alternative – it would ensure that superintelligence makes decisions that inherently consider the value of individual life and the existence of human beings. 
Finally, there is also the possibility of cyborgization through Brain-Computer Interfaces (BCIs). While it is unlikely that BCIs could directly increase human intelligence at the individual level without instigating serious functional changes to neural architecture, they could, in theory, allow us to form a 'hive mind'. If we gathered the smartest individuals on earth and gave them all BCI implants that somehow allowed them to transfer vital skills and knowledge to each other via wireless communication, we could build a biotechnological conglomerate superintelligence. This approach is also relatively unrealistic, although more promising than WBE when considering currently available technology. 
Where does this Leave Us?
Most of you are probably asking yourselves why any of this matters, especially since there is a chance it will not happen throughout our lifetimes. Nonetheless, there is also a chance that it will happen during our lifetime – the existential risk posed by the Technological Singularity is enough to justify serious inquiry now. Moreover, when the Technology Singularity occurs, it will not be gradual, but rather, explosive. If we are not adequately prepared, we might find that the entire existence of humanity is threatened, possibly to the point of extinction.