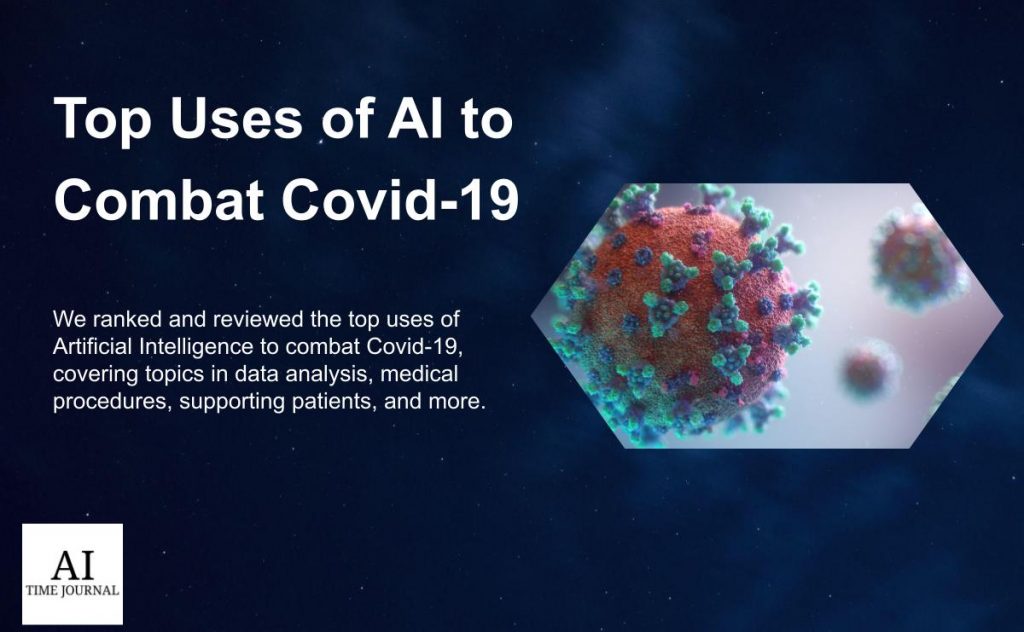 Artificial Intelligence tools and applications have skillfully tried to manage the analysis, diagnosis, tracing, and development of the pandemic in ways unthinkable with manpower solely.
 The greatest dilemma with this pandemic was that no one knew what it was and how we should react at the beginning of the pandemic. To make matters worse, Covid 19 has been rapidly mutating since its start, and researchers around the world aren't still quite prepared to interact with such a delicate mutating variant that has claimed hundreds and thousands of lives and has essentially changed the course of history forever.
 This is where AI's prowess comes into play. With deep learning and the combination of researchers from all around the world, Artificial Intelligence has helped us combat the pandemic in unimaginable ways.
Top 5 uses of AI
Data analysis on Covid-19
The foremost task of AI was to collect as much data as possible about the Coronavirus. This was particularly important given the novelty of this type of disease, and its devastating speed when it comes to mutating. Researchers and governments from all around the world have collaborated with the help of the Kaggle Platform, for the cross-distribution of multidisciplinary expertise on AI, to engage in research and rapid information distribution about Covid-19. This has been a catalyst to gather more information regarding covid strains, conduct research on it, predict its future mutations, and formulate vaccines and medicines to combat it. For instance, the spread of Omicron was foreseen and warned about to the world by South Africa with the help of AI. Such rapid development of data regarding these variants can only happen with AI-driven applications and robots.
Medical procedures using AI
 Alongside, platforms like Deepmind have been able to analyze and forecast the protein structures in connection to SARS-CoV-2, which has been highly effective for the formulation of treatments and vaccines. In terms of medical research, ImferRead, the EU-funded AI software, has done phenomenal work in terms of CT scanning any type of lung damage caused due to coronavirus, analyzing it, suggesting treatments, and gathering information regarding Covid 19. This has greatly reduced the workload on already overworked healthcare professionals as they struggle with this pandemic. Not only this, the software has great levels of accuracy and is very rapid. 
Preventing further infections
AI has been a lifesaver when it comes to preventing future covid cases too. Tracking methods use AI and data mining applications that can detect patients with covid and the people they've come into contact with. As a result, they can be identified and warned to quarantine to prevent further covid clusters. Contact tracing has been used in many places like China, Israel, Poland, and Korea. Infection routes therefore can successfully be tracked and prevented from spreading further.
AI supporting patients
 Patients with Coronavirus can also use AI applications provided by hospitals to track their progress and symptoms. Thus by the time they're ready to reintegrate into society, they can be sure that they're healthy.
AI accommodating quarantine efforts
 Meanwhile, other tasks of life had to go online because of quarantine rules all around the globe. Education, employment, businesses, and everything else could only go online because of the substantial advancements in Artificial Technology. Work online could be refined due to the Machine Learning (ML) program of AI which makes every next work done virtually better than the latter. Thus, people could stay home, follow covid protocols and still somewhat continue with their lives.
Margaretta Colangelo has written an excellent article for AITJ where she explains the broader ways in which AI can create positive change in Healthcare in the long term, AI In Healthcare HIghlights & MIlestones 2021
AI isn't going to solve everything
Even though the achievements by Artificial Intelligence during these uncertain times have been immeasurable, there's only so much it can do. No matter how much advanced or rigorous AI applications' performance is, solving this pandemic is up to governments and communities. If mask mandates, vaccine protocols, quarantine rules and global vaccination drives don't continue with combined efforts of global citizens and governments, no technological brainchild will be able to combat this pandemic.