At the time I had joined AI Time Journal as part of the Human Resources team, there was no one specializing in building and maintaining a strong remote team culture. Aside from completing duties and tasks for work, generating meaningful relationships between employees is an important factor in the internship experience as a whole. It really makes a difference to the internship experience by putting the more human aspect behind just a username on Slack or just joining weekly meetings.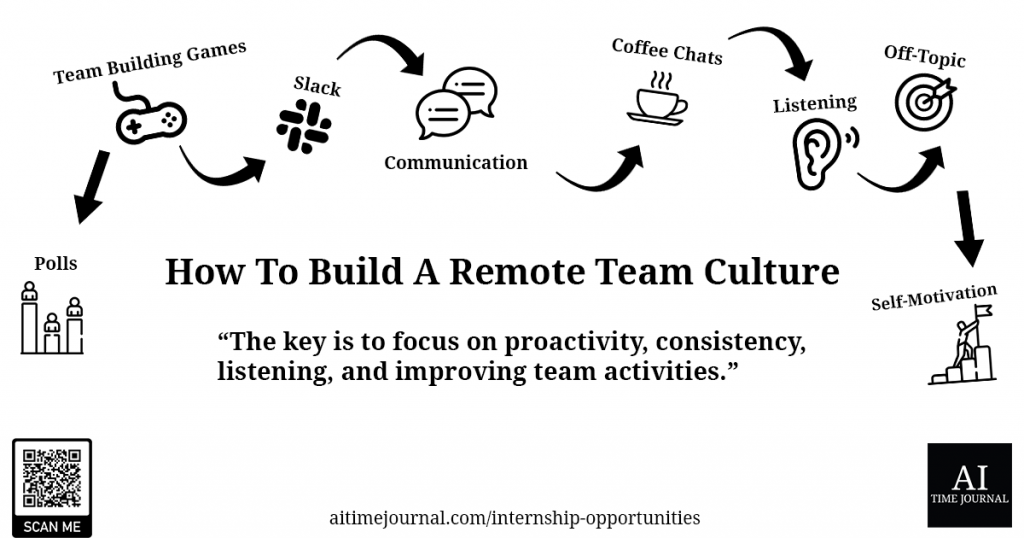 Understanding and Developing a Remote Company Culture
"To record statistics and observe feedback on what was working well and what was not performing well for the ongoing goal of improving these activities"
First I drew up an outline of what AI Time Journal's current situation was, what the end goals of building a stronger team culture were, the complications that might have occurred, and resolutions to conflicts that might have arisen. It was easier to set up a basic "skeleton" structure of main points and later fill in those major points with the research and feedback that I observed later on.
Since there were no dedicated procedures or resource material to reference at the beginning of developing the team building culture, a lot of pre-research had to have been made. Countless websites, YouTube Videos, and journal articles were referenced and the applicable details were handpicked out and compiled into an organized document for later reference. 
The nature of AI Time Journal is that it is a fully remote company, with Interns, Contributors, Podcast Hosts, Associate Editors, and so on, working from all across the globe with different time zone differences from 1 hour to 12 hours plus. These two topics presented complications that narrowed my research to finding activities that everyone, mainly interns, can participate in by only using a computer, microphone, and webcam, and most importantly, a reliable internet connection.
The focus later came to keep developing interactive bi-weekly team-building games (AITJ was already doing them) that would highlight all of our different cultures, languages, and experiences, promoting ways to personalize the interns' experience in AI Time Journal's Slack Off-Topic channel, and creating monthly 15 Minute Coffee Chats. As with many processes, it was important to record statistics and observe feedback on what was working well and what was not performing well for the ongoing goal of improving these activities.
Making the Most of Team Building
The key activities for building a strong remote team culture were divided into online messaging and oral communication through meetings.
The Human Resources team needs to stay communicative with its team members, so I frequently communicated with other interns and the management team about what the next event was, sent out little promotions to remind them that proactivity will help enhance their AI Time Journal experience, and complimented them periodically when they have performed a task well. 
AI Time Journal also has an off-topic channel in Slack, where the Human Resources team and I consistently promoted fun and unique questions, polls, and surveys to create a spontaneous conversation between the interns. 
The bonus of AI Time Journal being a global full remote company is that there was a valuable pool of team members from multiple different cultures and experiences. I think it is important to cater to team-building activities and to create occasional "chats" to highlight this strength. The bi-weekly team-building games that I was doing were fun and quick games where interns could share their cultural experiences and foods or a saying in their native language.
A more recent venture I did for AI Time Journal was the 15 Minute Coffee Chats, where the team would be randomly paired up in duos to discuss anything they would like, from their AI Time Journal experience to just sharing their hobbies and culture.
Learning from Road Bumps
Some road bumps I had encountered during this process were a lack of responsiveness and some difficulty when creating a new cross-team activity. Some team members' naturally needed a little more push than others to participate in team-building activities or join in on conversing with the other interns in the Off-Topic channel in Slack. To increase enthusiasm and self-motivation to be proactive in this side of the internship experience, I occasionally messaged the team in both private messages and made general announcements about a fun new question or poll I had created for the day.
The key is consistency, making the questions and polls thoughtful and meaningful, and showcasing the Human Resources team's enthusiasm for all of its activities to the other interns.
The 15 Minute Coffee Chats were a new team activity to have monthly quick and easy virtual conversations between the internal team, where they could talk about anything and introduce themselves to each other. It was my first experience composing a Standard Operating Procedure from scratch, so I initially had some difficulty expressing my idea for the activity in a written procedure.
Throughout the development period, I focused on making the activity easily understandable and meaningful for all the members. These Coffee Chats became a great way for interns to get to know new and current interns on a one-on-one level, with the convenience of scheduling a time that works for both of them. 
Conclusion
The experience to develop a stronger remote team culture through internal activities and stronger team communication was invaluable. There is still a long way to go to maintain a great remote team culture, but the key is to focus on proactivity, consistency, listening, and improving team activities. 
Learn to Build a Remote Company Culture
Are you interested in learning how to build a remote company culture and much more? Check at AITJ opportunities!