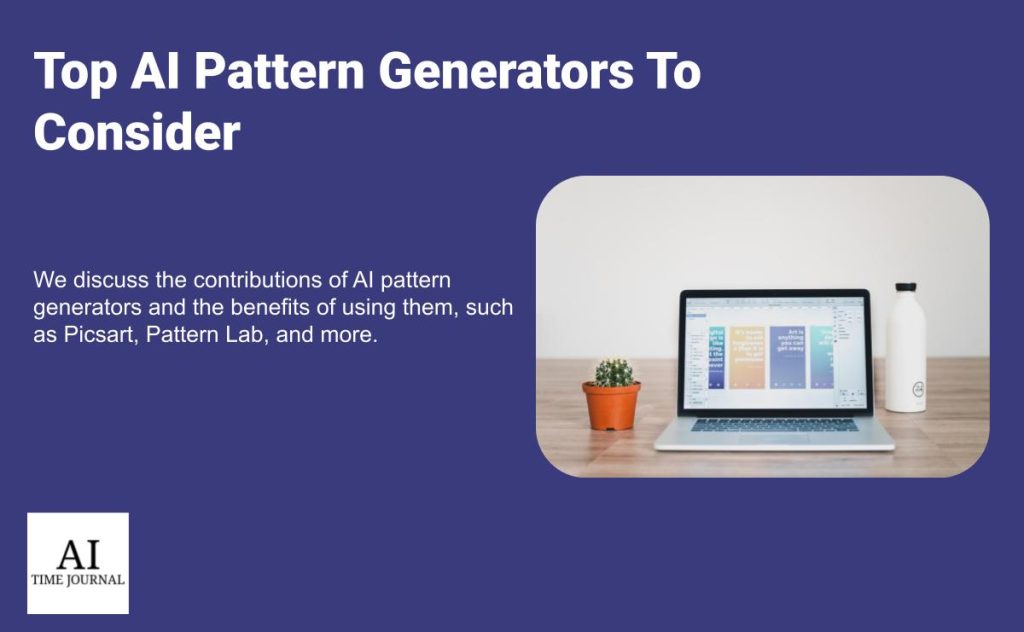 AI Pattern Generators are AI-powered pattern recognition algorithms that can identify patterns within a given set of data, and it is used to create patterns in different fields.
Pattern generators are used in areas such as design, programming, and even in data analysis.
In design, it's used to create unique and visually appealing designs, as they can take in data and generate a pattern based on the input.
You can create patterns for backgrounds, textures, logos, web designs, and more. This technology is a powerful tool for creating unique and appealing designs, and it helps automate design processes.
You can use AI Pattern Generators to find patterns in several data types, including text, images, audio, and video.
In this article, we will introduce you to some of the most relevant platforms to consider this year that can help you to improve your designs and make them more attractive to your audience.
If you want to explore the fascinating ways in which AI is transforming the present, check this article: 5 Ways We Use AI Without Knowing About It.
You can make some truly stunning images, texts, and graphics with the help of Hotpot AI. Hotpot AI can assist you with the backgrounds of your social media posts and the marketing images you use to promote your business with its creative pattern generator and other AI-powered tools that inspire originality and make repetitive tasks easier.
Using any method. With HotpotAI's user-friendly drag-and-drop editor, you may modify the shapes, colors, and other ornamental elements.
Developing applications, websites, and extensions with Hotpot's backdrop pattern creation is simple. Make patterns that can be used as :
Elegant headers and footers.
Backgrounds for sections.
Personalize handcrafted templates, or create brand-new visuals from the beginning.
Overall, HotpotAI has a lot of other tools in many areas and a step-by-step guide that makes it easy for beginners to use.
Check out these articles for our visual learners who want to learn more similar software: Top AI Art Generators To Watch and 5 Ways That AI is Helping Artists Become More Creative.
Pattern Lab is a front-end workshop that allows you to create, inspect, test, and display UI elements from your design system. Web designers must ensure that their work looks good in a wide range of browsers and operating systems. A lot of hassle and effort can be avoided with the use of a pattern lab.
Free and open-source software developed in part by Gymnasium lecturer Brad Frost to facilitate the adoption of Atomic Design patterns in creating and upkeep user interfaces.
Atomic design is the process of breaking up big pieces of design into small, consistent parts that can be used over and over again. The atom comprises tiny details, like headings, images, and links. Molecules are usually made up of a group of atoms, and organisms are usually made up of a group of molecules.
The bigger question is, why should you use Pattern Lab?
It enables developers to keep their code consistent.
Implement and make use of reusable components.
Allows numerous developers to work at the same time on the same project.
All of these advantages contribute to a more leisurely time spent maintaining the code. Here are 5 Free Online Coding Courses to Complete in 2023.
When you are designing websites for your company, you use fonts that are appealing to capture the overall aesthetic of the page. The inspiration behind the creation of Creative Fabrica came from a love of art as well as a passion for fonts and style.
In the crafting community, Creative Fabrica is most recognized as a marketplace for digital products such as fonts, images, and machine embroidery designs.
You can build your patterns in CF Sparks Patterns with the help of a pattern generator that is available online. Create these repeating designs based on text prompts with no need for graphics tools or design expertise. There are currently four million people using Creative Fabrica, and CF Spark is available to them at no cost. The platform's collection includes close to six million different fonts and graphics in total.
Instructions on how to make use of CF Sparks Patterns :
Explain the design you want to see implemented, or look to the work of other artists for inspiration.
Press the "Ignite" button for the pattern maker to start creating your patterns.
Choose your favorite patterns, publish them, and download them.
Make lovely cards, embellish your scrapbook, or get your designs printed off and put on some t-shirts with your pattern creations.
The digital pattern can also be used as a phone, iPad, and computer wallpaper.
Influencers and content creators who are willing to invest time and energy into perfecting the visual presentation of their work need look no further.
Users can capture their photos and videos, edit them, draw on them using layers, and then share their creations on Picsart and other social networks using the Pic art platform.
When you need a creative boost, Pattern Generator is there to provide it. It's the ideal program to have on hand for those times when you're stuck for inspiration or might use some extra assistance.
Using Picsart provides the following benefits :
the ability to develop with the help of AI tools.
Make collages at the level of a professional artist.
quickly get rid of and replace the background,
Using the AI Picture Generator, you can turn text into works of art, and you can also build AI avatars.
The Pattern Generator is a wonderful tool for learning the basics of photo editing and for experimenting with new techniques.
Visiwig
Helping out time-pressed designers, Visiwig supplies them with images. Visiwig is a one-stop shop for efficient visuals, where designers can browse for new ideas, experiment with various design tools, and save precious time.
Visiwigs pattern generator allows you to :
Adjusting the pattern's size.
Easily modify repeating designs.
changing the stroke width.
rotating the pattern's orientation.
coloring the designs, and switching between outlines.
The vector pattern generator is one type of pattern generator that is used. Vector patterns are good since they scale endlessly and produce sharp prints.
In general, this platform is fantastic for those interested in performing quick checks on designs.