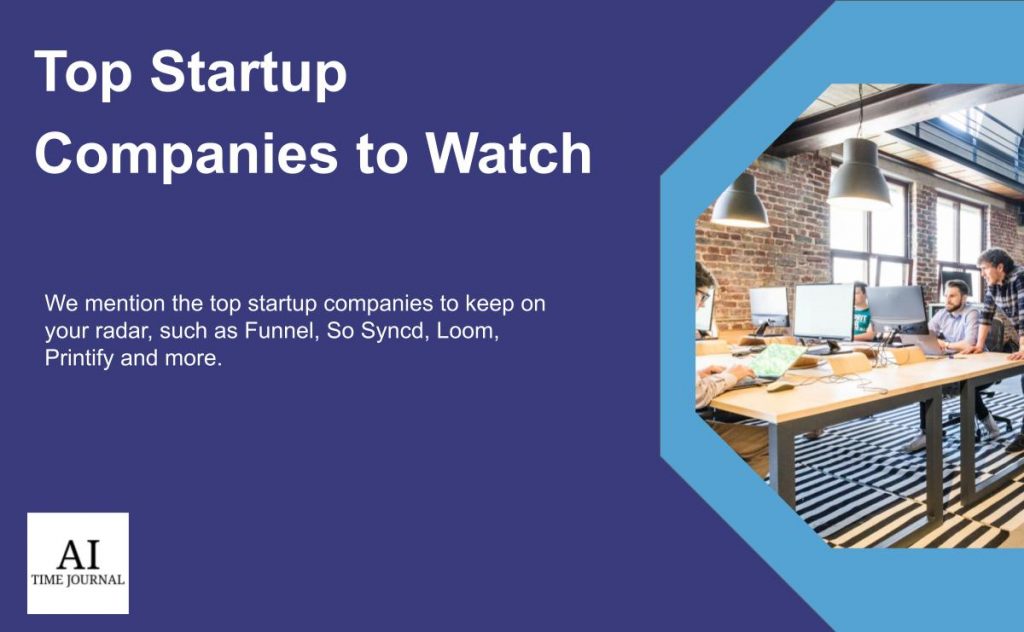 We all know brands such as Google, Microsoft, eBay, and Johnson & Johnson, but all of them were startups at some point. Hence, any startup company has the potential to grow into a commercial giant and win a competitive edge in its market. However, only the most innovative organizations implementing modern tech, such as artificial intelligence (AI), blockchain, or virtual technology, can be true market leaders.
We review some of the most innovative startup companies worth watching this year, explain their advantages, and point out what benefits they may bring to you in this article.
If you are interested in other top companies' lists, check out these AITJ articles: Top Blockchain Companies to Watch in 2023 and Top Productivity Companies to Watch in 2023. 
Trusted by over 1000 brands, including Skyscanner, Samsung, Adidas, Trivago, and more, Funnel is a company that helps businesses improve their understanding and implementation of marketing data. The organization suggests brands collect their data in one secure place and bring it to an analysis-ready form. Moreover, the provided data is always accurate, up-to-date, and securely stored. After collecting and preparing marketing data for further analysis, Funnel sends it to platforms such as Google Data Studio, Sheets, a data warehouse, and more.
What is great about Funnel is that it is a no-code tool that offers various plans for different types of companies and their needs. So, if you are looking for a reliable partner to help you analyze marketing data and provide insights, Funnel might be perfect for you. 
Are you tired of useless dating apps that constantly recommend the wrong people to you? If the answer is yes, So Syncd is a company you should take a look at. Featured in Forbes, The Guardian, Cosmopolitan, The Sun, and many other well-known media, So Syncd is a dating app that suggests the perfect match based on your personality type.
The company has already made many successful matches based on the personality type analysis, which is proved by the numerous love stories published on the website by real users. You are only three steps away from your perfect match. You only need to discover your personality type through a 5-minute test suggested by the company, be paired with meaningful matches, and connect with them. As simple as it is, So Syncd is a must for those looking for a relationship.  
Founded in 2015, Loom is a great option for remote workers. The company helps its clients save time and increase productivity and effectiveness by providing them with a tool for creating "clear and target-oriented video messages." With the help of Loom's software, you can easily send great short video messages to your customers and co-workers, which will significantly improve communication and make it more personalized.
With over 14 million users and 200,000 companies, such as Netflix, Atlassian, or Amazon, utilizing Loom's tools, the company's solutions have the following strengths:
The ability to record your screen and camera on any device
Sending video texts to users who are logged out or don't have an account with the help of a link
Many interactive features, such as emojis or time-stamped reactions
Have you always wanted to create and sell your original designs? If this relates to you, you should take a look at what Printify has to offer. The organization partners with well-known e-commerce platforms, including eBay, Shopify, Walmart, and more. The company allows users to start selling custom products in several simple steps.
You only need to create custom products by adding your design to the chosen products, from socks to shirts and cups, and decide on the sale price, where to sell, and other basic features, and Printify will handle everything else. Once an order for your product arrives, the company will manage all the printing and logistics operations while you earn your money. 
Being an absolute leader in several design areas, such as web or interface design, Figma is a perfect solution for any designer. With the help of the platform, you can create the best user experience and user interfaces (UX/UI) solutions by developing prototypes, animating them, and sharing them with your team.
Figma allows you to create design solutions for various desktop, tablet, and phone screen sizes, animate your prototype to analyze their effectiveness, and build creative and attractive user interfaces. Another great feature the company suggests is sharing your prototype or a project with your team or customer to make changes or find areas for improvement. With brands like Slack, Twitter, or Dropbox solving problems in Figma, this company is an option to consider. 
Founded in 2012, Riskified is a company that provides software as a service (SaaS) fraud prevention technology. The company utilizes an AI-powered platform to provide its e-commerce clients with optimal user experience by optimizing and streamlining the checkout journey and identifying real customers.  
Additionally, with the help of machine learning (ML) algorithms that analyze over 1 billion transactions to prevent and reduce fraud attacks, Riskified manages to provide its users with high-level security. The software is trusted by numerous brands, including Prada, Ticketmaster, Wayfair, and more. Don't hesitate and check out Riskified's e-commerce risk management and revenue-critical solutions. 
Language learning might be a complex and sometimes exhausting process. Hence, finding an app or software that will improve your language-learning experiences and increase efficiency is crucial for any language learner. Being on the market since 2008, Babbel is a German language learning software able to bring an innovative approach to your studying.
With two main options, Babbel App and Babbel Live, the software allow you to choose the most convenient learning style for you. Babbel App represents award-winning self-study courses that help you learn a new language and build your personalized learning routine that doesn't disrupt your schedule. On the other hand, Babbel Live suggests users participate in live online language classes with world-class teachers. Hence, the software is a must for every language learner. 
Although almost all teenagers want to become independent from their parents as soon as possible, being an adult is sometimes complicated. Therefore, Realworld helps future adults prepare for their adulthood by providing them with all the required information and valuable advice.
The company helps teenagers and young adults dive deeper into all aspects of adult life, such as health insurance, investing, car maintenance, taxes, and more. In addition, the platform allows you to create great to-do lists to cover all tasks across finance, health, work, and life in one place. Realworld covers all difficulties young adults might face, from tax filing to get their first pet. If you need to get a piece of advice or are concerned about various matters of adult life, this app is perfect for you. 
Did you ever need to take a night ride from one place to another but didn't want to spend all of your money on a taxi? Then, Heetch is a great French startup to know about. The company created a ride-sharing app that facilitates night transportation and provides an alternative to expensive taxis.
Currently working in Belgium, Angola, Algeria, the Netherlands, France, Malta, Senegal, and Morocco, Heetch offers its users low commission fees, transparent destinations, as well as lower prices for night travelers. On the company's website, you can take a look at the webpage for each side of the ride – the driver and the passenger. If you are looking for a safe and cheap way of night transportation, Heetch has you covered. 
Remove.bg
Removing the background in a picture is one of the most common requests when it comes to editing your photos. Remove.bg is an AI-powered tool that allows you to do so in seconds. With the help of the app, you can remove your background and replace it with another picture or keep it grey. In addition, the tool has official plug-ins for Windows, Linux, Mac, and Photoshop, which makes the software even more convenient to use. With such well-known customers as Samsung, Sony Music, and Canva, Remove.bg has various solutions for e-commerce, marketing, developers, photographers, media, and many other industry representatives who need to edit their pictures. If you are looking for a simple tool to assist you with photo editing and removing backgrounds, you should consider Remove.bg.