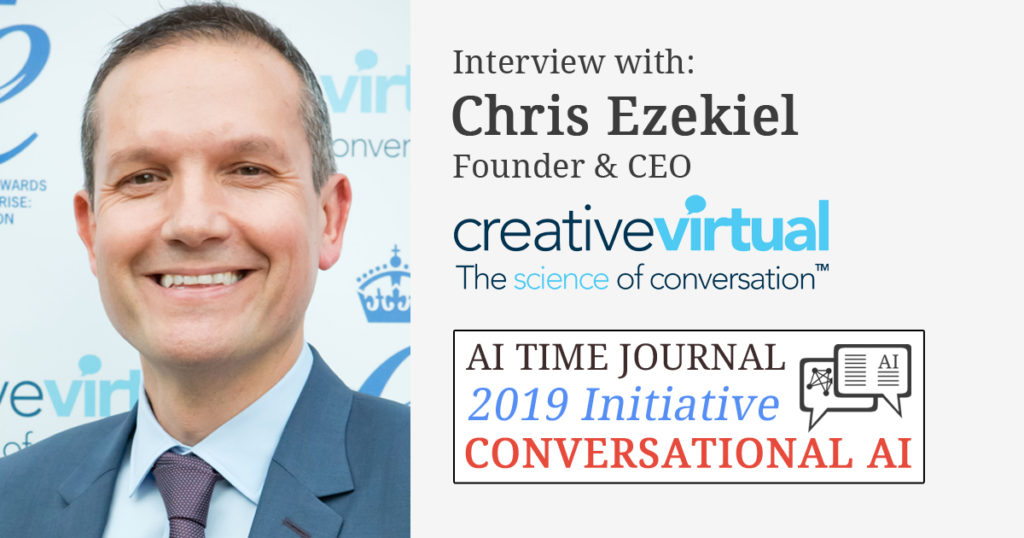 Chris Ezekiel is the CEO and Founder of Creative Virtual, a conversational AI company that focuses on delivering accurate, personalised and seamless omnichannel customer engagement for enterprises.
In this interview, Mr. Ezekiel shares insights on why enterprise should start using conversational AI to scale customer support operations, create better and personalised experiences for their customers, and interact with their own employees.
This interview has been featured in the Conversational AI Initiative 2019.

---
Creative Virtual Q&A
What is your background and what made you start Creative Virtual?
A passion for physics, computing and leading teams to create fantastic products all combined at the right time, causing me to fall in love with this space many years ago and giving me the inspiration to start Creative Virtual over 15 years ago. I first started working in the world of virtual agents in 2000 and, even though the technology was very much in its infancy at the time, saw huge potential for innovation and growth in the industry. I'm proud to have started a company that, as a pioneer in this space, has played and continues to play an important role in the advancement of conversational AI technology and the ways in which it can be implemented.

What does the company name, Creative Virtual, and tagline, The science of conversation™, stand for?
Our company name and tagline are all about deploying our passion, experience, innovation, and creativity to enable people and machines to work in perfect harmony, to create the ultimate way for organisations to interact with their customers.
Who are Creative Virtual's customers and how do you create value for them? Are most of your customers in a particular industry, and if yes, why?
We are very proud that our company's very first customer is still a customer today! Creative Virtual's current customer base spans the globe and industries. While many of our customers are in the financial services and telco sectors, we also have long-standing travel/hospitality, charity and government customers. There are three main areas where we help our clients: providing self-service to customers, assisting live agents to better service customers and providing self-service to employees. We create value by improving the customer/employee experience, reducing support costs and staff turnover, increasing sales, and providing powerful insights into customer behaviour and interactions.
Tell us about the Creative Virtual team.
The Creative Virtual team is the company's biggest asset. The experience and expertise of our team are the key differentiators for us in the industry. Our CTO and Head of Innovation have been with the company since the beginning, and several others got their start in the virtual agent space in the early days of the technology, as I did, before I founded the company. Long-standing employees (a number with more than a decade with Creative Virtual) and newer team members work together to collaborate on new innovations and creative solutions for our clients.
What are the biggest challenges that you are currently facing at Creative Virtual?
The lack of understanding that organisations have about deploying conversational AI solutions is a big challenge in the industry. Just a few years ago this was due to them not really knowing much about virtual agents and chatbots or how these tools can be used to improve the customer and employee experience. Now there is more of a general understanding of what chatbots are and the lack of understanding stems more from media hype around AI and confusion created by other vendors making false promises about the capabilities of the technology.
While this is a challenge, it also represents a significant opportunity for Creative Virtual due to our vast experience in this space and the knowledge of our expert team combined with our award-winning technology. We're able to provide organisations with the consultation services they need to really understand the possibilities – and limitations – of the technology and develop a customised implementation plan rooted in industry best practices.
What are Creative Virtual's biggest achievements in the last 12 months?
We are currently celebrating our company's 15th anniversary! Earlier this year Creative Virtual was named the AI-Enhanced Customer Self-Service Product Leader by analyst firm Frost & Sullivan for our chatbot, virtual agent and live chat technology. In September 2018, we were listed on The Sunday Times Tech Track 100 as one of Britain's fastest-growing technology companies. And we've also been continuing our celebration of our Queen's Awards for Enterprise – a five-year award we won in the category of Innovation. We're also delighted when our customers and partners win awards. Recently Transport for NSW in Australia was shortlisted for the Prime Minister's Awards for Excellence. Last year they won three awards with their Transport Bot RITA.  
Walk us through Creative Virtual's products, and what problems they solve. 
Creative Virtual provides industry-leading virtual agent, chatbot and live chat solutions (V-Person) underpinned by a powerful orchestration platform (V-Portal) that brings together humans and AI to deliver anywhere, anytime customer and employee engagement. Today our solutions are used to provide general customer service and support, personalised support for logged-in customers, customised support and training for live agents in the contact centre, and internal service desk and HR support for employees.
Our products are designed to empower organisations to deliver consistent, accurate, personalised and seamless omnichannel engagement. To achieve this, we offer flexible integration options and unlimited customisation by channel, product, business unit, user profile and device. Our many years of experience in the industry has enabled us to develop industry-specific NLP (natural language processing) libraries and intent libraries which we continuously work with our customers and partners to maintain. These NLP libraries are currently available in over 30 languages. We also offer options for hosting on-premise, in the cloud and in a private cloud. We work closely with each of our customers to build solutions that meet their specific goals. 
What channels do you provide chatbots for? Are you specialized in one specific channel? Why? What are channel-specific challenges and/or opportunities for enterprises to leverage bots?
Our chatbots and virtual agents are designed to be implemented across contact channels – web, mobile, social media, messaging apps, IVR, smart speakers, contact centre, service desk – to help enterprises create a seamless and consistent omnichannel experience. Typically, the organisations we work with will start with one channel and then expand their solution to other channels.  For example, they may start with a chatbot on their website, and then deploy it on a messaging app like Facebook Messenger, integrate it with a smart speaker like Amazon Alexa or Google Home and even use it to assist agents in their contact centre. The orchestration platform that backs our chatbot and virtual agent technology enables enterprises to maintain the content for all these deployments in one place while customising for each channel.
When there was an explosion of interest and hype around chatbots a few years ago, many organisations jumped on the bandwagon and deployed a channel-specific solution. While it was great that they were able to provide 24/7 self-service on that channel, this created a disjointed experience for customers because the chatbot wasn't linked up with any other channels. Internally, these companies then also faced the challenging of having yet another siloed tool to maintain. Now that the hype has calmed down a bit, enterprises are coming to understand the reality of chatbots and the benefits of having a solution that allows for omnichannel deployment.
Which internal processes are you helping enterprises automate with bots & conversational AI?
There's a long list of processes we're currently helping enterprises automate – and even more in the pipeline. This list includes device support, resetting passwords, all things HR, creating, escalating and checking the status of tickets, handover to live chat, arranging a callback, single sign-on, and catalogue lookups. The flexibility of our technology and integration options make it possible for us to help enterprises improve efficiency and create a better experience for employees through these types of automation. 
How do you measure the performance of your bots?
We use a variety of stats to measure the performance and success of our bots – the number of conversations, percentage of contact deflection, containment, first contact resolution, average call handling time for live agents, completed transactions. Just as each of our deployments is customised to that client's needs, we also customise our reporting and how we measure the performance for that particular system. Many of our virtual agents collect feedback from users, either during the conversation (so we can analyse the helpfulness of individual answers or conversation flows) or at the end of the conversation (to evaluate the success of the overall interaction).
What is your experience with voice-enabled interfaces? 
Our technology can be integrated with any voice technology and, because of the powerful orchestration platform we have developed to back our chatbot technology, we can easily customise an existing bot on another channel – such as a website or messaging app – to be deployed on a voice channel. For example, we currently have chatbots deployed on smart speakers for several of our customers. Rest, a financial services company in Australia, has their virtual agent Roger available on both Amazon Alexa and Google Home for their customers.
---
Conversational AI Q&A
In a world where customer experience is THE differentiator, one of the biggest opportunities for organisations implementing conversational AI is the ability to provide a superior and personalised experience to their customers.
How can enterprises get started with their conversational AI strategy?
This may sound strange coming from the owner of a technology company, but I truly believe that the key to a successful conversational AI strategy is to work with an experienced team of people. My recommendation is to start with the guidance of an experienced partner that can help you chart a more thoughtful course through the confusing set of options in the industry today. Enterprises need to be smart about the choices they make and not get swept up in the AI hype and empty promises if they want to have a successful conversational AI strategy that will not only work today, but also set them up for future innovation and expansion.

What are the biggest opportunities for enterprises to leverage conversational AI?
In a world where customer experience is THE differentiator, one of the biggest opportunities for organisations implementing conversational AI is the ability to provide a superior and personalised experience to their customers. They can deliver on customer expectations for an experience that is effortless and embedded within their normal day-to-day activities. The interaction with your organisation becomes like that of friends interacting with each other.
The other big opportunity enterprises too often overlook is leveraging conversational AI to provide that same type of effortless, personalised experience for their employees. That can be onboarding new team members, training and supporting contact centre agents, delivering internal service desk support, offering easy self-service for HR questions – the list goes on and on. 
How will voice-enabled conversational interfaces change the game? 
I think people get too carried away with voice – it's already there. It's just another way of interacting with the type of multi-modal interfaces we are already delivering. People don't need to think about it, they just communicate naturally with the mode of their choice and seamlessly switch between touch, type and talk. Sure, voice will carry on improving, and therefore people will use it more. But it will be alongside the other interaction methods, not as a complete replacement. Creative Virtual already has customers successfully using their chatbots in Amazon Alexa and Google Home.
How can enterprises leverage conversational AI to make their customers happier and more satisfied?
I could quote numerous surveys and research results talking about the growing importance of supporting customers on digital channels and the increased expectations of customers to be able to quickly and easily self-serve. As a company, we also hear from enterprises that are looking for ways to better engage with a growing customer base of digital natives. Conversational AI is the perfect fit. When implemented properly, a conversational chatbot can become the central place for customers to ask questions and get instant support across touchpoints. Within the contact centre, conversational AI can be used to support live agents helping customers over channels such as phone, email and live chat. When agents know they always have instant access to information, their focus moves from trying to retain knowledge to building relationships and trust with customers. The result is happier and more satisfied customers.
Which conversational AI-related technology trend do you think will have the biggest impact in your industry in the coming years?
The continued blending of machine learning and human curation of content and placing the control of that within the organisation's existing workflows is going to be hugely important. Conversational AI will just become part of the organisation's fabric – fully embedded into all functions and processes – for both customers and employees.
---
Editor Update, April, 2020: We reached out to Chris for a comment on the trends of Conversational AI, the Q&A follows.
What have been the most relevant developments, breakthroughs and advancements in Conversational AI in your industry in 2019, and what do you foresee for 2020?
In 2019, the industry saw companies place more focus on personalisation, voice and smart speakers for customer support. There was also an increase in companies looking to implement conversational AI solutions to better their employee experience in areas such as ITSM, HR and in-branch support. Last year was also a turning point in how the market and analysts viewed the role of AI, with the human and AI hybrid approach for chatbots really becoming accepted as best practice. Along with this, organisations realised that they need to have and/or work with people skilled specifically in this technology in order to implement successful projects.
This year voice will continue to be a focus with companies exploring conversational AI solutions on the IVR channel and moving forward with more contact centre integrations. As the technology continues to mature, the market will see more sophisticated dialogue management and transactional functionality. There will also be continued innovation around how these solutions improve with both human and machine learnings as well as ways companies can fit this into internal workflows.