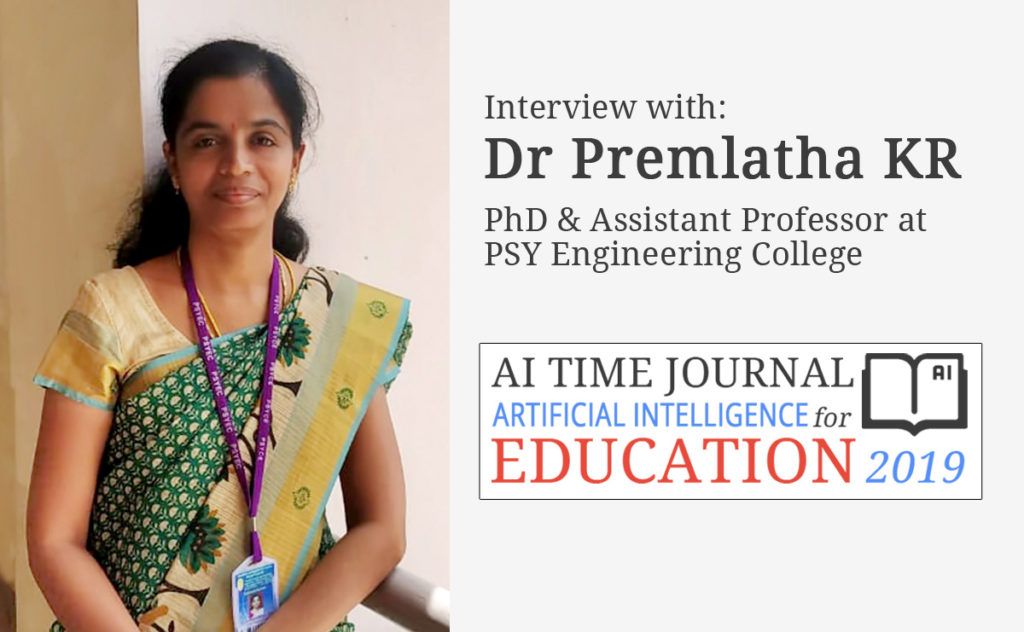 Dr Premlatha KR is an Assistant Professor and Head of the Department of Computer Science and Engineering at Pandian Saraswathi Yadav Engineering College in Sivaganga, Tamilnadu, India.
Dr Premlatha KR is also a committee member in the AI for Education 2019 Initiative, an AI Time Journal initiative which aims to identify and highlight the most beneficial and impactful applications of artificial intelligence technology in education.
In this interview, Dr Premlatha shares her views on how Artificial Intelligence technologies can be leveraged to solve major challenges in the educational system.
This interview has been featured in the AI for Education Initiative 2019.

---
First of all, I would like to thank the Committee for giving this big opportunity to express my views in the field of AI for Education. AI for Education 2019 is a good initiative and we are a long way aback from achieving the full essence of this initiative. It is my pleasure to bring to your notice about some of our students' contributions in AI Time Journal. In our college's AI-Club, we use OpenCV and Tensorflow technology in some of the on-going Machine Learning projects. On account of our students' interest in ChatBots, we are planning to develop and work on them with the aim of updating our college website.
Considering AI for Education, I would like to share my views on teaching, learning, and classroom environment. 

What are the major challenges in the educational system today? How can AI technology help solve or mitigate them?
The contemporary educational system should provide students with Interactive learning, Activity based exercises, and Hands-on training. Achieving the above mentioned things are the major challenges here. How are we going to make it reach students for effectiveness? Explaining theoretical concepts in classroom are of less use. Mapping with real-time examples will make it easy for students to comprehend even complex concepts. Every student is unique and has different capability in the terms of knowledge, preference and learning style. AI technology comes into light here as it can provide an adaptive learning system to students.
In the Current Education System, for example, differently abled students are rejected until they satisfy some criteria with respect to learning. Overcoming these issues are made simple with the AI knowledge to build special models for them. For instance, AI, remaining as the base for everything, can help build more applications like EyeSense for visually impaired.
What are the major opportunities brought by AI in Education today? 
AI technology in education has benefited both teachers and students with an array of possibilities.
Teachers benefits
Powerful evaluation data/method for teachers.
Can customize existing courses.
Analytics of school and subjects data.
Evidence-based approach to targeting interventions.
Planning lessons.
Real-time analytics about class performance
Reduces workload and improves outcomes.
Growing online libraries.
Students side
Continuously adapting pathways for students.
Personalized learning path.
Actionable insights into each student's understanding and skill
Encourages home learning
Students can learn independently
Students can attain top tier education
How can teachers prepare for an AI-powered education?
From the Academic aspects, basically, teachers need to have a deep understanding of learning and pedagogical principles. They need to ensure that these are all incorporated into the design of the platform and the learning content. From the technical aspects, teachers require specific training and they need to know implementation requirements on AI Education platforms.

Which AI technology do you think will have the biggest impact in Education in the coming years, and why?
In upcoming years, the following will make greatest changes.  
Machine Learning can be applied in: 

Mobile Learning Environments.
Agent Based Educational Applications.
Distance learning environments.
Educational Social Media and Social Learning Blogs.
Instructional Design etc.

Deep learning:

Translation of text from images using stacked neural networks.
Students' Language Recognition – differentiate dialects of a language.
Learning Content/Text generation.
Image caption generation for KG/primary students.
Automatic Handwriting Generation.
Deep learning Robots for teaching.

NLP for preparing learning materials and processing articles.
OpenCV for monitoring Students' Classroom activities.
Educational Chatbots – serve as a tutor; serve as virtual advisers for counseling the students, Enquiry and feedback collection and Professor Assessment. 
How should educational system management software adapt to the advent of AI?
The software should be able to adapt the AI technology without affecting the basic theme of the educational system.  For example, if the software system is providing writing and grammar activities for students, improving the writing/reading performance can be done by adapting NLP technology. Likewise, TensorFlow technology is the backbone of the Quill Grammar tool and can exactly detect if a student's responses are correct. Once the students complete the exercises, they will get a customized explanation of incorrect responses. Eventually, the tool learns from each response to create a personalized plan focused on areas of difficulty of each student. 
If a software system provides online learning courses, we can add facilities such as to suggest the next courses even with increasing the complexity level of learning content based on the learners' performance, and automated performance assessment by using machine learning techniques.

What are the current technological limitations of AI which, once overcome, could bring massive improvements to the educational system?
Even though AI has its own place in the Education domain, the following questions need to be answered before bringing a fully fledged AI-based education system.

How will AI in education impact teachers when brought?
Can teachers apprehend AI related concepts?
If those are going to be automated learning sessions, what purpose would teachers serve?

 Whether AI based Education system can convey a concept completely? 
Nevertheless, sometimes teachers must be needed to explain the concepts dynamically with examples to clarify the students' doubts as the system cannot respond dynamically. Although, training a model with massive data is done, we get a limited response only. The machine cannot explain the concepts to the students in the way they want. Learners may differ based on the knowledge level. These can be easily captured by teachers but not a machine. Even if the system captures, the knowledge will be only limited. It will respond based on the particular trained data accordingly. As a teacher, we have a wide knowledge and we can tell any real time examples spontaneously in day to day life. But for machines, we need to feed everything and give training. 
Once we overcome the above mentioned limitations, we could bring enormous improvements to the educational system using AI.
What do you think are the biggest obstacles in applying AI in the educational system?
From a technological viewpoint, one of the greatest challenges to AI is a lack of good data and resources for training and utilization. Training the models requires enormous amounts of data and very fast systems. High-performance computing systems are expensive, which reasons for the fewer actions taken in deploying AI.

Where do you see AI for education in the next 5-10 years?
Artificial intelligence has the power of managing the learning content and syllabus in an enhanced way, as it can evaluate what works finest and which ideas can be understood well with certain techniques. Students will achieve a customizable learning experience. Teachers can predict the learners' path easily. Schools and Universities achieve balanced assessment system based on students/teachers performance exclusively. AI can bring necessary changes in the educational system in a far better way on the followings.
Adaptive e-learning
Online education systems
Personalized learning
Recommender systems for course identifying
Smart learning content
Global learning
When we brought AI technology full-fledged in education domain teachers and students will acquire more benefits. Overall, AI technology helps us to improve the Educational domain systems in the nearest future.