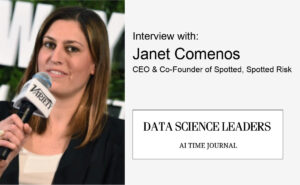 How did you become involved with Predictive Analytics in the Insurance Industry?
My co-founder and I wanted to bring our tech and analytics experience to the MGA space to create a new type of MGA that uses analytics to develop and distribute insurance products that seem " uninsurable " in the traditional insurance market, seem "uninsurable."  We've developed a proprietary process to "spot" these underserved opportunities and underwrite the exposure in a rigorous and analytical way that will generate profitable results for our capacity partners. 
Note: An MGA, or Managing General Agent, is an individual or company that can act as a broker or agent on behalf of an insurer. However, unlike typical agents, an MGA has the authority to underwrite the policies they end up selling to clients.
What are some myths that folks in your industry should ignore?
One myth is that newcomers can't break into the insurance space (they can). We got into the entertainment insurance space with no prior experience. I will say that it is certainly harder this way. If we had purchased an existing book of business in the space, it would have sped up our ability to generate a real premium more quickly.
Another myth is that the MGA setup process is difficult (it was not). Setting up an MGA is not rocket science. There are all sorts of firms out there that charge MGA founders an arm and a leg to handle the operational parts of getting an MGA off the ground. We did this ourselves and I am glad that we did. Writing meaningful premium as a new MGA is difficult, whereas setting up the MGA is not.
Your company deals with a lot of data. What techniques are you deploying to collect and synthesize this information?
One technique we use regularly is developing our own proprietary scores that are used in our underwriting guidelines. For example, we developed our own Civil Authority Shutdown Likelihood score that assesses a location's likelihood to be shut down because of Covid by a Civil Authority. This score is driven by inputs related to that location's political environment, past shutdown history, the local hospital bed to population ratio, among many other factors. We then refine the weightings of the inputs over time as we continue to backrest the accuracy of these scores over time.
How does the predictive analytics you incorporate produce results and increase the value to your customer?
Our predictive models help us extrapolate an emerging risk for our capacity providers in ways that our less analytically and savvy competitors have trouble doing. This, in turn, results in us being able to offer coverage to our customers that the rest of the entertainment industry is unable to offer.
What are the common uses for your data?
SpottedRisk focuses on emerging risks where proxy data must be used when developing predictive models. For example, we launched our Covid Film & Tv product in August 2020 when there was very little historical data to rely on but plenty of high-quality proxy data to use. The proxy data helped us model the exposure in a conservative fashion and the line ran extremely profitably even at the height of Covid. 
If your customers didn't use Spotted Inc., what are the potential risks?
Customers that don't use our products are generally self-insuring. This becomes a risky proposition for smaller customers, who would be enormously impacted if they were to suffer a large loss from an emerging exposure. The risk for bigger clients is not as great. We say at SpottedRisk, our biggest competition is often that of the "no sale buyer," where the insured will simply elect to self-insure. It is critical our products are priced appropriately to attract the attention of buyers who might otherwise self-insure. More recently, we have focused on products that are required rather than electives, so we aren't competing with clients' self-insuring. 
What do you see as the next phase of offerings for Spotted, Inc?
We are expanding into several other lines of specialty insurance. We're taking a hard look at the IP and cannabis space at the moment.