Starting from the price, the Netatmo Welcome and the Nest Cam IQ Indoor are two different cameras, but if you're looking for a smart home security camera with face recognition abilities, these are two of the main options out there. 

In this article we will see how they compare in terms of convenience and from a security standpoint. 

Spoiler alert: in terms of security, there's not a huge difference, if none at all.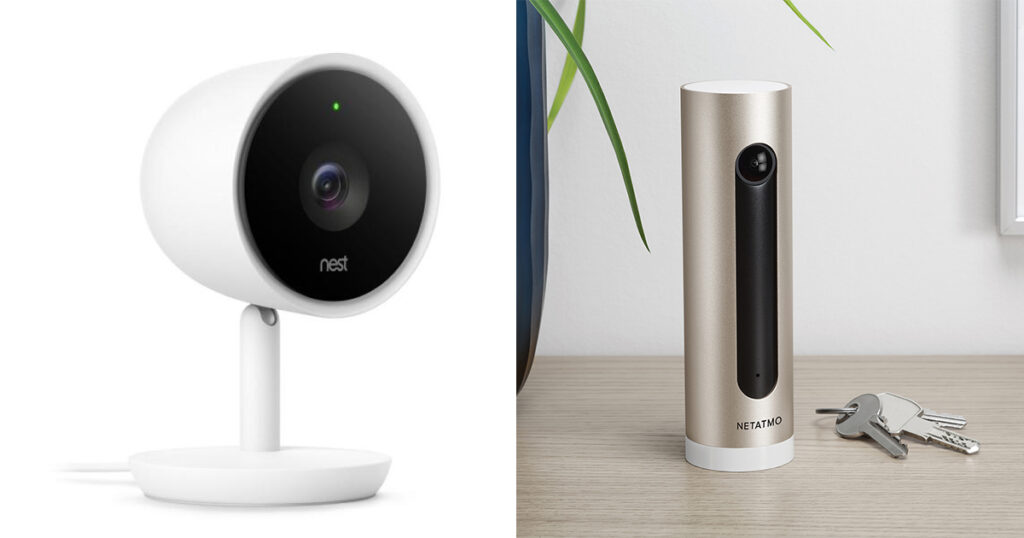 In fact, being able to recognize familiar faces and reduce false alarms, both camera can be looked as great options for 2021. 

Here at AI Time Journal, we value those products that bring artificial intelligence into our life in a meaningful way, and that's why these cameras are to be considered as great security device, not just toys with useful perks. 

If you want to know more about what features make a camera great in terms of security, you can read this article.

Now, let's take a closer look at the two cameras. 
Table of Contents
Comparative table & specs
| | | |
| --- | --- | --- |
| Product | Nest Cam IQ Indoor  | Netatmo Welcome |
| Image | | |
| Video quality | Full HD 1080p  | Full HD 1080p |
| Field of view | 130° | 130° |
| Night vision | Black and White | Black and White |
| Audio | 2 way audio | 1 way audio |
| Digital Zoom | 12x  | 8x  |
| Storage | Cloud: Nest Aware | Micro SD / Dropbox / iCloud / FTP |
| Power source | Cable | Cable |
| Compatible platforms | Google Assistant / Alexa | Google Assistant / HomeKit Secure Video / Messenger |
Important similarities
Both cameras offer great image quality with Full HD 1080p resolution, which is the standard in 2021
Both cameras have familiar face recognition abilities, which is what makes these cameras stand out from the competition
Both cameras are designed to work indoors
Both cameras have activity zones functionalities
Both cameras offer 130° field of view
Main differences
The Netatmo Welcome offers many options to store the footage and none of them require you to pay for a monthly subscription
Netatmo Welcome is much more cheaper and delivers almost the same standards in terms of security
The Nest Cam IQ Indoor comes with a 24/7 continuous live streaming recording
Live streaming is much more on time on the Nest Cam IQ Indoor
Nest Cam IQ Indoor has 2 way audio that lets you talk through the camera
The user experience, in terms of literally using the camera and interacting with it, is just better on the Nest Cam IQ Indoor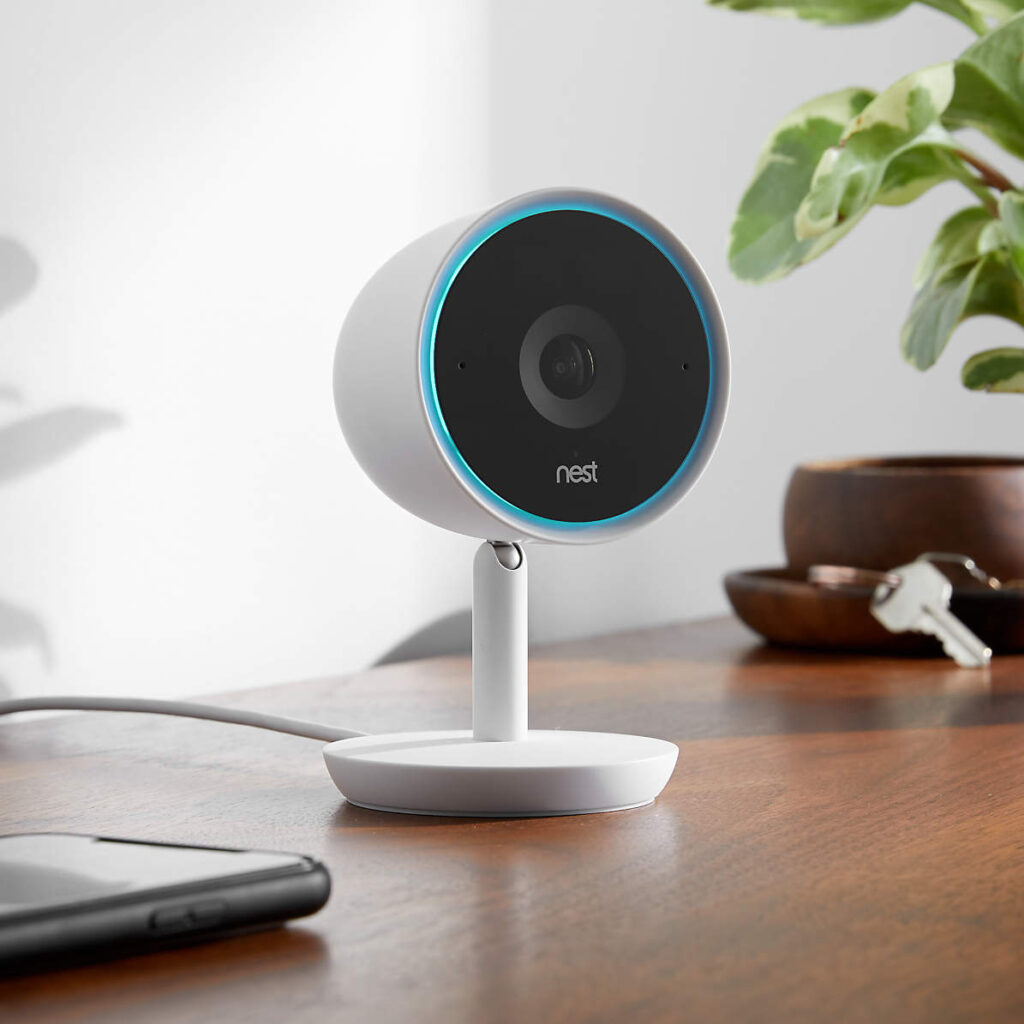 Video and audio quality
The image quality per se, is not where you'll find the main differences between the two cameras, because they both have a standard 1080p resolution. There's just going to be a slight difference in the overall performance. 

The Nest Cam IQ Indoor is better in live streaming and digital zoom. In fact, with the Netatmo Welcome some users reported experiencing a significant 5 to 10 seconds lag time, whereas with the Nest Cam the access to the live stream is much quicker, and you can really see what's going on in a room as it happens. 

Read also: Best WiFi Security Cameras with Face Recognition
Digital zoom is also much more powerful on the Nest Cam IQ Indoor, with 12x you're going to be able to really get close to all the details in the frame.  
For night vision the Nest Cam IQ Indoor camera features 16 infrared LED lights for black and white mode, which is more than you can say for most cameras, even the Netatmo Welcome.

So, the Nest Cam IQ Indoor performs slightly better in various different aspects in regard to image quality. But this is not something that should automatically make you underestimate the Netatmo Welcome camera. 

In fact, from a security standpoint, these small benefits that come with the Nest Cam have little to no effect. What is going to be improved by a better live streaming, stronger digital zoom and 2 way audio, is the overall user experience, which is still pretty good with the Netatmo Welcome.  
Image recognition and face recognition
A whole different story goes for image and face recognition. If outstanding performances in terms of video quality are not what make a real difference for security, Artificial Intelligence is not something you should settle on. And here's where both cameras offer great standards. 

In fact, both cameras have basic image recognition abilities (to part motion from animals, cars and people) and, more importantly, facial recognition for familiar faces. 

Face recognition lets you create a library of known faces that, when detected, won't trigger an alert, drastically reducing the amount of false alerts. I talked about the importance of this feature in this article. Here let's just say that without face recognition, your home security camera won't be anything more than an annoying device that alerts you every time a family member passes in the field of view. 

Great security standards then. But there's a difference worth pointing out. 

That is in how, or where, the algorithm works. In fact, the Netatmo Welcome is able to do this locally, meaning that you won't have to subscribe to a cloud service plan, whereas with the Nest Cam IQ Indoor this is handled in the cloud, meaning you'll have to subscribe to Google's Nest Aware service. 

I'll talk about the specifics in the next paragraph, but let's just say that in terms of convenience Netatmo offers a much easier and cost effective way to add a smart (a truly smart) home security camera to your house. 

So, with the Nest Cam, you won't get face recognition, unless you subscribe to Nest Aware. 

Read also: Netatmo Welcome – Complete Review
Storage & privacy
Here's where the two cameras are really different. With Netatmo you'll have many options to store your footage ranging from a Micro SD card, Dropbox and an FTP server. Great options, and considering that it integrates with Dropbox, you get a camera with free cloud storage. 
On the other side, with the Nest Cam IQ Indoor you'll have to subscribe to Nest Aware not only to store the footage, but also to use certain functionalities. So, getting the Nest Cam without subscribing to their program is not something that should be considered, because you'll basically get half a camera. 

That being said, Nest Aware is among the safest options in terms of privacy, offering two-factor authentication. But it's not the most convenient among the cloud storage based cameras.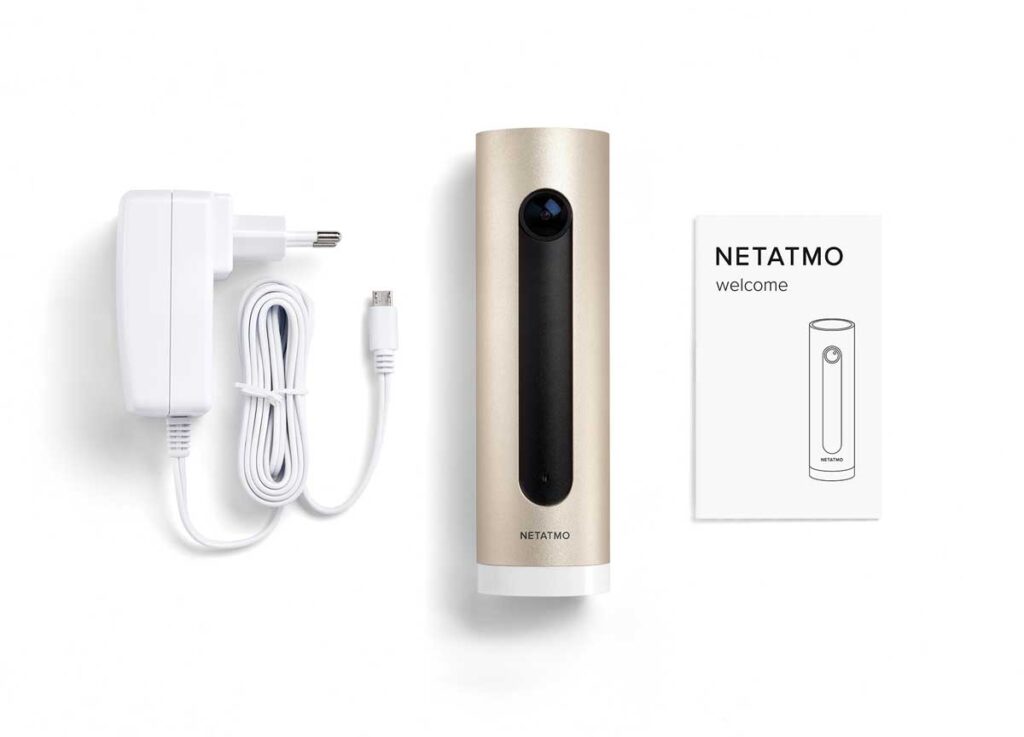 In fact, most brands offer plans based on storage space and number of cameras. Apple's HomeKit, for example, offers a 200GB plan if you have one camera, and a 2TB plan up to five cameras. With Nest Aware you can choose between two different plans that only enable you to use them on one camera. Which is not bad per se, but you should plan in advance how many cameras you're going to add in your house and see if it's worth going for a complete Nest security system. 

Read also: Should You Add a Nest Cam to Your Homekit Smart Home
Also, if you subscribe to the Nest Aware plan, you'll get continuous streaming 24/7. Now, this is not something that is going to improve the efficiency of spotting intruders and receiving alerts. But it makes the Nest Cam pretty unique in the landscape of home security cameras. In fact, continuous live streaming can be deployed on many cameras, but only if you implement them with NAS or NVR systems. 

The Nest Cam IQ Indoor offers 24/7 streaming included in their premium package, which is great, since it's going to add that extra layer of security in helping authorities should something go wrong. 
Compatible platforms
Here is where the two cameras take two different roads, as should consumers that decide which way to go. 

Now, the Netatmo Welcome is compatible with HomeKit and HomeKit Secure Video, this means that it's the perfect device for anyone who's building a smart home based on Apple's HomeKit, but also that you can take advantage of all the great benefits they offer: such as Artificial Intelligence, cloud storage and activity zones. 

But having in-built face recognition abilities and free cloud storage on Dropbox, it's also a great camera if you plan to use it just with its native app. 

On the other hand, the Nest Cam IQ Indoor is a camera by Google, so of course it will integrate perfectly in that ecosystem. It is compatible with Alexa too, but you'll probably see the best performances (in terms of flawless user experience) when it's working in a Google Environment. 

Also, the Nest Cam IQ Indoor can be integrated with Philips Hue lights so that when motion is detected you can set the lights to turn on, this means that instead of having the black and white night vision you can have a color night vision. Also, if you have an outdoor camera, you can turn on the lights inside your house as soon as an unknown person is detected. 

That being said, it's important to see how the Netatmo Welcome is a great camera even if you use it as it comes out of the box, with no subscriptions and outside a smart home ecosystem; as opposed to the Nest CAm IQ Indoor, which is a great camera if you at least plan to subscribe to Nest Aware, otherwise is going to be a pretty expensive toy with little use for home securtiy. 
Pros and Cons: Nest Cam and Netatmo Welcome
| | |
| --- | --- |
| Netatmo Welcome | Nest Cam IQ Indoor |
| Most convenient | Quite expensive |
| No subscription needed, free local and cloud storage | Requires subscription for storage |
| Great security standards at a reasonable price | Great security standards |
| In-built Artificial Intelligence for familiar facial recognition | Requires subscription for Artificial Intelligence footage analysis |
| Live streaming might have lag time | Perfect live streaming |
| No two way audio | Perfect two way audio |
| Record when motion is detected | 24/7 continuous streaming |
| Standard app design and user experience | Impressive app design and flawless user experience |
| Check price on amazon | |