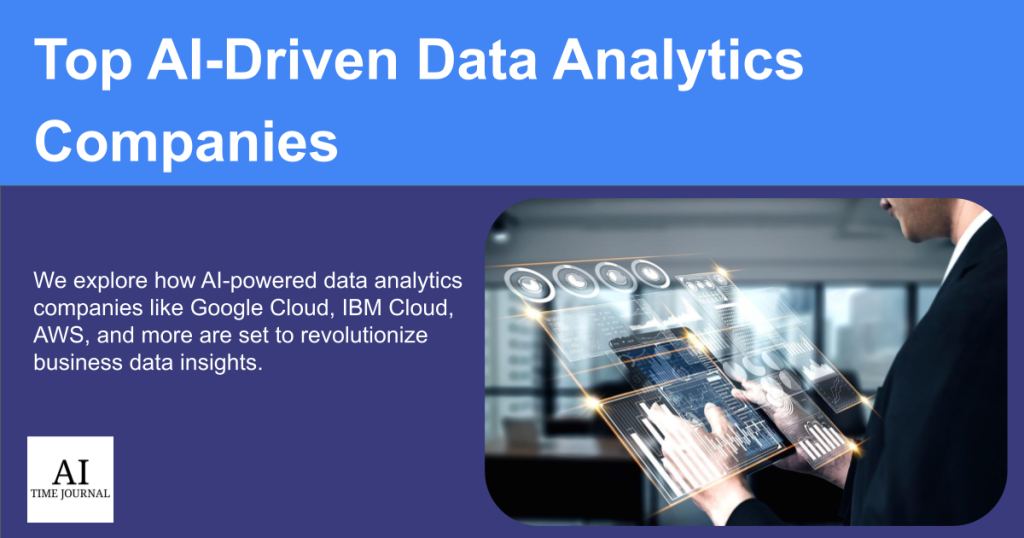 The year 2024 promises to be a pivotal one in the fast-changing field of data analytics, with artificial intelligence (AI) exerting enormous influence. Business organizations are always seeking to extract valuable insights from ever-expanding reservoirs of data, and the role of AI-driven data analytics companies is becoming increasingly paramount. In this article, we set out on a quest to investigate the top 10 business titans positioned to completely alter the data analytics landscape by the year 2024.
These companies, including stalwarts like IBM Cloud, Google Cloud, Qlik, Salesforce, and AWS, are at the forefront of innovation, harnessing the power of AI to unravel complex data puzzles and empower businesses with actionable intelligence. Their advanced tools, solid platforms, and unmatched experience are revolutionizing how businesses use data to make strategic decisions. Take a look as we explore the field of AI-driven data analytics and identify the innovators whose products are tipped to propel organizations to new heights in the upcoming year.
Table of Contents
Having purchased multiple AI firms over the past few years, Google is a market leader in AI and data analytics. Google Cloud, the cloud computing division of Google, is renowned for its formidable presence in the realm of data analytics. They have positioned themselves as a dominant force in the data analytics sector by harnessing their tremendous experience in handling enormous volumes of data as well as their groundbreaking work in machine learning and artificial intelligence.
What makes Google Cloud different is aspects of their company like their vertical integration model. Google Cloud's vertical integration across data analytics, AI, machine learning, and cloud infrastructure allows for seamless end-to-end solutions, giving organizations a competitive edge in extracting insights from their data.
Key strengths of the company include their:
A robust infrastructure that includes Google BigQuery, a fully managed, serverless data warehouse. BigQuery allows users to analyze and query large datasets with exceptional speed and scalability.
Unparalleled expertise in AI and machine learning that provides a wide range of tools and services for data analysis, predictive modeling, and automation.
With a focus on security and compliance, Google Cloud provides cutting-edge security features and certifications, which are essential for businesses handling sensitive data.
Their collaboration with NASA's Frontier Development Lab to use AI and machine learning for space exploration is one noteworthy project they have worked on. The goal of this collaboration was to use data analytics to address challenging astrophysical and planetary research issues. Another example was when working with one of Australia's largest supermarket chains, Woolworths. With the goal to enhance its data analytics capabilities. The collaboration focused on improving customer experience, supply chain optimization, and personalized marketing.
IBM is already a pioneer in the field of artificial intelligence, with its famous Watson system that can answer questions and perform complex tasks. Has brought to us IBM Cloud, a subsidiary of IBM, which provides a range of AI and data solutions, such as conversational AI, predictive analytics, data governance, and data science. They are also a prominent player in the field of cloud computing and data analytics. Known for its rich heritage in computing and data management, IBM has transitioned into the cloud era with a robust set of cloud services and data analytics tools.
IBM's legacy and expertise as well as their industry focus is really what sets them apart from other companies. With a long history in computing and data management, IBM has developed cloud and data analytics services that take advantage of this knowledge. Many businesses have relied on this legacy knowledge. IBM Cloud also provides industry-specific solutions and consulting services, recognizing that different sectors have unique data analytics needs. This targeted approach aids businesses in those industries in addressing specific challenges.
There are many strong points of IBM Cloud some of which include:
A comprehensive suite of data analytics tools, including IBM Watson, which utilizes artificial intelligence and machine learning to uncover insights from structured and unstructured data.
IBM Cloud excels in hybrid cloud solutions, providing businesses with the flexibility to integrate their on-premises infrastructure with cloud resources. This is especially valuable for organizations with complex data and privacy requirements.
IBM Cloud is renowned for its rigorous security protocols and dedication to compliance. This makes it a popular option for sectors like healthcare and banking that have stringent regulatory requirements.
IBM Food Trust is a notable project of the company that uses blockchain technology and data analytics to enhance transparency and traceability in the food supply chain. It helps reduce food waste and improve food safety. All in all, IBM Cloud's strong legacy, AI-driven analytics, commitment to open source, and industry-specific solutions position it as a formidable player in the data analytics landscape.
AWS, another subsidiary this time of Amazon.com, is the dominant cloud computing platform that powers many of the world's most popular websites and applications. They are a global leader in cloud computing and offers a wide array of data analytics services. AWS has played a transformative role in the technology landscape, powering businesses of all sizes with scalable, flexible, and cost-effective cloud solutions.
AWS is the largest and most widely adopted cloud platform on earth, with a significant market share. Its scale and maturity make it a trusted choice for businesses worldwide. AWS also has a sizable partner network as well and a vibrant market for outside products. One example, is their partnership with the NFL, using the power of machine learning to provide next-generation stats for fans, players, and teams. By enhancing the capabilities of AWS services, this ecosystem enables users to extend and customize their data analytics solutions. AWS continually invests in innovation, regularly releasing new data analytics features and services. For example, AWS has introduced serverless data analytics with services like AWS Lambda and Amazon Glue.
Key strengths of AWS include:
AWS offers a full range of data analytics services, including Amazon SageMaker for machine learning, Amazon Redshift for data warehousing, and Amazon EMR for big data processing. This broad range meets a variety of data analytics requirements.
Data transportation, storage, and analysis inside the AWS ecosystem are made easier by the seamless integration of AWS data analytics services with other AWS solutions. Workflows are made simpler and less complex because of this integration.
AWS is renowned for its scalability, allowing organizations to scale their data analytics workloads up or down based on demand. This flexibility is critical for businesses with fluctuating data processing needs.
Another collaboration Amazon has had with a major company is their work with Netflix. Netflix relies heavily on AWS for its data analytics needs, particularly for content recommendation algorithms and user behavior analysis. AWS provides the scalability and computing power required to process massive datasets efficiently.
Another project of importance was working with General Electric (GE). GE utilizes AWS for data analytics in its various industrial sectors, such as aviation and healthcare. AWS helps GE optimize operations, monitor equipment performance, and predict maintenance needs.
Microsoft is another tech giant that invests heavily in AI and data innovation. Microsoft Azure is a cloud platform that offers various AI and machine learning capabilities, such as Azure Machine Learning, Azure Bot Service, and Azure Databricks. But really an overview of Azure can be broken down into Azure being Microsoft's cloud computing platform and infrastructure service. It offers a wide range of cloud services, including data analytics tools and solutions, making it a formidable player in assisting businesses in the cloud-based data analytics industry.
Azure stands out as a cloud provider and data analytics platform for several reasons. First off, Azure integrates seamlessly with Microsoft's extensive ecosystem of products, including Windows Server, Active Directory, and Office 365. This integration simplifies the adoption of Azure for businesses already using Microsoft technologies. Additionally, Microsoft is a major player in the enterprise space, and Azure is designed specifically to suit the demands of big businesses. It provides strong security features, certifications for compliance, and committed support.
Here are some important features offered by Microsoft Azure:
Hybrid cloud capabilities, allow businesses to seamlessly integrate on-premises infrastructure with Azure's cloud services. This is valuable for organizations with regulatory or data residency requirements.
With its extensive global network of data centers, Azure offers mission-critical data analytics workloads redundancy and low-latency access to cloud resources.
Azure's features show off Microsoft's extensive AI and machine learning knowledge. Building, training, and deploying machine learning models at scale is made possible for enterprises by Azure Machine Learning.
One of the major projects that Azure has been a part of is when Walmart teamed with Microsoft Azure to make use of the data analytics capabilities of the cloud platform. This partnership aims to improve supply chain operations, improve the consumer experience, and apply AI to diverse retail applications. AT&T has also chosen Azure as its preferred cloud service provider with a focus on utilizing Azure's data analytics capabilities to enhance network management, customer experiences, and predictive maintenance.
Salesforce is the leading customer relationship management (CRM) software provider that leverages AI and data to enhance the customer experience as well as business performance and has expanded its offerings to include data analytics capabilities. Founded in 1999, Salesforce has become a global leader in cloud-based CRM solutions, and its data analytics tools enable businesses to gain valuable insights from customer data. Salesforce offers an AI platform called Einstein that can provide insights, predictions, recommendations, and automation across various domains.
Some things that set Salesforce apart from other companies that specialize in data analytics include their customer-centric approach. Salesforce strong emphasis on helping businesses improve their customer relationships. Their CRM and analytics tools are designed to enhance customer engagement, retention, and satisfaction. Additionally, Salesforce offers a thriving Trailblazer Community that promotes communication and information sharing among users, developers, and administrators. This sense of community encourages data analytics innovation and best practices.
Some of the key strengths Salesforce has to offer to customers are:
Einstein Analytics is the company's AI-powered analytics platform. It offers features like predictive analytics, automated data discovery, and natural language processing, making it easier for users to extract insights from data.
Salesforce's core strength lies in its CRM platform, which is widely adopted across industries. The integration of data analytics with CRM data allows businesses to make data-driven decisions about customer engagement and relationships.
Salesforce, which provides the adaptability and scalability of cloud computing, is a pioneer in cloud-based software. This enables companies to access and analyze their data at any time and from any location.
Some high-profile projects salesforce has been their collaborations with Hershey and T-Mobile. Hershey's, a leading chocolate manufacturer, partnered with Salesforce to enhance its customer engagement and marketing efforts. By leveraging Salesforce's data analytics tools, Hershey's aimed to better understand consumer preferences and optimize marketing strategies. T-Mobile utilizes Salesforce's CRM and analytics solutions to improve its customer service and sales operations. Salesforce's data analytics tools assist T-Mobile in personalizing customer experiences and predicting customer needs.
DataRobot is a leading company in the field of automated machine learning (AutoML). Founded in 2012, DataRobot has quickly become a prominent player in the data analytics and machine learning automation space. Specializing in automated machine learning, making it easy for organizations to build, deploy, and manage machine learning models without requiring deep expertise in data science.
What truly makes DataRobot different from other data analytics companies is that they are pioneers in the AutoML space, making advanced machine learning accessible to organizations that may not have extensive data science expertise. This democratization of AI and data analytics is a significant differentiator. DataRobot has a vibrant ecosystem of partners as well, including data providers, consulting firms, and technology companies. This ecosystem enhances the platform's capabilities and extends its reach into various industries and use cases.
Key strengths of the company include their:
The importance of model interpretability and transparency is highlighted by DataRobot, which is essential for sectors with stringent regulatory standards, like finance and healthcare.
DataRobot's platform is used across various industries, including finance, healthcare, retail, and manufacturing, showcasing its versatility and wide-ranging applicability.
DataRobot regularly participates in AI for Good projects, such as those focused on social impact, healthcare, and environmental issues. This dedication to utilizing AI for good is consistent with its goal of democratizing AI.
One of the biggest banks in the world, HSBC, has teamed up with DataRobot to improve its credit risk modeling and simplify the model creation process. The goal of this partnership was to enhance loan decisions and credit risk assessment. Also, Coca-Cola Bottling Co. Consolidated used DataRobot's platform to optimize its sales and distribution operations. The company leveraged machine learning to forecast demand, allocate resources efficiently, and improve customer service.
Baidu AI Cloud
Baidu is the largest search engine and internet company in China that also develops cutting-edge AI technologies. Baidu AI Cloud, a division of Baidu Inc., is a leading Chinese cloud computing and AI service provider. Baidu AI Cloud offers a variety of AI-driven services, including data analytics solutions, and has rapidly gained prominence in the field of AI and cloud services. The company offers a range of AI and big data services, such as natural language understanding, speech synthesis, image recognition, and video analysis.
Something that separates Baidu from other companies is its strong presence in the Chinese market. Baidu is one of China's most prominent technology companies and is positioning Baidu AI Cloud as a natural choice for businesses operating in or expanding into China. Baidu AI Cloud's industry-specific AI solutions cater to the unique data analytics needs of different sectors. This approach ensures that organizations can leverage data analytics to address specific challenges within their industries.
Despite having its origins firmly planted in China, Baidu AI Cloud now offers cloud computing and AI services all over the world. This makes its data analytics tools and AI skills available to enterprises worldwide.
Here are some of the key elements that Baidu AI Cloud features:
Their extensive AI knowledge is Baidu. Using this understanding, Baidu AI Cloud offers sophisticated AI features including computer vision, machine learning for data analytics, and natural language processing.
Offers a scalable and reliable cloud infrastructure that enables businesses to store, process, and analyze large volumes of data efficiently.
Some notable projects that Baidu AI Cloud has been a part of include their Apollo Project focuses on autonomous driving technology. Baidu AI Cloud plays a crucial role by providing data analytics and AI solutions for autonomous vehicles, enhancing safety and efficiency on the road. Next is, "Baidu Brain" an AI platform that drives many apps, such as Baidu's AI-powered content recommendation engine and virtual assistant, DuerOS, improving user experiences with insights from data analytics.
Qlik is a global leader in data analytics and business intelligence (BI) solutions. Founded in 1993, Qlik has a long history of providing innovative tools that enable organizations to extract insights from their data. Qlik offers data analytics and visualization solutions that focus on user-driven exploration.
As a business and provider of data analytics, Qlik sets itself apart in a number of ways. Users can freely examine data and draw connections between data points because of Qlik's associative architecture, which facilitates the discovery of previously unanticipated insights. Qlik is also actively promoting data literacy through its Data Literacy Project, an initiative aimed at helping individuals and organizations become more data-driven and capable of making informed decisions.
Among the main advantages Qlik can provide to clients are:
Qlik provides a self-service analytics platform that empowers business users to create their own reports and dashboards without relying on IT or data scientists.
Qlik's unique associative model allows users to explore data interactively. This approach empowers users to make connections and discover insights in a more intuitive and freeform manner.
The scalability and performance of Qlik's platform are well-known, allowing businesses to manage workloads related to analytics and big, complicated data sets.
The Carnival Corporation, the world's largest leisure travel company, uses Qlik's analytics solutions to monitor and analyze cruise data in real-time. The company uses Qlik's platform to improve passenger experiences, optimize operations, and enhance decision-making. The financial software giant Intuit, which is well-known for its TurboTax and QuickBooks products, uses Qlik's data analytics platform to learn more about financial trends, product usage, and consumer behavior. This aids Intuit in improving its goods and services.
Alteryx is a data analytics and process automation platform that enables organizations to prepare, blend, analyze, and visualize data from various sources. Founded in 1997, Alteryx has grown into a prominent player in the field of data analytics and automation.
Alteryx differentiates itself as a data company in the form of its robust geospatial analytics capabilities, allowing users to incorporate location-based data and spatial insights into their analyses. Also, Alteryx integrates seamlessly with a wide array of data visualization and reporting tools, streamlining the process of turning data insights into actionable reports and dashboards.
The following are some of the key benefits Alteryx can offer customers:
Alteryx excels in data blending and preparation, enabling users to aggregate and clean data from diverse sources quickly.
Alteryx seamlessly integrates with other data visualization and reporting tools like Tableau, Qlik, and Power BI, enhancing the overall data analytics workflow.
Predictive modeling and geographic analysis are just two of the many sophisticated analytics tools that Alteryx offers to help you glean more information from your data.
Alteryx has worked on some notable projects during its operating time, here are some recent examples. First off working with Experian, a global information services company, they have utilized Alteryx to streamline its data preparation and analytics processes. Alteryx's platform has helped Experian improve its data quality and reduce the time required for data analysis. Ultimately delivering better insights to its customers. Next is their work with Ford. Ford has employed Alteryx to enhance its data analytics capabilities, particularly for supply chain management and demand forecasting. Alteryx's tools have played a vital role in optimizing Ford's operations and logistics.
The company  Databricks is well-known for its integrated analytics platform, which combines machine learning, data science, and data engineering. The people behind Apache Spark founded Databricks, which has grown to be a major force in big data analytics and AI-driven insights.
Databricks stands out as a company and data analytics provider for several reasons, first their unified platform. Databricks offers an integrated solution for data engineering, data science, and machine learning. This unified platform simplifies the analytics process, as teams can work seamlessly on a single platform, from data preparation to model deployment. Also, Databricks' foundation on Apache Spark provides scalability and performance for big data analytics. It allows business organizations to handle vast amounts of data efficiently.
The following are a few of Databricks primary features:
Databricks provides a range of tools and libraries for data scientists to build and deploy machine learning models. This is essential for organizations looking to leverage AI for data analytics.
Databricks facilitates teamwork by offering a collaborative workspace for teams to use. It is adaptable to various data ecosystems and smoothly connects with well-known analytics and data storage solutions.
Databricks is active in the open-source community and contributes to the development of Apache Spark and other open-source projects. This commitment to open source fosters innovation and collaboration.
Leading biotechnology business Regeneron Pharmaceuticals uses Databricks to expedite medication discovery and research. Regeneron has been able to analyze complicated genome data more quickly and identify possible medicines because of the platform's capabilities. Also, they have worked with Shell, a global energy company, that utilizes Databricks for data engineering and analysis to optimize drilling and well operations. Databricks' unified platform has streamlined data processes and improved operational efficiency.
Conclusion
In summary, 2024 holds great potential to be a pivotal year in the field of data analytics due to the growing impact of AI AI-driven data analytics companies are leading this revolution as businesses continue to mine enormous data reservoirs for insightful information. Throughout our investigation into the top ten business titans poised to transform the data analytics space, we have come across companies like IBM Cloud, Google Cloud, Qlik, Salesforce, AWS, Databricks, DataRobot, Baidu AI Cloud, and Alteryx. These enterprises, each with their own specialties and capabilities, are at the forefront of utilizing AI to solve intricate data puzzles and provide businesses with useful insights.