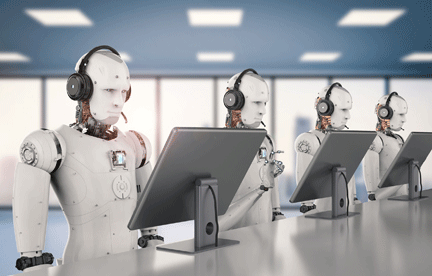 Technological advancements in AI have unlocked a sea of automation possibilities for various domains, and customer service is no exception. Getting personalized suggestions based on prior purchases, receiving bank statement through a messaging app, and getting customized results based on your current location are some of the well-known uses cases where businesses have used AI successfully.
End users of these AI-powered services are welcoming these changes that provide them with better overall customer experience. As per Hubspot research, 57% of customers are interested in getting real-time answers from the bots on a company website. Also, 86% of customers are interested in trying them out. (Source) AI-powered chatbots are preferred over support agents to get instant assistance at any time.
As the demand for more sophisticated and personalized services continues to grow, embracing automation technologies such as Artificial Intelligence is inevitable. AI adoption is expected to surge by 143% over the next 18 months. (Research by Salesforce)
AI is revolutionizing the way businesses operate, including critical customer services that have always been considered challenging to manage due to several associated responsibilities.
Let's look at some examples of how an organization can leverage AI to deliver automated customer service.
Provide Personalized Customer Service
Personalization is the key to success, and AI makes it possible.90% of the data today was generated in the last two years, and there are 2.5 quintillion bytes of data created each day. (Source). Using a combination of big data, machine learning, and AI technologies, businesses can gain valuable insights from such a humongous amount of data and deliver targeted and personalized customer services.
For instance, e-commerce companies are using AI technology successfully by using a customer's online choices, preferences, likes and dislikes to recommend related, similar or complementary products. Easy access to and combination of the various data sources available can often be accomplished with little or no need to write any custom software.
Successfully provided personalized experience helps you ensure the following:
Repeat purchases
Customer satisfaction
Convenient buying experience
Increased engagement and conversion
Customer retention
Pre-emptive Problem Solving
Many organizations are looking to enhance their level of responsiveness by using virtual assistants. Virtual agents powered with Artificial Intelligence technology can predict what your customers are looking for by understanding their interactions with the brand across various channels of engagement. The assistant makes use of the behavioral data to understand the customers better and deliver answers before they even know that they have questions.
AI embedded systems can monitor every activity of customers across several platforms for customer distress indicators, identifying customer's experiencing issues. These insights can be used to respond in real-time offering support through FAQs or virtual service agents. Cases can also be elevated to live agents when necessary.
Organizations can benefit significantly with this ability to resolve customer service issues even before they arise. Lower customer abandonment rate, reduced complaints, and improved customer satisfaction are the prime benefits.
Scalability at Speed
Automation technologies allow businesses to scale their operations, including customer service at an unprecedented speed with limited resources. For example, a leading eye care provider wanting to scale its operations through acquisitions is compelled to add more call center FTEs; the call center is the only channel for patients to make an appointment.
The company uses robotic process automation technology combined with a chatbot to eliminate the need for adding more resources and deliver improved customer experiences. (Read full case study)
Voice and Chat enabled Bot is made available on their website based on Google Dialog flow
Dialog flow calls a Nividous Bot, which finds an available appointment slot at the closest location
The bot also verifies proper insurance coverage for the appointment
More than 50% of the appointments are being scheduled through the chatbot channel, and the company now uses it for customer/patient support as well.
Chatbots can also be used to respond instantaneously to a surge in customer queries by merely switching on another server.
Multichannel automation for streamlined communication
Customers use email, chat, voice, web and other channels as mediums to communicate. However, tracking and responding to all these channels can be a time-consuming process for a support agent. You can leverage AI to automate the task and increase speed and efficiency. Utilizing natural language processing, the AI-enabled system can use core components that work seamlessly across all channels of engagement to direct customer inquiries to the right person, and if possible, respond instantly with answers, suggestions or other relevant content.
Wrapping up
Businesses are embracing AI to provide excellent personalized customer experience, support, reliability, and speed while improving operational efficiency and reducing costs. If you are interested to learn more about leveraging AI and other widely used automation technologies such as robotic process automation (RPA), then Nividous is presenting an insightful webinar on "Transforming Customer Service with RPA and Artificial Intelligence." On May 30, Thursday. Please register today: http://bit.ly/2YNvYT0.