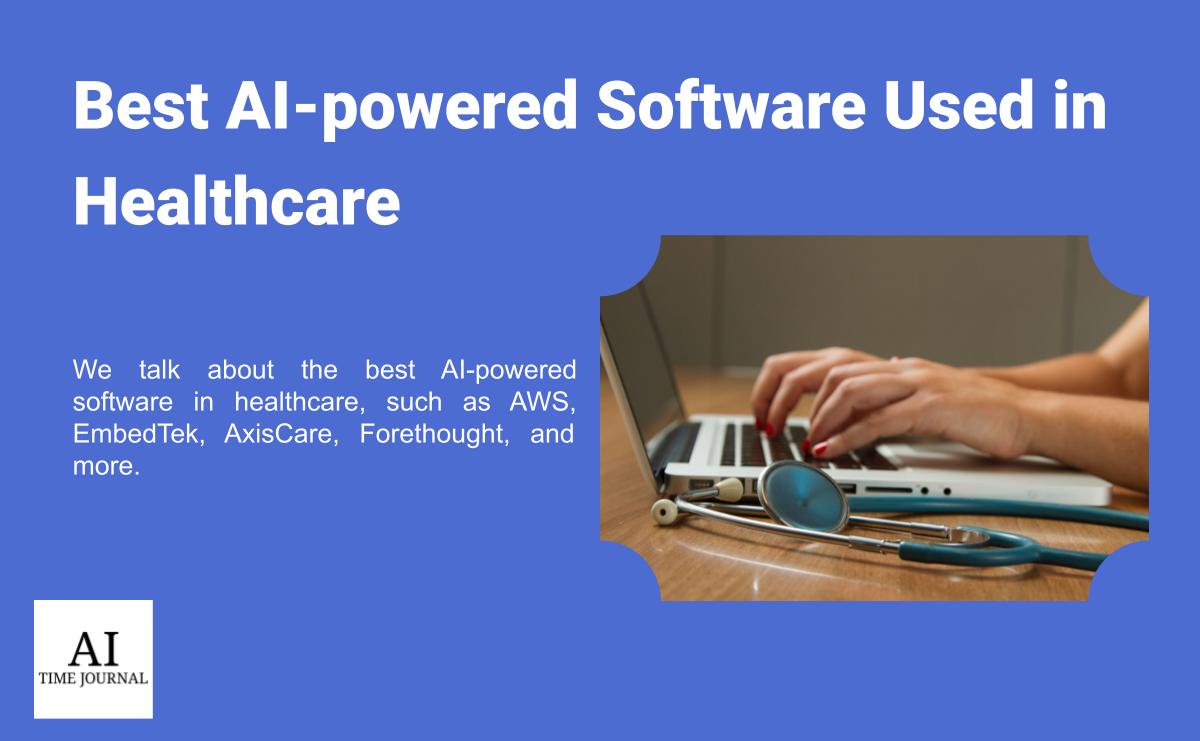 Nowadays, AI has walked into all aspects of human society and brought significant benefits to our daily work and life. Among all the domains that frequently interact with AI applications, healthcare is a classic example of how AI and technology benefit human life. 
The influence of AI in healthcare is evident. For example, chatbots used in healthcare customer service help to relieve human agents and improve customer experience, and AI-based software helps to provide better medical reports by collecting and analyzing data. You can learn more about AI in healthcare in this AITJ interview with Dr. Varun Ganapathi from AKAS. 
This article will introduce the four best AI-powered software used in the healthcare industry. 
AWS
AWS is a Machine Learning software developed by Amazon. It provides a date-based platform that aims to help healthcare companies and organizations understand completed health data. Empowered by Machine Learning, AWS promises to provide more efficient data-driven solutions, encourage innovation processes, and prioritize customers' data privacy.  
Key features of AWS are: 
Proceed with better diagnostics with genomic sequencing, early-stage cancer detection, and advanced cardiac visualization. 
Provide a clear preview of population health for policy maker and the healthcare system to make decisions. 
Encourage drug discovery with smart manufacturing and supervision of the drug market. 
Modernize the whole industry with automated services. 
AWS is now very popular in the healthcare market. The software's customers include Aidoc, UC San Diego Health, GE Healthcare, and Munich Leukemia Lab. 
EmbedTek
EmbedTek is an AI-based software that helps to build machines using intelligent solutions. As a registered manufacturer in the U.S. Food and Drug Administration (FDA), EmbedTek plays an important role when collaborating with technical device manufacturers to improve the efficiency of medical equipment. With the help of EmbedTek, medical devices can provide better outcomes in diagnosis, survey, and treatment. 
Highly-valued deliverables provided by EmbedTek include: 
Portable medical image generator providing real-time 3D images 
Operational infrastructure for medical device manufacturers 
Improvement in the medical supply chain for flexibility, scalable extent, and cost efficiency
Pill identifier counter powered by Machine Learning
AxisCare
AxisCare is a well-known home medical care software powered by AI. Home healthcare has always been difficult for both patients and medical professionals. Before this kind of home medical care software, home diagnosis was hard to proceed with because of the physical distance. Online medical professionals had difficulties noticing patients' symptoms in time and recording condition changes correctly. As a result, the results usually lacked credibility. Moreover, information privacy is another issue that made patients dissatisfied with past home healthcare services. 
Acknowledging the difficulties of home healthcare, AxisCare aims to provide a better platform for both patients and healthcare agents. 
Key features of AxisCare include: 
User-friendly: the software supports a mobile application that is quick to download and easy to learn how to use.
Paperless: the software provides well-designed and highly-secured custom forms, which are environmentally friendly, quick to access, and easy to download. 
Better paying: the software supports custom billing and payroll rates and rules for each service, making payments more accurate and appropriate. 
Best medical solutions: the software provides data-driven decisions by collecting, visualizing, and analyzing patient data automatically.
Trust-worthy payment process: the software accepts various payment methods and protects customers' payment information.   
Forethought
Conversational AI has become one of the most popular AI applications in the healthcare industry. Especially during the pandemic, chatbots played a significant role in proceeding with online diagnosis and helping patients to monitor their everyday health conditions. To learn more about how conversational AI interacts with healthcare, this AITJ article: Conversational AI In Healthcare, will be a great reference. 
Forethought is an AI-powered chatbot that provides better customer service in healthcare. Compared with traditional healthcare customer service, Forethought provides: 
Instant response 
90% accuracy rate for automatic response
Categorize, personalize, and prioritize medical cases
Increased agent productivity with canned responses and shortcut replies