AI Time Journal has been offering virtual employment experiences to interns throughout the globe. Along with hands down the quality of training, the candidates get an opportunity to learn various skills that help them foster their personal and professional growth.  
Though all the possible offerings at AITJ are carried out without the benefit of face-to-face interaction, they are yet quite effective and helped the interns to gain team-building and social bonding experience. With the help of proper support and feedback, the interns are trained to perform best in their specific fields. There are available training materials, a pleasant working culture, a focus on team results, and collaborative abilities that allow the interns to gain the best work experience and reflect on it in the future.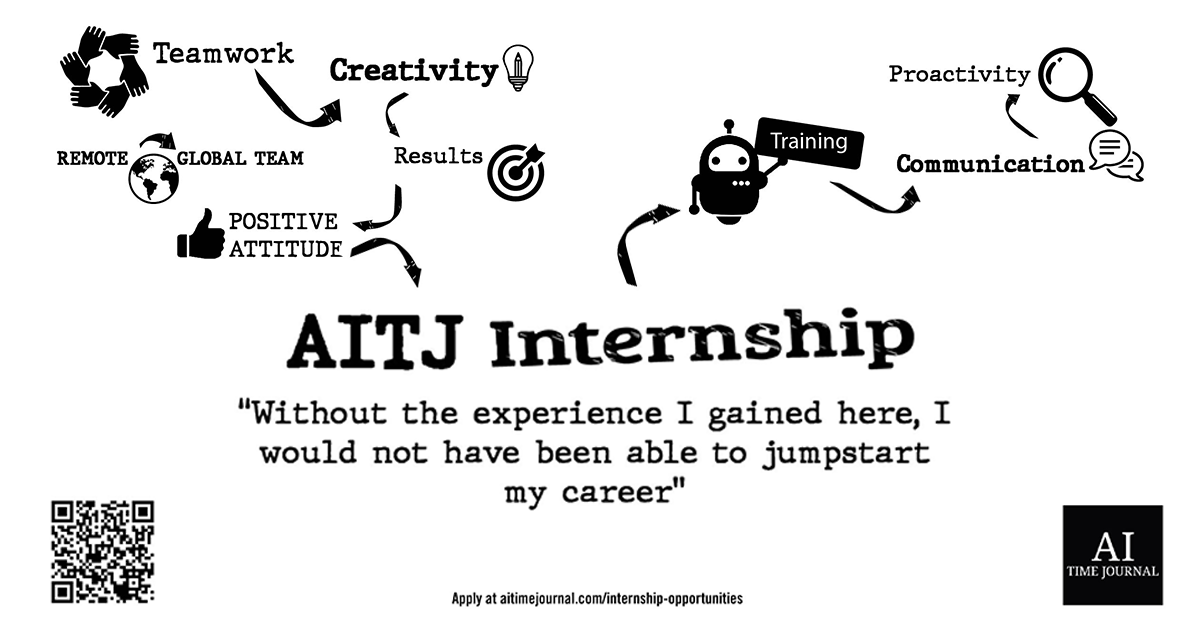 A Project and Operations Management intern has expressed that the position and duties she performed were great for her professional development and have helped her to improve processes and better productivity. She mentioned, "The skills that I learned will always be useful to me throughout my entire professional career."
Building a strong community and connecting to diverse people: 
"It is an absolute thrill to connect and meet with industry experts and CEOs from various fields of Al to discuss our ongoing initiatives, and inspire them to join us in our endeavor," says a Public Relations and Social media Intern. Building new connections at work virtually and working with them together and as a team brings many developmental and social approaches to the interns working at AITJ. With the help of our weekly team-building activities and chat boards, interns get to meet different people which helps them be a part of a community and to give and receive input from it. 
Useful free training courses are available 24/7
Interns are provided with several specific training courses for each department. The courses are in different formats, I.e, Videos, Texts, Podcasts, etc., and are available 24/7 with free access to them. This has been a plus for the company and the interns especially as these training courses are detailed and are created for each specific element of each department.
"Not only was I able to leverage more work from this experience but I also got great practice using video editing and motion graphics software," says a Podcast Editing Intern. 
Building teamwork and collaborative abilities
One of the significant benefits of interning at ATIJ is that performing an internship at this company does not only help you improve and gain relevant skills in your specific field but also shows what actual teamwork is. The company strives to teach collaborative and self-management skills to its interns. 
Working with a management team has helped the interns participate in management tasks closely, getting them first-hand experience in how a team works and to manage a team. HR interns not only learn basic assistance duties but the company makes sure that the interns get several opportunities to perform proper HR administrative duties with the help of the right tools and support from the seniors.
Creativity in every aspect of the job role
AITJ offers full pace support in developing their interns in professional terms. As we work with Artificial intelligence and exponential technologies, creativity is a significant factor in our company. With the help of proper guidance and regular feedback from the senior team, interns can improve their skills to the best and be creative in their specific job roles. 
A Human Resources Intern says, "I learned the importance of creativity in my work. New ideas that are brought up are considered and discussed. Interns are given equal importance and their views are considered"
They are given space to share ideas and suggestions and it is made sure that their inputs are heard, and implemented upon successful discussion and line of action.
Team Member Attitude and Values
Purpose: Interns at ATIJ follow a clear and specific "Purpose" rule. In case, interns are in doubt about what has to be done by what or how tasks should be managed, they think of the importance of each task and prioritize them. This is to avoid delays in performing tasks and helps in improving the decision-making skills of individuals. 
Achievement-oriented: AITJ values action more than just knowledge. Here, knowledge is used to bring the best out of the team members. We make sure that the goals are attained and are always looking forward to the best. 
Proactive: The members are always working on new projects as soon as they're done with the previous one. Our members are motivated and always looking for new tasks.
Responsibility for the completion of the tasks assigned and making sure that they are accomplished on time with the outcomes are the concerns of every individual at AITJ. 
Building trust is considered to be one of the key values at AITJ. Having trust in their employees in any scenario also helps to maintain a healthy and trustworthy environment among the team members even remotely. 
Committing to the decisions made by the team is also another key value at AITJ. As the decision is made considering everyone's opinion, it does not change in the future and is made sure that everyone is committed to it.
Team goals are in correspondence with team members' personal goals and thus they help the individual to improve and become an efficient team member. 
In a nutshell, being a growing company, the team has been putting excellent efforts to bring interns from different parts of the world and training them to be the best version of them and to perform their tasks effectively in whatever field they are and will work in.